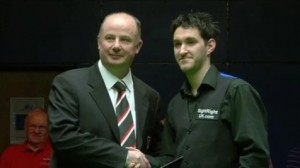 Leicester's Tom Ford has tonight captured the PTC11 title with a dramatic 4-3 victory against Martin Gould in tonight's final. In doing so Tom not only moves up to 9th place on the PTC Order of Merit, but also a career high ranking of 26.
Click here to view all of the results from PTC11
Having shone during the PTC series last season, Tom Ford hadn't quite been able to hit those heights during 2011/12 but tonight he put that right by taking his second professional title with a 4-3 victory against Martin Gould.
He did not get off to the best of starts however as he dropped the opening frame, before he hit back with breaks of 66 and 60 to move into a 2-1 lead. Back though came Gould, who won the next two with a top break of 127 to move just one away from a first PTC title, just weeks after his victory at the recent Power Snooker Masters tournament.
It was not to be for Martin however as Tom was able to force a decider before then going on to win it in fine style with a clearance of 66, highlighted by an excellent final red along the bottom cushion under huge pressure.
As referred to above, the win not only confirms Tom's place at the PTC Grand Finals which he secured earlier in the day with his run to the final with victories against Graeme Dott, Judd Trump and Yu Delu, but it also moves him up to a career-high world ranking of number 26.
Tom's coach Steve Feeney was understandably thrilled to see him take victory and contacted me to congratulate him on the result:
"I am delighted for Tom, this result has been coming following a lot of hard work from him on the practice table and is a superb Christmas present for him."
"Well up into the top 32 at a career-high ranking and PTC11 champion. Awesome."
For Martin meanwhile, despite defeat it has also been a positive week on the whole which has consolidated his position inside the world's top 16 with not only his run to the final here, but also his run to the last 16 of the ongoing PTC12 tournament.
Elsewhere today, the other major story insofar as PTC11 was concerned was the agonising 4-3 defeat for Mark Davis, having been a frame away from a place inside the world's top 16 for the first time at the expense of Ronnie O'Sullivan who will no doubt be a relieved man tonight.
That said, following Ricky Walden's run to the quarter-finals, Ronnie is not quite safe yet as victory for Ricky in PTC12 would be enough to see him move back into the top 16 in his place.
The main story today is however Tom's victory tonight and hopefully this will give him a welcome confidence boost heading into the second half of the 2011/12 season.
Click here to read my recent post-match interview with Tom following his UK Championship qualifying victory.