Mark Selby has struggled to find his best form in recent events, but today he responded in fine style by defeating surprise finalist Joe Swail 4-1 in the final of the Paul Hunter Classic, to successfully defend the title which he won twelve months ago in Furth. Click below for a round-up of the day's events…
Following a number of upsets earlier in the tournament, top ranked Mark Selby found himself as the sole surviving member of the world's top 16 in the quarter-finals of the Paul Hunter Classic, but he despite a scare against Robbie Williams earlier in the day, was able to make it through to the final for a second successive year.
Joining him was Joe Swail, the experienced Northern Irishman competing as an amateur this season following a difficult couple of years and enjoying himself again in front of the television cameras. Joe has never been a player to do things the easy way and so it proved again today as he required a deciding frame against both Andrew Norman and Barry Hawkins to make it through to the final. The match against Hawkins proved to be particularly dramatic as following a battle on the final few balls, he doubled the black to clinch victory.
With that win coming shortly before 8pm local time, there was to be a brief 20 minute break in proceedings before Mark and Joe were ready to start the final. First blood went to Selby as the Leicester man moved around 50 points ahead, before getting back to the table to secure the opening frame. It looked like Mark would soon double his advantage as he moved 64 points ahead with more seemingly to follow, only for a surprise miscue to leave Swail in amongst the reds and a real chance to clear for 1-1. Unfortunately for Joe however, his attempted final red to right-centre was to stay out and Selby did not need another invitation to double his advantage.
2-0 quickly became 3-0 and despite a break of 83 from Joe to avoid the whitewash, Mark was to seal a 4-1 victory in the next frame and confirm the defence of this title in Furth.
Mark has openly admitted to having struggled to find his best form in recent weeks, but as he said in his post-match interview, a few sessions with Del Hill appear to have restored his confidence and with this victory he moves up to second place in the latest PTC Order of Merit. He also earns 2,000 ranking points which help to consolidate his position at the head of the world rankings.
For Joe, although he couldn't quite complete the fairytale victory, it has been a remarkable weekend for a player who having been relegated from the main tour at the end of last season, had appeared to be in terminal decline. As he has done so often throughout his career however, Joe has proved the doubters wrong and with the money earned towards the Order of Merit, is near-guaranteed to return to the main tour in 2013/14 as one of the eight top players ranked outside of the world's top 64.
Importantly for Joe, he seems to be enjoying the game again, a stark contrast to barely a few months ago when I watched him lose to Daniel Wells at the World Championship qualifiers. With no pressure upon his shoulders in terms or ranking points or tour survival, he has been able to rediscover his form and I am sure that he will continue to be a threat as the PTC season unfolds. Could we see him at the World Championship as an amateur?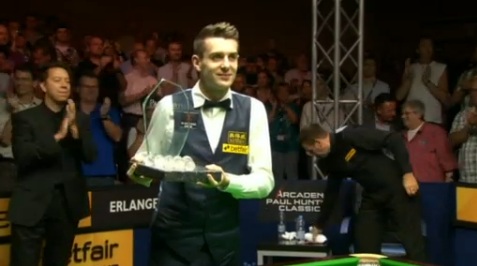 Elsewhere, it was another memorable event for India's in-form Pankaj Advani, who made it through to the semi-finals before losing out to Selby, while former pro Andrew Norman also got some useful money on the board with an impressive run to the quarter-finals.
Finally, a word of praise for the German spectators who (as ever), showed tremendous support for what has grown into a very popular event for both fans and players alike. It is no secret that snooker is a growing sport in mainland Europe and the enthusiasm of the German spectators is infectious to say the least. Hopefully they will be rewarded with the major tournament that they deserve, something akin to the new International Championship in Asia perhaps?
More immediately, there is a brief break from snooker now before the action resumes at the South West Snooker Academy for the third UKPTC event from 5th September 2012.