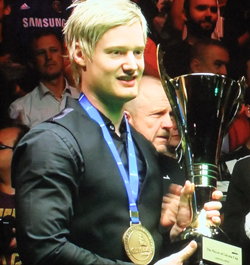 A winner last season in Poland, Neil Robertson repeated the feat tonight with victory against Jamie Burnett, though he was made to sweat as the Scot came back from 3-0 down to force what would prove a particularly nervy decider in the final of the 2012 Gdynia Open…
Click here to view the latest projected seedings
Click here to view the latest results from Gdynia at snookerorg
Having needed to win a number of final frame deciders en route to the PTC6 title in Warsaw last season, it looked like Neil Robertson would today enjoy an easier ride, as he established a 3-0 lead against opponent Jamie Burnett with a top break of 118 in the second frame.
To his credit however, Jamie had already recovered a 3-0 deficit once in the tournament against Rory McLeod and as an increasingly hesitant Robertson began to lose his rhythm, rallied to force what an hour earlier had appeared to be a most unlikely decider.
As if often the case with deciders, the early exchanges proved to be cagey, particularly when the pink found its way over to one of the corner pockets and paved the way for a lengthy safety exchange, as the reds were moved closer towards it with each passing safety.
Eventually, following an unscheduled toilet break for the Australian, Neil ended the stalemate by dropping an impressive red into the left-centre, before clearing the troublesome pink. Though he was not to win the frame at that visit, his subsequent break was to establish what would prove to be a decisive lead. Jamie did have a chance to steal both frame and match with just three reds remaining, but a missed cut-back black from the penultimate red proved to be his last shot, as a grateful Robertson got over the line.
While not his most convincing performance of the tournament (that honour probably falling to his excellent semi-final victory against Stephen Maguire), Neil further improves his terrific record in televised finals, having suffered just the one defeat to Stephen Lee earlier in the year. The title is Neil's third PTC triumph, perhaps more impressively making it seven successive years in which the Australian has taken a title carrying ranking points. Neil also earns 2,000 ranking points, while he is now all but assured of a place in the PTC Grand Finals in 2013.
For Jamie Burnett, it was a disappointing way to end what was an excellent weekend overall for the Scot, indeed he has enjoyed a strong start to the season generally which sees him close to a place among the world's top 32 provisionally.
Earlier in the day, Jamie had recorded impressive victories against Kurt Maflin and Michael Holt, breaks of 131 and 87 in his semi-final helping him into the final, while Robertson had defeated Tian Pengfei and Stephen Maguire on his way to the trophy match.
Overall, judging by the television it looked to be another well-supported PTC event in mainland Europe, albeit with a few too many cameras among the spectators for comfort. Snooker will surely be back in Poland next season as enthusiasm for the sport continues to grow overseas.
Next stop, Antwerp for another growing market at ET3, the final event for many before the season's second seedings revision…