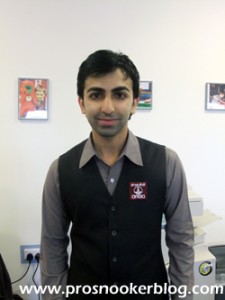 Having defeated Craig Steadman, Steve Davis, Alan McManus and Michael Holt to qualify for his maiden professional venue, India's Pankaj Advani has taken the difficult decision to withdraw from the tournament, due to a clash of dates with this World Billiards Championship. Click below for more and to see how that affects the draw for the tournament…
Click here to view the updated draw for the International Championship
As many of you may be aware, following his successful qualification for the International Championship, India's Pankaj Advani has recently been faced with a dilemma as to whether he competes at the venue stage of that event, or instead enters the World Billiards Championship, a clash of dates preventing him from playing in both.
After much deliberation, the six-times world billiards champion has opted to enter the World Billiards Championship and withdraw from the International Championship.
Pankaj is quoted at Sportal.co.in as saying:
"It was a choice between two events, not between billiards and snooker as such,"
"I know how hard I have worked to qualify for the China tournament.
"I know how tough it's been coming back from crunch situations against the top players and actually winning four matches in a row to qualify for the event. Obviously, it's with a lot of pain that I have to let go of it. But again, the world billiards is an event I have thoroughly enjoyed playing,"
"Obviously, I am losing out on a chance to make more ranking points but my points for the stage I have reached and the prize money for that stage is secure,"
While some snooker fans might be surprised, given his status in the game of billiards and the relative lack of tournaments available in that discipline, he has taken the decision that I expected him to take, and fully understand his reasons for doing so. As he says above, the ranking points that he has earned for reaching the last 32 in Chengdu are secure which is important, otherwise the decision for him may have been far tougher.
In fact I think that it is to Advani's credit that he has taken the decision to withdraw at this early stage, it is not yet guaranteed that Advani will make it through to the final of the billiards and if he were to lose in the early rounds, then he would be free to compete in China. Rather than let the uncertainty continue however, Advani has made his decision in good time and everyone now knows where they stand.
Prior to announcing his decision, Pankaj told the Times of India:
"Billiards has given me my identity. I have played billiards all my life, it's my first love. Of course, snooker has been there for long but now the scenario is different. I am playing the snooker with renewed vigour and found the approach to be different which I did not have in all these years."
"Even if I make a choice to play the World billiards or the International Championship, I am not going to regret my decision for sure. I don't want to look back and say, I should have done that thing,"
"It's a million-dollar event. The atmosphere is exciting and challenging. There are good players out there, the conditions are top class. It can't get better than this. It's massive.
"In the snooker world, a lot more events are coming up this season. However, in billiards, there are only two world championships and after that, we don't have any event for a while."
Good luck to Pankaj at the World Billiards Championship and hopefully we will see him through to a second venue on the snooker circuit before long. From what I have seen so far, he has an interesting style of play on a snooker table, no doubt resulting from his billiards background, that deserves more widespread attention.