With Christmas upon us and a rare few days away from the baize as hit the end of 2012, it is time again to begin my annual (see 2010 and 2011 results), series of 'best of' polls for you to vote in. Accordingly, click below to choose your 'best match' of 2012, either from my selection below or by entering your own choice…
Please note that the matches are listed purely in date order and you are free to vote for any other match from the year in the above poll, my choices are merely suggestions!
Ronnie O'Sullivan 9-7 Stephen Maguire (German Masters, final)
111-26 (111), 0-130 (130), 8-106 (106), 5-132 (128), 58-73 (O 58), 63-8, 20-69 (55), 75-24 (75), 0-115 (69), 96-40 (96), 78-0 (54), 68-59 (M 52), 94-37 (67), 75-31, 43-75 (75), 66–41
Having recovered from 4-0 down at the mid-session interval of his best of nine frame last 32 match with Andrew Higginson, Ronnie O'Sullivan's name looked to be written on his first ranking event trophy since the 2009 Shanghai Masters as he lined up against former world number two Stephen Maguire in the Berlin final.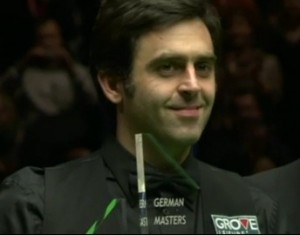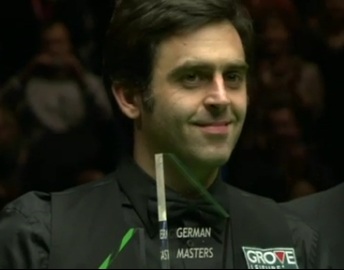 Before a packed crowd at the Tempodrom however, the Scot had other ideas as he had the better of what was a brilliant start, hitting three successive centuries in response to an opening frame 111 from O'Sullivan. He soon extended his lead to 4-1 and was able to maintain his three-frame cushion at 6-3, as his first ranking event title since the 2008 China Open moved ever closer.
It was not to be for Maguire however, as his opponent came out firing in the evening session, five successive frames from O'Sullivan turning the match in his favour, before he secured a popular victory in the 16th frame.
Ken Doherty 10-9 Anthony Hamilton (World Championship, last 48)
From my blog at the time:
Having missed out on a return to the Crucible during two of the past three years, a delighted Ken Doherty booked his place there in 2012 with a dramatic 10-9 victory against Anthony Hamilton.
In what was by all accounts a high-quality match in which Ken made three century breaks, it was the Irishman who led 6-3 after the opening session, only for Anthony to win the first two frames of the evening session and stay close thereafter.
In the decider it was Hamilton who made the stronger start, capitalising on a loose break-off from which Ken caught the green with the cue ball, only to break down with a lead of around 50 points. Doherty then closed the gap, aided by a fluke into the green pocket, before running into problems himself.
The key moment however came when Hamilton won the ensuing safety battle, potting a good red cueing from under the side-cushion before seeing the cue ball come up and finish close to the baulk cushion. From there he attempted to roll up behind the brown only to crucially leave the cue ball agonisingly short, leaving himself in a horrible position.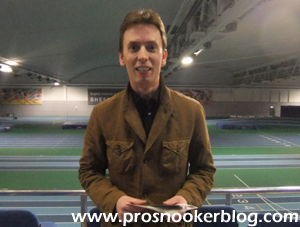 Ultimately his escape would prove to be his last shot as Ken produced a brilliant pressure clearance of 62, notably containing an excellent final red down the cushion under the circumstances, to get over the line.
Ken told us afterwards:
"He played so well tonight, he was like a bad cold that I couldn't shake and so tough, he played really, really well. Every time I have played him it has always been a tough game. I knew from the draw it was like the toughest match, he was [ranked] 33 or 34, I'm 32, so I couldn't have asked for a tougher match, but at least I knew what I was up against."
"In the last frame I had more or less resigned myself to losing because he was on that break after he had knocked in the long red and I thought that he was going to win the frame at that visit. He played superbly well. Even when he was under pressure he was cueing really well and hitting big breaks but you are always going to miss one or two, but overall I think that the match was of a really high quality."
"I've made some good clearances in my time but that is up there with the top ones. It was all to do, I ran out of position a couple of times. The last red I just had to go for it full-blooded, if it goes in it goes in, if it doesn't, it might be over but thankfully it went in. I potted a black that I missed for the 147, it was exactly the same shot and I'm thinking I'm not going to miss this please!"
"It was a real pressure clearance because there is so much at stake, to be in the mix up at the Crucible. For the qualifiers this is the biggest match in the year so to come through with a great clearance against a really great player in a high-quality match is fantastic and I'm over the moon."
"It was very difficult last year, I was in the same situation, 6-3 up and Jimmy Robertson came out and played probably the best he has ever played. But that can happen, you can get on a roll. There were so many highs and lows during that match, during the last few frames I thought that it was just not going to be but I got my chance in the last and thought keep your head down, cue straight, this is your last chance saloon."
Stephen Hendry 10-4 Stuart Bingham (World Championship, last 32)
While it was far from the most evenly matched contest of the year, Stephen Hendry's last 32 match against Stuart Bingham at the Crucible was memorable in many ways, not just for the brilliant 11th maximum break recorded by Hendry during the seventh frame, but for the way that the Scot played during what would prove to be his final professional snooker tournament.
Sat in the media seats at the Crucible as I was, see my close-up report from the action at the time from my Crucible Diary:
"…following the slow start, Hendry began to move through the gears, a century break of exactly 100 followed by a break of 89 for 3-0.
Though Bingham was able to get his side of the scoreboard up and running ahead of the mid-session interval, Hendry had a certain swagger about him on their resumption and soon added the next three with further breaks of 78 and 61.
The best however was still to come in frame seven however as Hendry set off in pursuit of his 11th maximum break, what would be his third at the Crucible. Following the split on the reds early in the break, the balls were generally well placed and with a couple of reds remaining, play stopped on the other table as Hendry closed in on yet another Crucible landmark.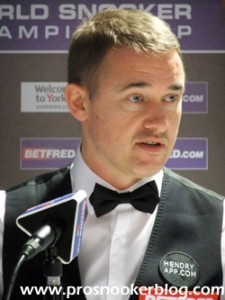 At this stage everyone in the crowd knew what was at stake, I could see Eirian Williams (who was refereeing on the other side of the curtain), looking at my face to gauge to how the balls were, while Brendan Moore was peeking through the side curtain as the final balls were potted. There was also a nice moment as Hendry potted the yellow and referee Zhu Ying walked towards me and raised her eyebrows at marker Olivier Marteel, an expression that perfectly summed up what was happening!
With the colours on their spots, Hendry was to make no mistake, celebrating the final black with a clenched fist, demonstrating just what the maximum break meant to him.
…even just watching, I could feel my heart pounding for the next two frames so it said a lot for Stephen's performance that he was able to remain composed enough to win the final two frames of the session to secure a surely unassailable 8-1 lead overnight. It was the most dominant session of snooker that Hendry has produced in Sheffield in many a year and while Bingham was not at his best, it was hard for him as the session unfolded, as a confident Hendry froze him out of the action."
Ali Carter 13-12 Judd Trump (World Championship, last 16)
While the previous match was not close, this last 16 encounter between Ali Carter and Judd Trump certainly was, as eventual finalist Carter came back to shock the 2011 runner-up and pre-tournament favourite Trump to progress to the quarter-finals.
Suffering the after-effects of illness and facing an opponent playing as well as almost anybody else in the tournament, there were a number of observers who wondered whether Trump could be susceptible to the 2008 finalist and as Carter emerged from the opening session with a 5-3 lead, it was clear that we had a real match on at the Crucible.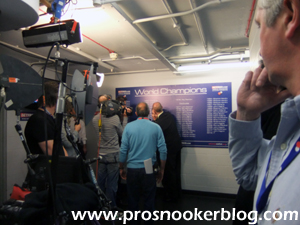 Back though came Judd, dominating the second session to hit the front at 9-7, before opening the final session with a half-century to extend his lead to three. As the next four were shared, leaving Trump needing just one more for victory, there only looked to be one outcome as Carter required all four for a dramatic comeback.
As it would transpire, that is exactly what would happen and as Trump clearly began to feel the pressure, Carter never faltered as he levelled the match at 12-12, before taking the match in a nervy decider in which both players had chances.
Stuart Bingham 6-5 Mark Davis (Wuxi Classic, semi-finals)
From World Snooker:
Stuart Bingham is through to the final of the Wuxi Classic after overcoming a spirited comeback by Mark Davis to win the match 6-5.
The Australian Goldfields Open champion made the perfect start to the match, going into the session interval 4-0 ahead. He opened the match with a break of 79 in the first frame and went on to add a 60 and a 64 in the third and fourth frames.
Davis spoke yesterday of the need to improve his break-building and he did just that, coming out after the interval playing some inspired snooker, scoring three 70 breaks in the next three frames to leave him one behind. The veteran, who was playing in his first ranking event semi-final, then levelled with a wonderful 54 after being 52-1 down in the eighth. He took the lead, scoring a personal tournament best of 86 in the ninth to leave him 5-4 up, a frame away from the final.
Bingham fought back to take the match to a deciding frame and made no mistake in the eleventh with a fine under-pressure 134 break. He has now progressed through every round of the first ranking event of the season via the final frame and is just one win from the £75,000 top prize. Having already won the Pink Ribbon Pro-Am and Asian PTC, the Basildon player will aim to continue his extraordinary start to the season when he takes on Ricky Walden or Marcus Campbell over 19 frames on Sunday.
Barry Hawkins 6-4 Mark Davis (Australian Goldfields Open, semi-finals)
From World Snooker:
Barry Hawkins reached his first ranking event final by beating good friend Mark Davis 6-4 in an enthralling match in the Australian Goldfields Open.
The Shoot-out champ will face veteran potter Peter Ebdon, who will be going for his tenth ranking crown, tomorrow.
The semi-final started well for the Dartford man who went got to the interval with a 3-1 lead helped by two breaks of 55, one of those under pressure in the third at 61-8 down, and a 91 in the fourth.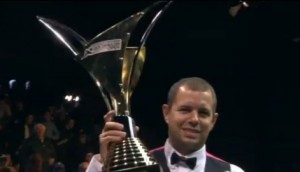 Davis though, also playing to get to his first final, came out of the break recharged, a 98 and a 93 levelled the match at 3-3. Hawkins took the seventh before the Sussex cueman had the packed crowd on their feet, again restoring parity with a 66.
But the evening belonged to the Hawk, who took the next two frames, and the match, scoring breaks of 67 and an excellent 74. It was a bitter-sweet moment for Davis, falling at the penultimate fence but seeing his pal reach the last two in Bendigo.
John Higgins 10-9 Judd Trump (Shanghai Masters, final)
0-112 (112), 0-121 (80), 12-92 (74), 16-111 (111), 50-74 (59), 147-0 (147), 37-69 (51), 62-51 (T 51), 0-63 (53), 89-0(89), 74-22 (74), 78-12, 76-0 (76), 71-0 (71), 64-58, 2-119 (105), 69-31 (64), 47-63, 66-36 (61)
Meeting in their first final since the 2011 World Championship, Judd Trump and John Higgins served up a thriller in Shanghai, though as Trump headed 5-0 up with breaks of 112, 80, 74, 111 and 59, few could have seen it coming.
Back came Higgins with a brilliant 147 in the sixth frame, but as Trump finished the session with eight breaks of 50 or above and a 7-2 advantage, the comeback still looked unlikely.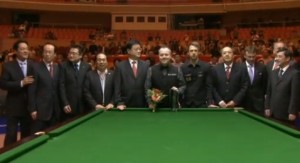 One thing that I have learned over the years as far as snooker is concerned however is that John Higgins can never, ever be written off and once again he proved it during that final. Breaks of 89, 74, 48, 30 and 76 helped the Scot to take all four frames before the mid-session interval, before runs of 71 and 48 put him ahead for the first time at 8-7.
To his credit Judd did not give in, a gutsy 105 drawing him level at 8-8, before the next two were shared to leave us with a 19th and final frame. It was Judd who had the first chance, but as he faltered, Higgins took full advantage with a brilliant clearance of 65, to win his latest ranking event title.
Judd Trump 6-5 Mark Allen (International Championship, quarter-finals)
From World Snooker:
Judd Trump won a superb match 6-5 against Mark Allen to reach the semi-finals of the International Championship.
The repeat of last season's UK Championship final lived up to expectations as Trump won a battle full off fluent scoring to earn a meeting with Peter Ebdon on Friday. The World No 2 hasn't won a ranking title since his victory in York last December but is now just two matches away from the £125,000 top prize.
Allen won the first frame with a break of 83 before Trump levelled with a 70 and added the third. A run of 98 from Ulsterman Allen made it 2-2, but he had to spend some time in his chair after the interval as Trump rattled in 75 and 107 to go 4-2 ahead. Allen pulled one back with a 121 then Trump responded with a 65 to lead 5-3.
A run of 104 from Allen closed the gap and he came from 41-0 down in the next to make it 5-5. Trump got the first chance in the decider and made 60 before failing to land on a red when splitting the pack. Allen still had hope at 61 points down with five reds left, but after Trump played a brilliant snooker behind the black, Allen left a red to a centre pocket and his opponent potted it to seal victory.
Mark Davis 6-5 John Higgins (UK Championship, last 16)
From World Snooker:
Higgins scored a magnificent 147 maximum break but that will be little consolation for the four-time World Champion as his bid to take the UK trophy ended at the second hurdle.
Sussex's Davis is having the best season of his career and he made it even better as he goes through to the quarter-finals to face Matthew Stevens on Thursday evening.
Davis took the lead at the earliest opportunity, fluking the final yellow and clearing up and go 1-0 up. The lead did not last long as Higgins did enough in the second with breaks of 34 and 23 to level things up.
A lengthy third frame of just over 55 minutes was eventually taken by Davis after he won a safety battle on the brown, and he added the fourth thanks to a break of 61 as he went into the interval with a healthy lead at 3-1.
Higgins pulled one back but there was nothing that the Wizard of Wishaw could do as Davis stepped on the gas, knocking in consecutive centuries of 106 and 103 to go one away from victory at 5-2.
Higgins then brought the Barbican crowd to their feet with his brilliant maximum, and that ignited his fight-back as he followed this up with a 72 in the next. He took a scrappy tenth frame which brought the scores level at 5 – 5 and had Davis shaking.
Runs of 39 and 14 put Davis in control of the decider, then when Higgins potted a superb long red he looked set for a trademark clearance. But he missed the last pink off its spot, playing with side to try to hold for the black. After a brief safety exchange, Davis went boldly for a thin cut to a baulk corner, and slotted it home for victory to conclude one of the Barbican's greatest ever snooker spectacles
Shaun Murphy 9-8 Ali Carter (UK Championship, semi-finals)
From World Snooker:
Magician Shaun Murphy pulled off one of his greatest tricks by coming from 8-4 down to beat Ali Carter 9-8 and reach the final of the williamhill.com UK Championship.
Carter, chasing his first UK final, played superbly to go from 5-3 ahead to 8-4, but was then on the wrong end of a tremendous barrage of break-building from Murphy as he reeled off five consecutive frames. The Sale-based potter goes through to Sunday's final in York to face Mark Selby or Mark Davis for the £125,000 top prize.
Murphy, who won the UK title in 2008, has enjoyed some great comebacks during his career. In 2010 he recovered an 8-2 deficit to beat Ding Junhui 9-8 in the final of the Wuxi Classic, and in 2007 he fought back from 12-7 down to beat Matthew Stevens 13-12 in the quarter-finals of the World Championship. The 30-year-old will certainly rank tonight's success alongside those classic matches. And in a tournament full of exciting battles, this was the most gripping.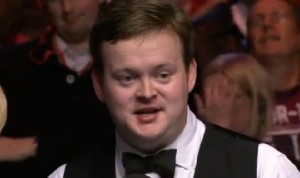 Murphy was in need of a good start to the evening to chisel away at Carter's 5 – 3 lead, but his opponent was quickest out of the blocks, taking the first frame with a 79 clearance after Murphy broke down on 46.
Carter looked as if he would move 7 – 3 ahead after a break of 51 in the tenth frame, only for Murphy to sweep in with a 59 clearance.
But a break of 80 for Carter saw the Captain move 7-4 ahead. And when Murphy went in off from a long pot in the 12th, it appeared his luck was out as Carter took a seemingly unassailable 8 – 4 lead into the interval.
A break of 76 for Murphy launched his fight back and he added a fragmented 14th frame with a top run of 49.
Carter was helpless to do anything about the breathtaking speed and accuracy of his opponent who then knocked in successive breaks of 105 – his highest tally – and 78 to take the game to a nail-biting decider.
Carter got in amongst the balls and might well have sniffed victory, but on 32 he missed a red with the rest. Murphy made 39 then played safe with three reds left, and after a short tactical exchange he knocked an excellent red into a centre pocket and added 29 points to book his final berth.
Those are just my suggestions, but what was the best match of 2012 for you?