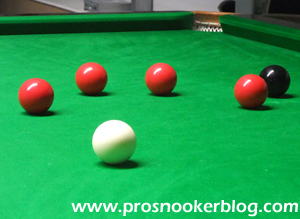 While last week saw Neil Robertson claim the UK Championship title in York, over in Latvia, China's Zhou Yuelong was able to capture the IBSF World Amateur Championship, with an 8-4 victory against compatriot Zhao Xintong…
Click here to all of the results and information from the 2013 IBSF World Championship
Click here to view the roll of honour for the event
Zhou Yuelong 8-4 Zhao Xintong
15-81, 21-69, 81-32, 69-37, 91-22, 142-0, 61-39, 22-78, 79-0, 117-17, 39-71, 60-38.
A tournament won last year by Muhammad Asif in Bulgaria, the event represents the biggest amateur tournament in world snooker and with this victory, Zhou has ensured that he will graduate to the professional tour next season, with a two-year ticket.
As well as the tour card, on paper Zhou also becomes the youngest ever winner of the IBSF World Championship, although it should be stated that Michael White won the 2006 IBSF World Grand Prix at the younger age of 14 (that event replacing that year's World Championship which was due to be held in Karachi), and thus remains the true record holder. Zhou also becomes the first player from China to capture the title in its history.
Though only 15 years of age, Zhou already has a wealth of experience against professional players under his belt, having this season lost out 6-5 to Alan McManus as a wildcard at the International Championship, as well as having completed in three other full-ranking events. Zhou has also reached two Asian Tour quarter-finals in the autumn and made his first appearance at a ranking event back at the 2012 Haikou World Open.
As for runner-up Zhao Xintong, no doubt we will see a lot of him also in the future, as you may recall that it was he who defeated both Steve Davis and Barry Hawkins recently at the International Championship in Chengdu.
In terms of European interest, the strongest performance from a European player came from 2011 runner-up Lee Walker, who reached the semi-final stages before losing 7-4 to Zhou, while David Hogan, Michael Collumb and Jeff Cundy all lost out in the quarter-finals.
Meanwhile, the Masters event was won by Thailand's Phisit Chandsri, whilst the women's event was won by Belgium's Wendy Jans.