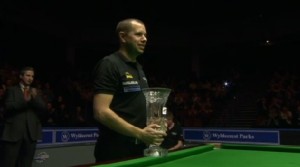 Having finished outside of the top 24 on the European Order of Merit, Barry Hawkins looked set to miss out on the 2014 Players Championship Grand Finals, but tonight he was the last man standing at the Preston Guild Hall as he defeated Gerard Greene 4-0 to win the second ranking title of his career.
Click below for more…
Click here to view all the results from the 2014 Players Championship (snookerorg)
Click here to view the final projected seedings list
Click here to view the latest provisional money list
Having qualified for this week's Grand Finals following Stuart Bingham's victory at the AT4 event recently, Barry Hawkins made the most of the opportunity afforded to him this evening as he defeated friend and practice partner Gerard Greene to capture the title and £100,000 top prize to go with it.
Earlier in the day Barry had played particularly well to defeat the much-fancied Judd Trump 4-1 in the second semi-final with a top break of 131 and he carried on from where he left off in the final, opening with runs of 117 and 75 to immediately put the pressure on his opponent.
Though Greene, who was appearing in the first ranking event final of his 21-year career, had his chances during the last couple of frames, the pressure was very much on already by this point and he never really looked like mounting a comeback.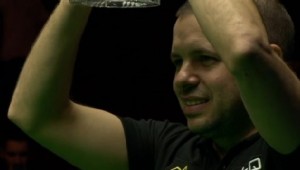 Having played so well to reach the World Championship final almost a year ago now, it is good to see Barry win a big title and prove that his Crucible run was not a one-off. Up to 4th on both the points ranking list and the money list, nobody can argue that right now he does not deserve to be there.
As for Gerard Greene, it is a tournament which has seen him take home a cheque for £38,000 and climb from outside of the world's top 64 to 42nd in the latest provisional money list. As Hawkins told the crowd following the match, Greene has endured a difficult few seasons now and while he did not score heavily this week, he fought hard and potted some real pressure balls at key moments all week.
I am probably most pleased though for all at On Q Promotions, who manage both players and I know will have been thrilled to have two of their players in a ranking event final for the first time.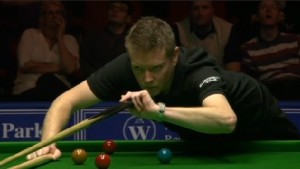 As for the tournament as a whole, it was one that saw a series of upsets throughout, with the world's top four ranked players all out in the first couple of days, while Ronnie O'Sullivan was soon to follow. The likes of Mark Allen, Marco Fu and Judd Trump were also expected to go far, but thanks to Hawkins and Greene were also to fall before the final.
With the normal best of seven frames format and rather bizarre dress code of European Tour polo shirts however, perhaps this was to be expected. The event certainly came across as a strange one on television in that it did not feel like a major, but at the same time clearly had more riding on it than a regular European Tour event.
Of course the other factor is that with the World Championship now so close (the seedings now finalised after this event), it is only natural that some attention has already shifted to that event and no doubt the China Open will also suffer from this once it gets underway on Monday.