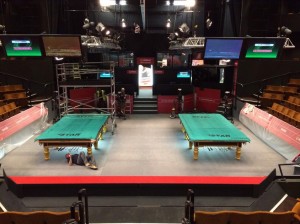 The three day gap between the conclusion of the final qualifying round for this year's World Championship and the start of play tomorrow morning at the Crucible makes the job of previewing the tournament ever-more difficult.
But this year I am hopeful that I have been able to do the tournament justice, thanks to the help of former world number 3, turned highly respected snooker analyst Neal Foulds, who spoke with me this morning to help preview each of the 16 opening round matches and offer his thoughts as to who will be lifting the famous trophy on 5th May 2014…
Click here to view the draw for the 2014 World Championship
Click here to view session times for the 2014 World Championship
The Top Quarter
PSB: Hi Neal, beginning with the top quarter of the draw, what jumps out from this section for you?
Neal Foulds: I was pleased to see Robin Hull qualify because I know him from old and used to practice with him occasionally in West London. He was always a good player and he was just on the up when he got this problem with his ear and he had no balance or anything.
He went from being a player that was just about to break into the top 16, to a player who couldn't even finish a match, so he lost his game, sold his cue and for about four years he wasn't even playing snooker at all. It's a remarkable story really that he is back. I'm not surprised because I know that he is a really good player.
I spoke to a pal of mine who knows him and we disagreed because I thought it was a bad draw for him to draw Ronnie O'Sullivan. If you are a young, up and coming player and you are playing O'Sullivan, it's good, it's good exposure, good everything.
In Robin's case I was hoping that he would possibly be able to beat a slightly lower ranked seed and maybe get himself high up the rankings, but the suggestion is that this is almost his last hurrah which is a great shame. He's not a young man and he last played at the Crucible back in 2002, it's a very tough game for him. I think that Ronnie will beat him easily, but it mustn't be forgotten that he can play.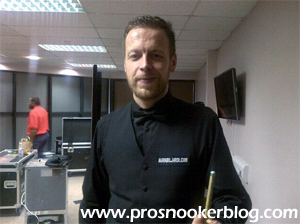 Ronnie can be vulnerable in the early stages but I don't expect him to lose to Robin.
Moving on to Joe Perry and Jamie Burnett, Jamie is underrated, he is a good player. But I expect Perry to beat him and set up a match with O'Sullivan, which might not be an easy one for O'Sullivan that because there have been glimpses this year when Joe has played really well. I remember when he played Ryan Day in Chengdu and he played absolutely brilliantly.
On his day Joe is a good player, if you remember he did Mark Williams a few years ago on that same side of the arena, so if he beats Burnett I don't think that Ronnie will have it all his own way there, though effectively Ronnie has got a good draw hasn't he?
PSB: Yes, what do you think of Ronnie's chances this year in general, he is of course the big favourite to complete a hat-trick of titles?
NF: Well, he's certainly the one to beat, but I am looking at the prices for the bookmakers now and he is short enough. He's got a good draw and we can't keep using the same cliché about O'Sullivan that it depends which one turns up because the one that turns up most times now is a brilliant snooker player.
Aside from his match against Thepchaiya Un-Nooh to qualify for the German Masters, which almost appeared to be some sort of protest against the flat 128 draw, as he played very few safety shots, in general he has won all of the prestige events this season. The Masters, the Champion of Champions, the only major defeat was the defeat to Stuart Bingham at the UK Championship, where Bingham played really well and he lost in the best of 7's to Yu Delu, which can happen.
But if anything Ronnie has grown in stature since he won 12 months ago. So he's going to be tough to beat obviously, but if I was betting on the tournament, which I'm not, I don't think that I would be interested in taking just a shade against odds against.
He's going to be running into Ding at some point and lots of things can go on. Shaun Murphy is in his section of the draw and if he starts to hit the ball well he can beat anybody, so to me there is no value in backing Ronnie now, not this year.
PSB: And speaking of Murphy, he has obviously had a great last couple of months, winning in Poland and winning the Haikou World Open. He seems to have turned the corner after that Masters defeat to Selby.
NF: Yes that's right, I think he is playing really well and cueing beautifully. When he played in the Masters he was pretty disconsolate after that, he had got this new cue and made alterations to it and it has taken him a long time, but the way he played in Poland, you think that he is almost better off now he has got a new cue and he is starting to get used to it.
PSB: When did he get the new cue?
NF: At the start of the season. He had been using the same cue for years, literally all his career, it was a really old fashioned cue, really old, dark grained thing. I asked him about it at the Champion of Champions and he said it broke, so he had no choice but to change it.
Usually that helps you when it breaks because if it doesn't break and you have still got the cue there you can always pick it up if you are struggling and you end up in two minds. But he had to change it and make alterations to it and it has taken him time to get used to it but he is over it now and he is playing some great snooker. I was pleased he won in Haikou, that was a good win.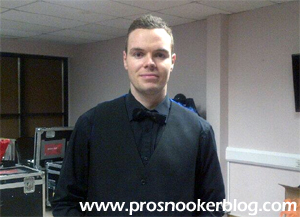 He's got a nice section of the draw there, Jamie Cope is a good player and it is nice to see him back after all of his problems, but he is such an open player and I think that Murphy would be too strong for him in the attacking department.
If it is an all-out attacking game it will be a good one to watch that. Cope sometimes throws the towel in during matches which is a bit of a shame, I know that he has had his problems, but I would like to see him play well, but Murphy I suspect will beat him and if he is cueing as well as we expect, don't forget that he is someone who can start to cue better and better through a tournament, the way he hits the ball so nicely, I would think that he has a good chance of beating either Marco Fu or Martin Gould, which is a tough game…
PSB: Yes, they are meeting each other for the third time at this stage at the Crucible of course…
NF: Well that's right, Gould has won them both. I read today that it will be the sixth time in a row that Gould has played there which is quite an effort when you think that for a lot of that time he has been involved in qualifiers.
I think that Gould might win again, Marco has been really good and really bad this season, when he has been good he has got to the latter stages of tournaments but he has lost to some players that he shouldn't have lost to
PSB: He does throw a bad one in every now and again doesn't he?
NF: Yeah, he lost to Gerard Greene in the semi-finals of the Players Championship, I know he was playing well but aside from that there are a few very up and down results.
And the other thing about Marco, in the 13 visits to the Crucible, nine times he hasn't passed the first round so he's vulnerable early, but if he gets past that as in 2006 he can get to the semis. I think that Gould might win that, he comes in with a bit of momentum and is playing well.
PSB: Yes he played very well at the qualifiers…
NF: So I understand, it's overdue isn't it because he had been struggling before that. It was a shock to me when he went out of the top 32, I thought that he was better than that, but your ranking doesn't lie really and clearly he is down there for a reason. I know he has been struggling, I never thought of him as an outside of the top 32 player, he is clearly better than that.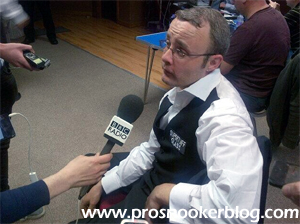 PSB: Do you think that players such as Martin having won three matches will have a bit of momentum and that it might help them or is it too quick a turnaround?
NF: I don't think that it helps, I spoke with Dave Hendon and he thinks that it's a good thing, but I don't know. If it was a continuation of qualifiers then I think that it would be in their favour, but the way I see it is that all the highs of getting through on Tuesday night, Wednesday night, the euphoria of getting through to the Crucible and then they have to restart. I am not sure that it is a big advantage, perhaps the seeds are a little bit fresher, but not everyone would agree with me on that one.
PSB: Would you have wanted to play on the opening day?
NF: In my first appearance at the Crucible I played Alex Higgins, I got through that when I was very lucky and beat him 10-9, but the next year I played Davis on the opening day. We had a close match, he beat me 10-8, but I didn't really enjoy being involved on the opening day, I wanted to slip into the tournament and progress,
The one thing I learned about playing there and I think all these newcomers don't know it yet, but the others do, is that you just want to get through into the best of 25's, three session snooker and then you really feel that you are in the tournament.
PSB: It's strange as well because you will have people like Michael Wasley who have never played professional matches over the best of 25, it will be a completely different ball game won't it?
NF: Oh it really is. You have almost got to treat it like three separate matches really. You can get a little bit numbed out by an eight frame first session and maybe lose it because you think that this is a long match, I can slip through this session and get moving tomorrow, but you can't do that. You have got to be bang on it from the first shot, because you can be sure that your opponent will be like that if he is experienced.
But back to what we were saying, I think that Murphy is the interesting opponent that O'Sullivan is most likely to play in the quarter-finals. He's a lively player in the top half, I suspect that it is going to be a battle between O'Sullivan and Murphy. I don't really see any of the others. I know I said that Perry might give Ronnie a game, but everything points to O'Sullivan and Murphy making it through.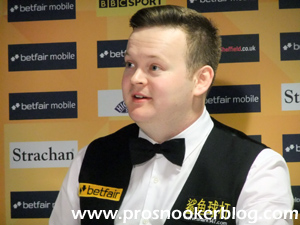 PSB: And you would then back Ronnie to come through that one I assume?
NF: Well I don't know, Ronnie is too short a price, I think it's very easy to assume that Ronnie is going to win it again for the third year running but I won't be tipping Ronnie to win it this year. I think he could and I think he has played marvellous snooker but the wheel can always fall off anything and I think that Murphy would have a bit of a chance. It's a match that I would like to watch really, that's an awkward part of the draw. It's so easy to tip O'Sullivan isn't it?
PSB: It is the easy option!
NF: It is the easy option but it's not an option that people were talking about a couple of years ago. Before Ronnie hit this golden spell, he wasn't winning very much, he barely won anything. He turned the corner when he won in Germany in 2012. He trailed 4-0 to Andrew Higginson, imagine how the story might have changed had he lost that. O'Sullivan had become a little disappointing because he is a wonderful player, everyone knows that, they have always known that.
That match turned everything around, people now seem to forget that there were these years where as great as he was, he won three world titles during that period, there were lots of times in between that weren't very good, so I am not assuming now that he is invincible, because as long as the players that he is up against don't think it, then he won't be.
So I think that Murphy has got a really good chance in that part of the draw, but that match with Ronnie is the one to watch isn't it?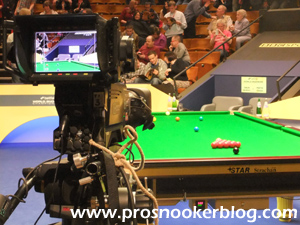 The Second Quarter
PSB: So moving on, Hawkins against Gilbert to start us off in the second quarter…
NF: Dave Gilbert has done well, he is a good player. I wouldn't underestimate his chances there because Barry Hawkins has been quite busy lately, although he did miss out China after he won the PC Finals.
PSB: Do you think that was a good move for him?
NF: I think that in his case, don't forget he won a big prize for winning in Preston and you know a lot more about this than me, but surely the way that it is now, he could almost afford to miss the next tournament if you win £100,000 because it's going to be a prize money ranking list. That tells me that you might see more of that, which is a bad thing because someone is going to pick up a great big prize and then not go to the next one because that has kept them at a high ranking.
PSB: Yes, he's up to number four and he has not dropped down by missing China.
NF: That's the one downside really, but I think it is certainly in his favour and it looks to me that we might well get a repeat of last year's semi-final there between Hawkins and Walden.
A lot of people tell me that Kyren Wilson will beat Ricky Walden and I've seen Kyren and he is a good player, but experience at the Crucible means a lot. I wouldn't back him to beat Ricky, I think Hawkins-Walden will play each other again in round two. I'd be interested to see how well Kyren Wilson plays because I heard Graeme Dott say he played really well against Kyren and still lost and he had no complaints.
PSB: As you say, you never know how the debutants are going to get on, I remember Sam Baird at the qualifiers last year who played brilliantly to beat Joe Perry, but then played Stuart Bingham at the Crucible and froze…
NF: We have seen it before, we've seen players that are experienced do it, remember two years ago when Marco played awful against Matthew Stevens and it was the same year that Graeme was appalling against Perry. It can happen to anybody and it can certainly happen to a debutant. There's so much expectation and the disappointment can be there for all to see.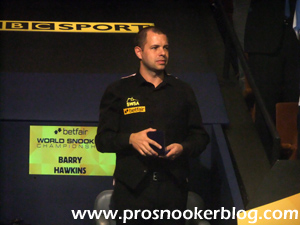 I think Hawkins and Walden will meet again in round two, I am not buying into Wilson winning, but again, he's a player that I want to see closely because I have watched him a few times and I know that he is a good player. This will test him in a new way that he has not been tested before.
And then you come on to Mark Davis and Dominic Dale, which I think could go either way. I don't know if you know, but Mark Davis has never made a 100 break at the Crucible in 187 frames.
PSB: I didn't, that's a very good stat!
NF: It is, 20 years ago he made his début and he has never made a century. I'm not sure what that means about his chances of beating Dominic, but that is a game that could go either way.
I think that the trouble with Mark is that he has a slight identity crisis in that he is a top 16 player but people in the street wouldn't name him as one and he's playing someone who is going to enjoy being there in Dominic, you know what Dominic is like, he loves the limelight. It wouldn't surprise me if Dominic won that match, it's a tough one to call.
PSB: And then onto Ding Junhui against our second debutant Michael Wasley…
NF: I watched Michael Wasley at a PTC event last season when we were doing the live streaming and I thought he was a promising player, but he has run into one here hasn't he? I don't see Ding Junhui losing to him and I think that there is every chance that Ding will take him apart. If you remember 12 months ago he took Alan McManus apart, particularly in the first session and I think Ding is pretty ruthless, I expect him to win comfortably. Michael will have some really good experience but I don't think that there is going to be a shock there personally.
PSB: On the subject of Ding, how do you rate his prospects for the Championship generally, do you think that he will come through this quarter?
NF: I think that he has got a fantastic draw, he's playing Wasley, to play Mark Davis or Dominic Dale and one of Hawkins, Walden, White or Gilbert. They are all good and we know that Hawkins beat him last year, but you couldn't really wish for a better draw if you are Ding to get to the semi-finals.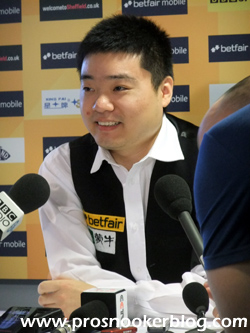 But it is a long, hard season for him and he does throw in the odd bad session here or there. He just seems to have more mental fortitude to battle his way out of it now. I don't fancy Ding to win this year, or any year now, I just don't think that he is in love with playing there But you couldn't argue with the season he has had, he has been brilliant.
PSB: I must admit, I am going to go out on a bit of a limb here and say that I think that Hawkins might well make it through this section and back to the semi-finals.
NF: No I kind of agree with that, I think that Hawkins could go a long way and missing out on playing in Beijing, I think that has worked out well for him, that was a good idea.
The Third Quarter
PSB: So then we are onto the second half of the draw, Mark Selby's quarter…
NF: There could be some shocks in this part of the draw I think, especially in the first segment. Mark Selby has had a good season reaching finals, but a fairly unproductive one for someone as a world number 3. I would love to see him win the world title, he's the one player I would love to see win it. I like the way he is and the things he does for the game, but I think that he looked more likely to win it about three years ago than he does now.
PSB: He was scoring a lot more heavily then wasn't he?
NF: He was, he has turned into something of a grafter now, he can win ugly very well but we are not seeing so many glimpses of his brilliance.
He can turn it on. I remember in the Masters last season when he got to the final and played Neil Robertson who had been knocking in centuries all week, Selby had come through against Dott very late on the Saturday, everything told you that Robertson would beat him, but he managed to get a good night's sleep and he played great in that final, so he can do it.
But he's falling at the first hurdle every year and he has got Michael White, which is a tough game for him. I'm not saying that he won't beat White, but that is a pretty tough opening game I think. He'll have great memories of what he achieved last year here.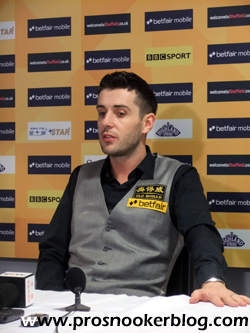 PSB: How much does it help when you have a good debut, a good run and then you come back the next year?
NF: Yeah it'll mean the world to him to be back there, he had a tough match to qualify didn't he and he played really well in the end to win I think and that will set him in good stead. Again, I'm not really tipping up Michael, but I know it's not the match that maybe Selby would have particularly liked first up, it's a tough one.
I'm just a little bit worried whether Mark's game will lasts the whole two and a half weeks because he has to battle so hard to win sometimes. As we've seen, he can run out of petrol in tournaments and the season seems a bit long for him. He doesn't seem to have it in him to turn tournaments down.
The last couple of years he has looked very jaded at the Crucible. You can't start the tournament being tired because you have got no chance. The year that John Parrott won it, he had a very poor season and I remember him saying all the way through that he was like a fresh horse, ready to run his race here and it always sticks in my mind that since then it has been apparent that you need to be able to go into the Crucible with a strong mind and a clear mind and perhaps a lot of these guys are cluttered up by travelling to and fro.
The whole situation of going from Haikou, to Preston and back to Beijing was unacceptable in my view. People outside of snooker work very hard, but the fact is that you can't cheat jet lag, you go back and forth between time zones and you are exhausted. We saw it last year, a lot of the guys that were winning all season struggled and there is no reason that it can't happen again.
PSB: Moving on, next up we have Ali Carter against Xiao Guodong, another debutant this year…
NF: I think that has got the makings of a shock. It's difficult with Ali Carter to doubt his record because he has reached two finals and been in the semi-finals, so he is a real Crucible player and looked like he was coming into form in Beijing, but Xiao Guodong I think is a qualifier that you don't want to be up against.
I make him the toughest of the lot. He has played in a ranking final in Shanghai and it all comes down to how he plays at the Crucible, how he enjoys the atmosphere there. He is quite flamboyant isn't he, more so than some of the other Chinese players.
PSB: He has got the silver shoes!
NF: Yeah, he could make a bit of an impression at the Crucible and I would like to see that.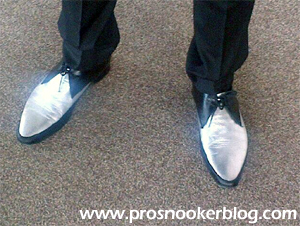 PSB: He's one that I have rated highly for a long time, he played a fantastic match against Kurt Maflin at the qualifiers a few years ago now I remember…
NF: Yeah, I think a lot of people fall into the category and I don't mean this in the way that it might sound, but a lot of the Chinese players coming over have a similar game, fairly manufactured players who have not got quite the talent of Ding. Then we are going to see the third generation of kids like Xiao Xintong and the youngsters coming through, but then there are this middle group who are really good, the likes of Yu Delu and Cao Yupeng, those guys who are good but not special.
But I think that Xiao Guodong is a little bit different, he is a talented player so again, I wouldn't want to insult somebody like Ali Carter who has got a proud Crucible record, but I wouldn't be surprised if Xiao Guodong beats him there, I think he is a really good player.
PSB: And then the all-Scottish match between John Higgins and Alan McManus. What have you made of John's form lately, do you think that he is coming back into a bit of form?
NF: He's ok, playing a bit better. Of course he started the season by getting to the final of the Wuxi Classic, people seem to forget that. I wondered about John Higgins as an outside bet but I don't think that he is playing well enough.
I would be surprised if Alan McManus beat him though, those two go back a long way and John will have a good record against Alan, but Alan has qualified two years running so all credit to him. I would have thought that if John could have picked a tie there, he'd be happy to play someone like Alan who he knows.
It could be a close one and I know that Alan is playing really well and he looks like he is back into the top 32 for next season, so he is still competing well, but I think John will beat him. John has got a great track record at the Crucible, there are signs that he is playing better and he has the ability to be there for a long time, but the jury is out for me as to how he is playing.
PSB: And wrapping up that section, Stuart Bingham against Ken Doherty…
NF: Yeah Ken Doherty did well didn't he? Dechawat Poomjaeng is good player who has done well at the Crucible, so I thought that was a really good win for Ken.
PSB: 4-2 down, he said afterwards that he couldn't pot a ball, but he just found a break to close to 3-4 and seemed to find his rhythm from there.
NF: Now though Ken has to come out on the television, he hasn't played a huge amount of televised snooker over the past few years, he has played some matches but a lot of his snooker has now been in qualifiers.
It is that strange transition that all players get where they go from being the limelight player and then dropping out of the top 16 and for the next year the qualifiers are really tough to play in and then all of a sudden it goes the other way, you adapt to playing in qualifiers again, play well in those, get to the televised stages and get really nervous, so you have gone full circle.
So until he goes out there at the Crucible and plays like that, I think that he might struggle to beat Stuart. I've got a feeling Stuart could have a very good year this year, he is one of the dark horses for me. I think that he will beat Ken, he had to miss Beijing because his father-in-law sadly died and it is not the circumstances that he would like, but the fact is, he did have a little break before the World Championship and in a roundabout way, it might help his chances of playing well here.
He has beaten O'Sullivan of course this season in the UK Championship, so nobody else can boast that in long matches. I think that Bingham is the man in that part of the draw, I think that he will beat Ken and I think that he will beat the winner of the Higgins-McManus game. He is the forgotten man of the draw, nobody is talking about Bingham, but I reckon that he will do well.
PSB: So you think that he is going to be the one to keep an eye on from this quarter?
NF: I do and if he gets to the quarter-finals and ends up playing a Selby or a Carter, or whoever, I reckon he could be quite dangerous. He comes here fresher than some and he has got the track record, it was 2000 that he beat Hendry as defending champion and he is maturing with age.
The Bottom Quarter
PSB: Onto the bottom section we have Judd Trump against Tom Ford…
NF: Somebody told me that he played really well at the qualifiers, but my memory of Tom Ford was when he was absolutely pulverised by Mark Allen a few years ago and I would expect Judd Trump to do well, I think that is a good match for Judd playing someone as attacking as Tom.
PSB: What do you make of Judd, he's has a quiet season but he seems to be getting now?
NF: I think that he has got a good chance of going all the way. He has been in the final before and the record of people making finals and eventually going on and becoming world champion is very good, a lot of players have done that. I think he's got chances and he is starting to play a lot better.
Judd is definitely on my short-list of players who can win because he's had a quiet season, he's good enough. The only thing that I remember from last year that sticks in my mind is I remember the match when he lost to O'Sullivan and Ronnie outclassed him in that match in my view.
PSB: He made Judd look quite limited didn't he, even though we know that he is not!
NF: Exactly, Ronnie can do that to anybody but it didn't help Judd because Judd frightens players and he wasn't frightening Ronnie.
Judd's a really good player and if he hits a spell of his best form, he could be unstoppable up there. He's away from O'Sullivan in the draw so he hasn't got to worry about any of that for now, as long as he's getting his nut down and doing what he does best, playing snooker and not getting dragged into any spats or controversies, which I don't really think is his way, then he is going to be difficult to stop. I think he will beat Ford, which brings us onto the match between Stephen Maguire and Ryan Day…
PSB: Have you seen the head to head record between those two? It is extremely one-sided in Maguire's favour, 13-1 in all competitions with Ryan's sole win coming back in 2000.
NF: It could go either way but that is quite a damning stat because as someone who plays, during my career if I was up against someone who I had a great record against then I was quite happy to play them again and if you got the odd player who you did have a particularly bad record against, you didn't particularly enjoy playing them.
I don't think Ryan will be overly thrilled about running into Maguire based on that. He strikes me as a bit of a thinker and someone who psychologically could be stronger. I like his game, but that stat might be the reason why he doesn't win that match.
But I think that Trump will get through that bit of the draw, Maguire is a very tough player, but I've got a good feeling about Trump this year, I think that he is going to do well. Not only his ability, but the fact that he has been in the final and he has not had the same gruelling schedule as some of the other usual suspects really, the likes of Robertson, Ding and Selby.
PSB: And then on to the last couple of matches, Mark Allen against Michael Holt…
NF: Well Mark Allen has found ways of losing matches at the Crucible hasn't he, I had him down as an outsider, someone who could win it, I have always thought that. But he got embroiled in that thing with Cao Yupeng a couple of years ago which he should never have done and he was very disappointing last year.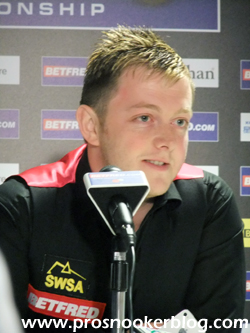 But if he gets going and get through the first round and into the best of 25's, I maintain that he is unstoppable on his day. When he won in Haikou for the second year, he was unbeatable in the semi-final and final, he was brilliant.
He's got his very own way of hitting the ball, a short, jabby action which is not going to work every day of the week, but a little bit of fire in his belly and a chance to get pumped, he could be unstoppable. I expect him to beat Michael Holt, I think that will be an interesting game, they could be the best of mates those two. The way Michael is and the way Mark is, it might inspire Mark a little bit. I think Mark will win that game, I like watching him play, he's a good player.
PSB: And it could be an all-left handed clash with Neil Robertson if he can come through against Robbie Williams…
NF: Who is also left-handed just in case he wins! I do think that as everybody else is saying, that Neil Robertson has become a little obsessed with this 100 hundreds business. I've not hit up on something there that is very original, but he was on 92 for a long time, the record got stuck and then it went up to 93.
If he wins the title, which should be his main aim, he'll probably pass 100 hundreds, but failing that if he goes out in round two he will fall short in all ways. I always thought that he had another world title in him, to win the world title is a great effort for anybody, but you have got this brand of players who have won it more than once that takes them up a level in my view as a player. Obviously Mark Williams has won it twice, then you have Higgins, O'Sullivan and the greats of the game who have won it more than once. I think that Robertson is good enough to win it in his career more than once, twice, maybe three times.
I still remember last year and how terrible he played against Milkins, he just forgot to play snooker in that match. He turned up, thought that somehow he would get through it, get a bit of time to get better and he just forgot to play.
PSB: The second session in particular, he really lost his way didn't he?
NF: Yeah he completely lost his way and he has done a lot of thinking since then and come out stronger as a player and he's got a good draw against Robbie Williams. I know he is a good player and I am pleased he is there before I quite like watching him play, he is a nice player.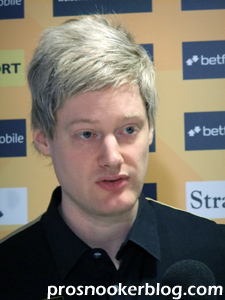 Robertson to all intents and purposes should beat him and then he'll be into the tournament and of course he's a big player. But he's had a long season and I think that is against him a little bit. A match with him and Mark Allen would be one that I would really enjoy watching, so I hope that they both make it through.
PSB: So having now gone through the draw, can you pick a winner?
NF: Yeah I think I would like to see Judd Trump win it. I know not everyone is a Trump fan – I am, I have known him since he was a kid, his parents are always going to watch matches as well and I like his game, I think he is good enough. The only thing I would say is that there is a lot of luck involved in his game, he lets the cue ball run around the table a lot, he has not got the same, immaculate control as Ding or O'Sullivan, so good and bad luck can play a part, so I think that Judd will need to have a lucky two weeks.
If things are going for him and he chances his arm and things work out, then he is a pretty formidable player at his best and it would be a bit of a travesty if he went another four or five years without being a world champion because he might never be. Maybe this is going to be his year.
And there we have it, the 2014 World Championship kicks off at 10:00am tomorrow morning and as ever, you can expect thorough behind the scenes coverage here at PSB from the venue throughout. Thanks very much to Neal for his thoughts above, will Judd claim his first world title? Let me know what you think below…