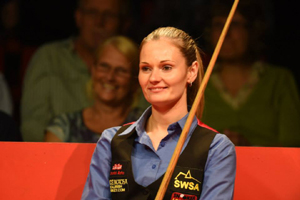 Jason Francis, creator of the Snooker Legends Tour, is proud to announce that he has signed an exclusive management deal with ten times World Ladies Snooker Champion Reanne Evans.
He has also recruited SightRight Guru, Stephen Feeney, who will immediately become her full time coach as they work towards their goal of a main tour place for Reanne in 2015. Feeney currently coaches, and has had major ranking success with, season ending world number eight Stuart Bingham and multiple event winner Martin Gould.
Snooker legend Jimmy White has agreed to use his global reputation and contacts to help grow the profile of Reanne, the world's best ladies player.
Francis said "I saw first-hand just how good Reanne was at legends cup and also how frustrated she has become at not being able to break through onto the WPBSA full professional tour. As a ten times world champion I do not feel she has gained the profile, or indeed recognition she deserves. Steve Feeney believes he can make a 50% improvement to her game within 6 months and with Jimmy's help I think we can make a difference.
Reanne said "This is a fantastic opportunity for me to improve my game and raise my profile. Having seen Jason and Steve at work I feel that we will be a good team in working hard in achieving this. I'm looking forward to what the future brings"
Francis added, "The immediate goal is to work towards the first EPTC in Latvia in August but we are realistic that there is a lot of hard work ahead and we are not expecting miracles. Away from the snooker I'm not ruling out taking Reanne to China to compete in some 'Black 8' tournaments. We know she offers something different and that whenever she's given opportunities to compete on the main tour that she generates news. She is a fantastic ambassador for the Ladies Tour and is still fully committed to helping them develop globally"
Reanne will feature in the third episode of the Ronnie O'Sullivan Show on Eurosport on June 26th
All enquires for Reanne Evans should now be directed with immediate effect to Jason@snookerlegends.co.uk