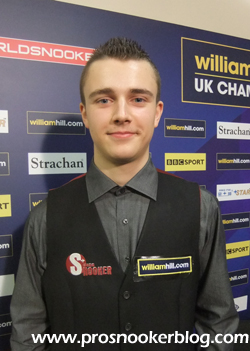 A brief line of news that came out on World Snooker's Twitter feed yesterday was that Swiss starlet Alexander Ursenbacher has been forced to withdraw from the upcoming Wuxi Classic due to visa problems…
It is always a shame to see a player forced to miss out on a tournament due to external influences such as this and in this case the disappointment is compounded by the fact that Alex will now lose the £3,000 and equivalent ranking points earned from his hard-fought 5-4 win against Kyren Wilson in his first round match last month.
In previous seasons this would not have been the case, but as stated within the WPBSA ranking schedule for the 2014/15 season:
"Players who qualify for the final stages of an event but do not subsequently attend that event, for whatever reason, will not receive any prize money, nor will they receive any contribution towards the prize money rankings."
Is this correct? The reaction that I have received on Twitter has been generally negative and given that this is presumably something beyond Alex's control, it does seem harsh that he is penalised in this way.
On the other hand, I can understand the logic of the rule, which is presumably aimed at discouraging players from qualifying for overseas events in the UK and then electing to withdraw from the venue stages for more tenuous reasons.
Either way, the beneficiary from Ursenbacher's problems will be defending champion Neil Robertson, who now receives a bye to the last 32 in Wuxi.