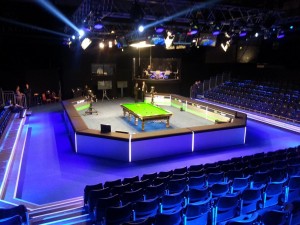 With professional snooker all but over for another year, it is time again to begin my mostly-annual series of 'best of' polls for you to vote in.
First up, I consider what has been the best match of 2014 and offer my suggestions below, while you can also enter your own selection in the poll or comment section below…
Ronnie O'Sullivan 6-0 Ricky Walden (Masters, quarter-final)
80-39 (79), 89-0 (88), 82-0 (72), 134-0 (134), 77-0 (77), 95-0 (56)
While this is far from the closest match on my list, it was certainly one of the most memorable as Ronnie O'Sullivan set a new record of 556 points without reply, smashing the previous best set of 495 by Ding Junhui in the Premier League.
Having seen Ricky take the early initiative with a break of 38, what was to follow was a masterclass from O'Sullivan on his way to another Masters title, which left Walden feeling 'helpless' as he later told the media.
The man with the best view of Ronnie's performance though was referee Paul Collier, whose post-match tweet tells the story:
I never comment on a match I was involved with as I think its unprofessional – but just this once, wow……!

— Paul Collier (@welshref) January 17, 2014
Ding Junhui 5-4 Joel Walker (Welsh Open, quarter-final)
74-15 (74), 1-78 (78), 78-36 (64), 46-60, 8-74 (74), 0-101 (101), 66-32 (52), 139-4 (139), 104-1 (104)
Having already defeated the likes of Stephen Maguire and Mark Davis on his way to a first career ranking event quarter-final, Joel Walker looked like he might cause one of the biggest upsets of the year as he led Ding Junhui 4-2 with breaks of 78, 74 and 101 at the Welsh Open in February.
Like all great champions do however, Ding was able to respond when it really mattered with runs of 52, 139 and 104 to deny the Sheffield youngster a fairytale win and keep his quest for another ranking title alive.
John Higgins 5-4 Judd Trump (Haikou World Open, last 16)
5-130 (100), 0-82 (63), 12-110 (110), 0-68 (68), 104-0 (104), 137-5 (89), 90-0 (90), 124-0 (124), 75-38 (63)
It has been a tough 12 months for John Higgins, but the Scot reminded everyone of his capabilities at the last 16 stage of the Haikou World Open as he came out on top of a high-quality contest with Judd Trump.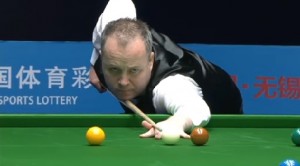 It was though an outcome that looked to be unlikely at the mid-session interval, as Trump led 4-0 following breaks of 110, 100, 68 and 63, but incredibly Higgins was to fight back with breaks of 104, 89, 90, 124 and finally 63 to book his place in the quarter-finals.
Michael Wasley 10-9 Ding Junhui (World Championship, last 32)
With five ranking events under his belt heading into the World Championship, Ding Junhui was tipped by many as being one of the main contenders for the title but was to find himself on the wrong end of one of the Crucible's biggest upsets, as Michael Wasley claimed a brilliant 10-9 victory.
It was a close contest throughout, but as Ding took a 9-8 lead before the match was pulled off late in the second session, it looked as though perhaps the Chinese number one would come through unscathed.
Wasley though had other ideas, a break of 103 on their resumption quickly forcing a decider, before breaks of 35 and 22 ultimately proved to be enough to get him over the line, despite a couple of brilliant attempts from Ding to lay snookers on the final pink.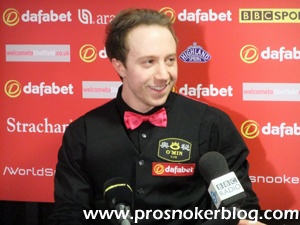 Ronnie O'Sullivan 13-11 Joe Perry (World Championship, last 16)
Having not previously lost at the Crucible since 2011, Ronnie O'Sullivan was pushed as hard as he had been by any opponent since as he met Joe Perry at the last 16 stage of this season's World Championship.
Few expected Joe to be able to stay with the two-time defending champion, but as he moved into a 4-1 lead early in the match, it was clear that O'Sullivan had a match on his hands.
The scoreline moved on to 11-9 in Perry's favour as the players headed into their final mid-session interval, but from there O'Sullivan was to take command, runs of 53, 52 and 48 drawing him level, before he finished with back to back centuries on his way to a third successive final.
Mark Selby 17-15 Neil Robertson (World Championship, semi-final)
Ronnie's opponent in that final was to be Mark Selby, after the Leicester man came through one of the best World Championship semi-finals of the last decade a 17-15 winner.
Resuming the final session at 12-12, the pair traded blow for blow as the score became 14-14 at the mid-session interval, before Selby claimed three of the final four frames with breaks of 77, 74 and 54 to emerge victorious.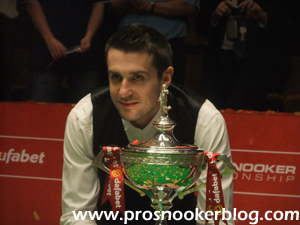 Mark Selby 18-14 Ronnie O'Sullivan (World Championship, final)
Following that semi-final victory for Mark Selby, it appeared for a while as though the final might be more one-sided as Ronnie O'Sullivan moved into a 10-5 lead late on the opening day.
Crucially though, Mark was able to win the final two frames on the Sunday with breaks of 58 and 62 to trail by just three overnight, before winning eight of the next ten frames to completely turn the match on its head on his way to a memorable victory.
Mark Allen 9-8 Mark Williams (International Championship, semi-final)
92-0 (92), 79-36 (71), 0-120 (120), 0-135 (135), 72-42 (52), 60-76 (54,70), 111-0 (105), 74-36 (55), 77-0 (77), 32-84 (84), 75-4 (67), 46-70, 1-70, 40-102 (102), 73-71, 0-86 (86), 60-46
Fast forward to November and we were to witness a fantastic tussle at the semi-final stages of the International Championship, as a rejuvenated Mark Williams took on the in-form Mark Allen for a place in the final in Chengdu.
It was to be a high-quality match throughout, Allen leading 7-4, before Williams struck back to level at 7-7 with three frames still to be played. It looked as though Williams was set to move 8-7 ahead, as he led the 15th frame 71-0, only for Allen to strike back and snatch it on the black.
To his credit, Williams was able to respond with a break of 86 to force what would be a close decider, but it would be Allen who would take the victory with a clearance of 26 to the pink.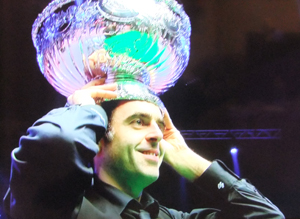 Ronnie O'Sullivan 10-7 Judd Trump (Champion of Champions final)
137-0 (137), 82-0 (78), 25-100, 63-73, 137-0 (50,87), 80-0 (80), 34-89 (58), 139-0 (139), 134-0 (134), 70-61 (JT 56), 114-23 (70), 9-113 (102), 0-100 (100), 0-70 (69), 0-90 (90), 82-46 (63), 109-0 (109)
The first of two classic finals between Ronnie O'Sullivan and Judd Trump towards the end of this year, the Champion of Champions final in Coventry saw six century breaks and more than ten half-centuries between the two as first O'Sullivan moved 8-3 ahead, before Trump hit 362 points without reply to bring himself right back into the match.
Ultimately it was not to be enough, but was to be a sign of things to come with the UK Championship on the horizon…
James Cahill 6-5 Ding Junhui (UK Championship, last 32)
If Michael Wasley's victory against Ding Junhui at the Crucible was to be the upset of the year, then Ding's defeat to James Cahill at the last 32 stage of the UK Championship would probably be next in line as the two-time former champion was shocked by the 18-year-old in York.
Having seen his opponent open with a break of 134, James showed from an early stage that he wasn't to be overawed by responding with a century break of his own, before moving into a 4-1 lead. This soon became 5-1, as James produced a fantastic clearance of 57 to move just one frame away from victory.
Perhaps inevitably however, Ding was to fight back, closing to just one behind at 4-5, before drawing level following a dramatic tenth frame which saw Ding recover from a position of having needed three snookers to snatch it by a point.
Cahill though was not to be denied and with a gutsy break of 56 in the decider, would go on to claim the biggest win of his career.
Ronnie O'Sullivan 10-9 Judd Trump (UK Championship final)
54-44, 32-87 (50), 103-0 (82), 87-13, 118-0 (81), 77-49, 36-75, 49-69, 67-53 (RO 53), 67-56 (JT 56), 0-62, 133-0 (133), 89-35 (54), 32-66, 0-120 (120), 0-127 (127), 8-86 (86), 59-67 (67), 75-14 (51)
Last, but certainly not least is the recent UK Championship final between Ronnie O'Sullivan and Judd Trump, which for long periods of the match looked as though it might prove to be a procession for O'Sullivan as he led 5-1 and 9-4.
As had been the case in Coventry however, Trump was to produce a stirring comeback, back to back centuries and a break of 8-6 seeing him close to just one frame behind, before a 67 clearance sent the match into an unlikely final frame shoot out.
Both had chances in the decider, but ultimately it was to be a snooker from O'Sullivan which was to prove decisive, as he claimed the UK title for a fifth time.
Those are just my suggestions, but what was the best match of 2014 for you?