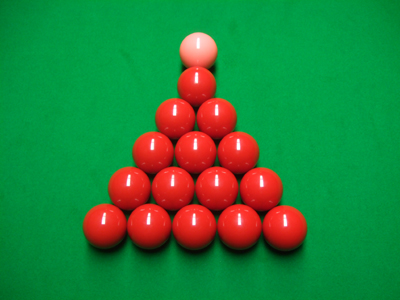 Following on from part one of my 2014 Pro Snooker Awards earlier week, click below to read part two, as I look to the best tournament, best venue and website of the year, amongst other things…
Tournament of the Year: World Championship
An easy choice at the best of times, but in 2014 it was especially so, as we enjoyed what was for me perhaps the best World Championship of the last decade.
With a mix of first round upsets, close finishes and big performances from the world's leading players, it was a tournament that had almost everything, as Mark Selby claimed his first world title at the Crucible Theatre.
A particular highlight for me was the semi-final between Mark Selby and Neil Robertson, a 'proper' battle between two authentic top players. While there are no poor players who make it through to a World Championship semi-final, this was a match between two players right at the top of their game and for me it was a real throwback to the great semi-finals between Stephen Hendry, John Higgins, Ronnie O'Sullivan and Mark Williams of years gone by.
Add to that the historic moment as Neil Robertson became the first player to make a century of century breaks during a single season during his quarter-final match with Judd Trump, as well as a classic final and it was truly an event to remember.
New Event of the Year: Lisbon Open
Perhaps surprisingly, 2014 saw relatively few new events, as those already held were given the opportunity to establish themselves on snooker's calendar.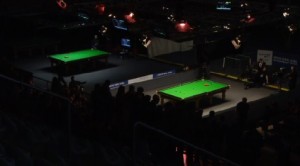 One new event that was a success however was snooker's return to Portugal at the recent Lisbon Open, where Stephen Maguire defeated Matt Selt to take the last title of 2014.
It might have been dominated by talk of the tables, but it was notable from the comments of the players who were at the tournament that they were enjoying the venue and the impressive crowd there.
Final of the Year: Mark Selby 18-14 Ronnie O'Sullivan, World Championship
There might have been closer finals, there might have been finals with bigger breaks, but there were none as significant as that between Mark Selby and Ronnie O'Sullivan this year at the Crucible Theatre.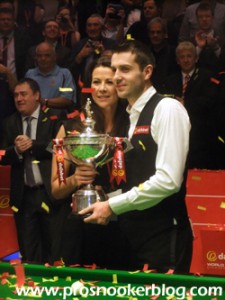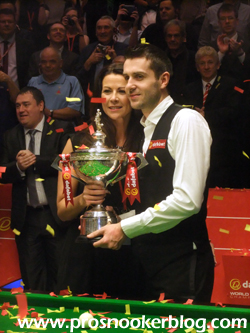 With O'Sullivan easing into a 10-5 lead as Selby struggled to impose himself upon the match during its opening day, it appeared as though there would be nothing to stop Ronnie from claiming a hat-trick of world titles and his sixth of all in 2014.
Mark Selby though had other ideas, taking the final two of the second session to stay alive at 10-7, before he took the 11 frames that he needed the following day to finally achieve his dream of winning the World Championship.
Venue of the year: Crucible Theatre
Again, another obvious choice, but there is no other place for snooker like the Crucible Theatre in Sheffield.
With its unique atmosphere and mix of snooker fans, from those enjoying their first day at the venue, to those who have been regulars for over a decade, the 17-day Crucible experience feels like more than a snooker tournament and this year was clearly my highlight of the snooker year.
As I say every year though, do enjoy it while it lasts, because it won't be around forever. If you get the chance to go in 2015, for any session, I would urge you to take it.
Referee of the year: Brendan Moore
It is usually difficult to choose an individual for this award, as all of the top referees do such an excellent job, but in 2014 the decision is relatively straight-forward, as Sheffield's Brendan Moore was selected to officiate his first World Championship final, at his local venue the Crucible Theatre.
From having spoken to him at various snooker venues across the country during the past six or so years and from being in the arena during the opening session of the final, I do know how much that honour would have meant to him.
A special mention also for Leo Scullion, who continues his battle against lung cancer and we all hope to see back on the circuit as soon as possible.
Talking Point of the Year: Playing Conditions
From bounces and kicks, to polish and humidity, the subject of playing conditions has been something that has just refused to go away in 2014.
In particular, a topic that has seen a huge amount of debate amongst the players, with world champions divided in their opinions as to how they may be improved, it will be interesting to see how the WPBSA responds following the recent trial of the ball-cleaner in Lisbon.
Celebration of the Year: Neil Robertson, the century of centuries
I have been lucky enough during the past ten years to have seen a number of special moments in snooker, including four maximum breaks.
Few single moments though are up there with the celebration and subsequent reaction of the crowd when Neil Robertson sunk the final green to make his 100th century break of the 2013/14 season, during his World Championship quarter-final with Judd Trump.
Watch it here.
Innovation of the Year: Partitions
One of the most visible changes in snooker since the return of Barry Hearn in 2010 has been the shift to 'open-plan' playing venues, which whilst popular for spectators watching, has led to increased distractions for the players themselves whilst at the table.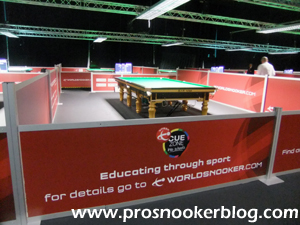 It was something that I felt particular uncomfortable with at the World Championship qualifiers at Ponds Forge and with the concerns of the players in mind, World Snooker have this season introduced specialist partitions to venues such as the Barnsley Metrodome.
Whilst these are not ceiling-high such as those seen in years gone by, they are high enough to mean that when players are down on a shot, they will not be able to see the action of the next table in their eye-line and I think have proven to be a clear success so far.
Tweeter of the Year: Ali Carter
Following the shocking news of his cancer diagnosis back in June, Ali Carter could have been forgiven for taking a step back out of the public eye and undergoing treatment in private, but to his utmost credit he has chosen to do the exact opposite.
With his positivity and inspiration, in particular through the use of Twitter and his occasional interviews on Andy Goldstein's Sports Bar radio show, it was impossible not to be in awe of the three-time ranking event winner and celebrate the news of his 'all-clear' in recent days.
Surreal moment of the Year: Mark Selby performs with Nicko McBrain
If Neil Robertson's celebration of his 100th break was the highlight of the year on the table, then being witness to newly crowned world champion Mark Selby participate in an unlikely performance with the Iron Maiden's Nicko McBrain during the tournament after-party was definitely the highlight off it.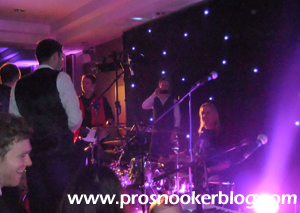 Watch my videos of the unlikely coming together here and here.
Tear to the eye moment of the year: Neil Robertson's reaction to defeating Joe Perry to win the Wuxi Classic
One match that was unfortunate to be omitted from my recent poll to find the best match of 2014 was the deciding frame finish to this season's Wuxi Classic between close friends Neil Robertson and Joe Perry, but despite the on-table drama, for me it will perhaps be a match best remembered for the emotional reaction of Robertson in the moments after his latest ranking victory.
For all the words that I could say, perhaps the photo below and reaction from Joe says it all:
Robbo after he has won, obviously great friends these two. pic.twitter.com/du3entYnZh

— Matt (@ProSnookerBlog) June 29, 2014
I have to say, Neil's reaction at the end really meant a lot to me! A champion on and off the table! #winner#friendship — Joe Perry (@joegentlemanjoe) June 29, 2014
Commentator of the Year: Everton/Foulds/McManus (shared)
Ok, so this is a total cop out.
But it is hard to separate any of the ITV team who commentated on this year's Champion of Champions event in Coventry, who gained near-unanimous praise on social media from what I could see and as a trio, complimented each other well both during matches and also their respective stints in the studio.
Snooker Website of the Year: Snooker.org
While people could be forgiven for thinking that I have a vested interest in the site (I don't), for me the best independent snooker website on the internet remains the on that this year celebrated its 20th birthday, snookerorg.
A website used by many in snooker's media for access to all of the latest breaks and results, it remains for me the easiest way to keep a track of what is happening on the table and a useful website for us all.