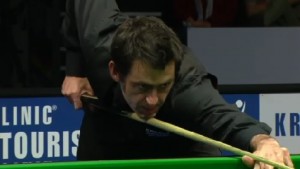 We have already enjoyed a number of memorable matches during the 2014/15 snooker season, but with all four matches this evening going to deciding frames, including a 147 break for Judd Trump and plenty of drama aside, tonight proved to be a session that will live long in the memory for those who had a ticket for the quarter-finals of the 2015 German Masters.
Click below for my round-up of the action…
Having never previously lost to Shaun Murphy at a ranking event, Ronnie O'Sullivan entered his quarter-final match with the recently crowned Masters champion as favourite, but quickly found himself 2-0 down this evening at the Tempodrom as Murphy hit breaks of 77 and 59.
As was perhaps to be expected, O'Sullivan hit back, a break of 74 in the third frame preceding a dish of 134 to draw level at the mid-session interval, before he forged further clear at 4-2 with a top run of 73.
He could not quite get over the line however, as Murphy fought back to force a deciding frame in which he had the first opportunity, before a safety error looked to have given the initiative to the 2012 Berlin champion.
Unfortunately for Ronnie though, he was not able to make the intended cannon on the last red to bring it into play and a failed attempt at a thin cut using his left hand a few shots later would prove to be his final shot of the match, as Shaun cleared the table to seal a memorable victory for him.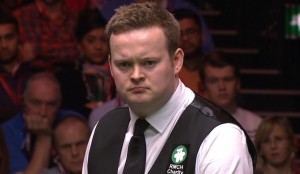 Ronnie did little wrong in truth, but every credit to Shaun for not losing belief at 4-2 down having lost the previous four frames, particularly after the drubbing that O'Sullivan gave him at the Crucible last year. It was clear from his celebratory fist pump after the handshake that it was a special win for Murphy and understandably so.
Next up for Shaun will be a clash with Liang Wenbo, who won another high quality match with Welshman Ryan Day, who had already seen off Chinese opposition in the form of Ding Junhui earlier in the tournament.
It was a close battle throughout as the players traded breaks and were never separated by more than a single frame, but it was Liang who finished the stronger with runs of 90, 57 and 48 helping him through to only his second career ranking event semi-final, his first since the 2009 Shanghai Masters.
Elsewhere, there was plenty of drama in the match between two former finalists here in Germany, Mark Selby and Judd Trump, not to mention big breaks.
Having traded the opening couple of frames with breaks of 87 and 94, Selby took command at the mid-session interval with further runs of 83 and 95, before Judd Trump lit up the Tempodrom by making his second career maximum break in the fifth frame of the match (see here for more).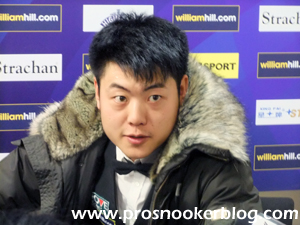 Perhaps inevitably, the two continued to trade breaks until the match reached its ninth and deciding frame, Judd amassing an early 31 point advantage, before Selby hit back with breaks of 60 and 27 to reach his first semi-final since September's Shanghai Masters.
As well as representing for me his strongest display since his World Championship triumph last spring, it was a performance that kept alive Mark's hopes of preventing Ronnie O'Sullivan from reclaiming the world number one spot, with a run to the title enough to see him overhaul the Rocket.
One man who now cannot overhaul O'Sullivan is Neil Robertson, after the Australian lost out narrowly to Stephen Maguire in remarkable circumstances this evening. Having seen his opponent steal the opening frame of the match on the black from 62 points behind, it was Maguire who was to have the last laugh, as having needed two snookers in another deciding frame, he saw Robertson hit the final red into the black on the top cushion, which somehow found its way into a middle pocket.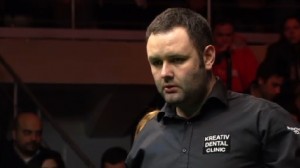 By all accounts it was to be a crazy finish to the match and a disappointing way for Robertson to exit the tournament, but for Stephen is another strong win and one that further boosts his chances of securing a top 16 seeding for the World Championship at the end of the season, as well as a big match with Mark Selby tomorrow.
All things considered it was a remarkable session in Berlin this evening and following a long look back over the record books, the first time at a ranking event that all four quarter-finals had gone the distance since the 1996 Asian Classic, a tournament won by Ronnie O'Sullivan without making a century break.
Back to the present day though and we have two excellent semi-finals in prospect tomorrow, who wins it from here?