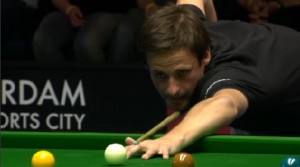 Another week, another maximum break as David Gilbert has today made his first career 147 at Crondon Park in the latest round of Championship League fixtures.
Coming in the third frame of his group 7 match against China's Xiao Guodong, the break represents the 114th maximum in professional competition and already in early February, the fourth of 2015 so far.
Unfortunately for Gilbert, there is no extra prize for a 147 at the Championship League, beyond the group high break prize of £500, but it nevertheless remains a special achievement for any player to make a maximum break in competition.
You can watch the break here, or click here to view my updated 147s list.