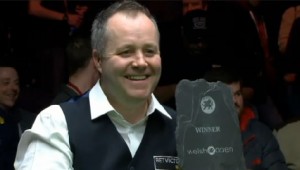 Two and a half years on from his last ranking event victory, Scotland's John Higgins has defeated Leicester's Ben Woollaston 9-3 this evening in Cardiff to claim the 2015 Welsh Open title, his fourth victory at the event, moving clear of both Stephen Hendry and Ronnie O'Sullivan in the all-time list.
Click below for more…
Having earlier emerged from the afternoon session with a two frame lead, Higgins took the opening frame of the evening to move three ahead for the first time and in truth, rarely looked troubled as Woollaston struggled to recapture the form that had taken him to his first final.
Higgins was not at his free-flowing best and needed several chances to clinch the frames that he needed this evening, but Ben was not able to gain a  foothold in the match, particularly this evening and John was able to claim victory without the need for a mid-session interval.
For John, having struggled for form as much as he has during the past two years and in some places been written off by people who should really know better, this must come as one of the most satisfying of his 26 ranking event triumphs to date.
There have been signs of late, since around the UK Championship in York, that the Scot was beginning to find some form and whilst not yet at his very best, during the past week in Cardiff he has been much more like the player that has now won 26 ranking event titles during the course of his career.
Whether he will be able to maintain, or perhaps even better the form that he has shown this week during the remainder of the season, in particular at the World Championship remains to be seen, but he will now be as confident as he has been since he last won at the Crucible back in 2011.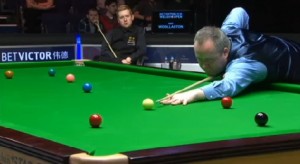 In terms of his ranking, the title moves John up to 12th position above Joe Perry and makes sure that he will be at the Crucible this season without having to qualify, something that was far from certain before a ball was struck in Cardiff.
For Ben, a disappointing way for his tournament to end, but it should take nothing away from the fact that it has been a fantastic week for the Leicester number two, who goes away £30,000 better off and with the experience of a first ranking event final under his belt.
Ben has beaten top players before, but the most pleasing thing for him will have been to have overcome so many this week on his way to the final and I hope that he is able to build on that going forward as we build up towards the World Championship.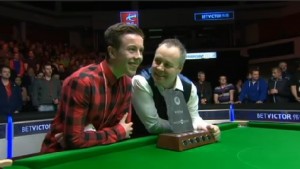 Immediately after the match he said that he had not turned up today, but that it had been the best week of his life to date snooker-wise. He moves up ten places to a career-high ranking of 26th after the event and also now qualifies for the new World Grand Prix in Llandudno.
Looking back on the event as a whole, although the final perhaps wasn't a classic, overall it has been a great week in Cardiff, with a string of upsets and plenty of terrific stories to report. From Lee Walker's shock victory against Ding Junhui, to 19-year-old Luca Brecel returning to the big time with victory against the reigning world champion, from Mark Williams and John Higgins returning to form, to Ben Woollaston making his first final, it has been a memorable tournament.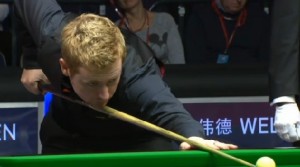 In terms of the venue, despite having come under fire from Ronnie O'Sullivan on day one, the vast majority of the players that I have spoken to have had nothing but good things to say about it and perhaps the concerns are more about the short best of 7 format which undoubtedly lends itself to a few early shocks.
As ever, the table conditions were also a talking point during the course of the week, but that is far from a unique issue to Cardiff and it will be interesting to see how long it will be before the much-discussed Aramith ball cleaner is introduced at a major tournament.
From here, the action moves on to Gdynia next weekend, for the crucial final event of this season's European Tour. I will have a big preview of that event to follow…