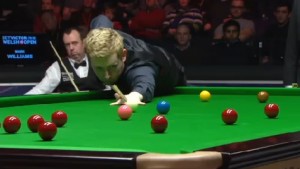 So who had a John Higgins v Ben Woollaston final in their pre-tournament predictions? Not me, but that is the intriguing final that we have in prospect tomorrow in Cardiff at the BetVictor Welsh Open.
Click below for a round-up of the day and a look ahead to the final…
The vast majority of the home crowd in Wales were hoping for a victory for two-time champion Mark Williams this evening  in Cardiff, but it was in fact to be Leicester's Ben Woollaston who would spoil the party and come through a tense encounter to reach his maiden ranking event final.
Having taken an early 2-0 lead with a top break of 82, Woollaston was never to trail in the match, but in his first major semi-final showed understandable signs of nerves, in particular during a sixth frame that he somehow lost from 47 points ahead as Williams drew level at 3-3.
Every credit to Ben however, as he steeled himself to take the next two frames with breaks of 90 and 47, before it looked like he might take victory in the tenth following a somewhat fortuitous snooker behind the pink which earned him a chance. A miss on the brown however allowed Williams to force a decider.
Although he was not able to take advantage with his first chance, in fact missing the red he can be seen attempting in the image at the top of this article, Williams was unable to take advantage and Ben was able to seal a memorable victory with a decisive break of 60.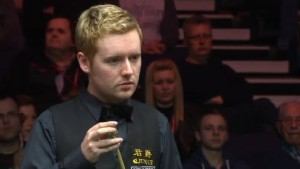 Having previously reached just one ranking event quarter-final during his career, his run this week represents a significant milestone for the Leicester professional and in particular, he will take confidence from the fact that he has been able to defeat opposition of the calibre of Mark Davis, Mark Allen, Ali Carter and Mark Williams in succession in Cardiff.
For those who are not so familiar with Ben, he is a player that has been on the circuit for a number of years now and who has steadily climbed up the rankings, having won a PTC event in Sheffield back in 2011 and qualified to play at the Crucible for the first time in 2013.
I have been lucky enough to have got to know him relatively well on the snooker circuit during the years that I have been writing this blog and it is great to see him now make this breakthrough, which I know will mean a great deal to both him and his wife Tatiana, as well as his mother Joy who has helped to support his career down the years.
Next up for him however will be one of Ben's snooker heroes and one of the game's all-time greats in John Higgins, as the Scot produced an impressive performance to end the run of 19-year-old Belgian Luca Brecel earlier in the day.
Opening with back to back century breaks of 101 and 137, allowing his opponent the luxury of just two shots in those frames, it was an imposing start from the Scot but his opponent, as in his previous wins against Mark Selby and Ricky Walden, was not to be intimidated, taking the next three to turn the match on its head.
Higgins though is no stranger to the big occasion, despite his absence from a ranking event final since the 2013 Wuxi Classic and having gone back in front at 5-4, following a terrific break of 135 which should probably have been a tournament high 142 but for a missed black, duly added the next to seal victory.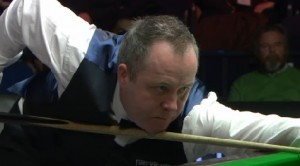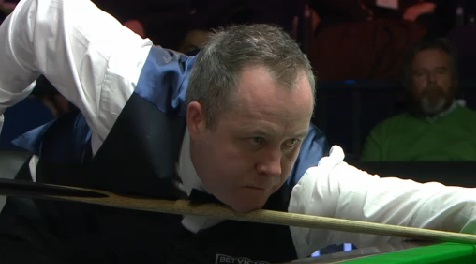 At times in the match he perhaps looked slightly edgier than we have seen him in the past, no doubt due to the time that has elapsed since he was last at the business end of a major tournament and what the prospect of another final must have meant to him. On the whole though, he looked to be back to somewhere near his best and certainly an improvement on the player that we have seen for the majority of the past two seasons.
As I said yesterday, it is never advisable to write off Higgins and he will go into tomorrow's final as a strong favourite, looking to claim a record fourth Welsh Open crown.
Looking at the head to head, Higgins has won both of their previous two encounters, although both were close matches and came over the best of seven frames, most recently at the 2014 Players Championship Grand Finals in Preston.
As ever, I hope that we have a close final and I think that it will be particularly important for Ben to start strongly, to help settle the inevitable nerves that he will be feeling on what will be by far the biggest match of his professional career to date. On today's evidence and in view of his wealth of experience, I would expect Higgins to come out on top, but this has so far been the week of the underdog in Cardiff and perhaps tomorrow we will see the biggest upset of all?
The action gets underway at 1pm local time, with the first to nine frames set to be crowned the winner of the 2015 Welsh Open.