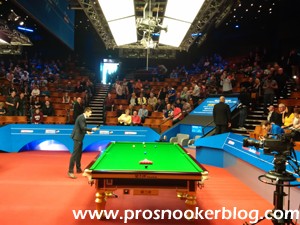 As is tradition, today will mark the first of my daily Crucible Diary articles from on site at the 2015 World Championship here at the Crucible Theatre in Sheffield…
Click here to view the latest projected seedings
Click here to view all of the results from the Crucible
Following a typically sleepless night on Crucible Eve (Friday), I headed down to Sheffield this morning and arrived nice and early to collect my pass and head up to the media room. There I was greeted by fellow blogger Snookerbacker, as well as Kathi from Germany, who those of you in the snooker Twitter bubble will know as @ladyonskates.
After the usual catch-ups with people on site, I decided to head in early for the opening session for the match between Mark Selby and Kurt Maflin, with the Crucible arena decked out this year in the old red/blue Betfred colours previously seen between 2010-12.
Even though I have been here for a number of years now, it never becomes any less special to be in the arena on the opening morning and to reacquaint myself with the setting.
To the consternation of my fellow bloggers, I quickly set about spotting differences in the arena this year, the most obvious being the installation of two sideways TVs (one on each table). Chatting with the referees, I learned that these are to allow the referee to use 'Hawkeye' when replacing the balls after a foul and a miss situation, rather than the old system of the DVD as explained by Michaela Tabb here last year.
Another spot was a new grey display underneath table one, which looked to display the time and apparently also provides information as to the humidity in the arena, allowing the table fitters to make alterations to the heaters if necessary.
Probably the most amusing and some would say childish moment came when I noticed the incorrect spelling of 'Marcu Fu' on the arena display, my spot leading to the message reaching the powers that be and making the necessary change.
It would probably be fair to say the atmosphere was not as good as during the past couple of years on the opening day, no doubt down to the fact that crowd favourite Ronnie O'Sullivan was not playing, while surprisingly there were a fair number of empty seats. But still, for debutant Kurt Maflin and defending champion Mark Selby in particular it must have felt no less special.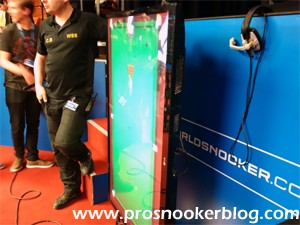 Despite the inevitable pressure, it was Selby who made an imposing start with an opening frame break of 84, before Maflin responded impressively with 96 to draw level.
In fact as we would see later in the day with Anthony McGill also, one of the real themes of day one for me was how well the two debutants acquitted themselves, at what is a unique venue where we have seen more than a few rookies crumble.
There was none of that from Kurt, who aside from a couple of wild long balls ahead of the first mid-session interval looked to have settled impressively well.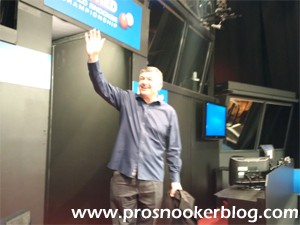 Having headed out of the arena after the fourth frame, there were some rather slapstick moments as me and Snookerbacker first managed to walk past actor Richard Wilson without realising who he was until it was too late, before we then attempted to return to the arena, only to be find the usual side entrance surprisingly blocked off.
Ultimately we admitted defeat and adjourned for lunch before an afternoon session which would see three Scots in action, the match between Stephen Maguire and Anthony McGill taking my fancy.
Again, I was extremely impressed with McGill, who looked to settle almost immediately and would finish up with a 6-3 lead, stealing the final frame from behind to set up a real chance to cause an upset on Sunday evening.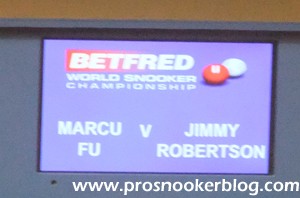 The real drama of what had felt like a slow burn day in Sheffield though was still to come, as the match between Selby and Maflin was played to a conclusion in the evening session. Indeed, whether it was because I had already been in Sheffield for the qualifiers last week, or just because of the way that the first two sessions unfolded, but it really did not feel like an opening day to me here at the venue.
As Selby took an 8-4 lead in the evening session, it looked like we might be in for an early finish, despite a near hour-long opening frame between Ricky Walden and Graeme Dott over on table two.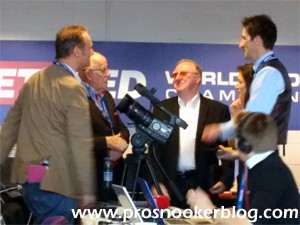 Maflin however had other ideas as incredibly he began to come back against an increasingly edgy Selby, eventually taking five frames in a row to lead 9-8 and as talk of the infamous 'curse' grew ever louder in the media room, move one away from adding Selby's name to the list of first time champions to have crashed out the following year.
At this point with the action concluding for the night on table two I decided to head on into the arena for what would prove to be a dramatic conclusion, in circumstances reminiscent of the match between Ding Junhui and Michael Wasley last year, which resumed with Ding leading 9-8 at the time.
I often say during the World Championship qualifiers that the tension and pressure at those matches is like almost nothing else, but when the curtain goes up at the Crucible for a 9-8, 9-9 conclusion, there can be few more tense and dramatic settings in any sport, let alone snooker.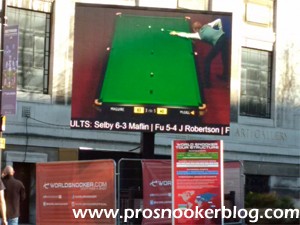 Both had chances and as Kurt played a fantastic shot to earn himself a chance in the decider, it looked as though he would be the first to make a sizeable lead and give himself a chance to claim the biggest win of his career. As he missed and hung his head in disappointment before getting up from the table however, you just knew that Selby was not going to make another mistake and the defending champion would eventually hold himself together to move into the next round.
Rather frustratingly for me, one of the main talking points after the match on social media was of Mark's celebration after potting frame ball, people criticising him for doing so and commenting that it was only the first round or that it was an overreaction.
Perhaps you had to be in the arena to really feel the tension out there, but having coming into the match with the added pressure of being defending champion at what is by far and a way the sport's biggest tournament, before surrendering a four frame lead to trail 9-8, I thought that he was well within his rights to show a bit of emotion.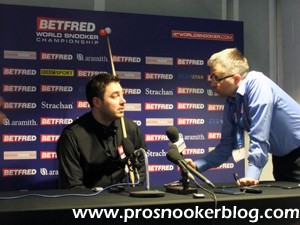 Indeed one criticism often thrown at snooker players is that they are robots, too serious and do not show emotion, but then when players do show a bit of emotion, people are quick to jump in and criticise them for it. Remember the stick that Neil Robertson got last season for celebrating the hundreth hundred?
It might only be the first round, but given all of the circumstances and the importance of the match, the relief must have been immense and as somebody mentioned yesterday, it is perhaps that passion that has helped him to make comebacks like that his trademark down the years.
As both players came in for their press conferences, Kurt was obviously disappointed, but he said the right things, remained as positive as possible and did not appear to be as outwardly devastated as some of the headlines I have seen this morning. That said, I suspect that once he is back to the hotel room and has a moment on his own, perhaps then the disappointment will hit him harder.
For Selby, the relief was apparent and I couldn't help but make the old 'never in doubt' gag as he walked up to his chair, Mark joking back that he wanted to get value for money for his £700 entry fee. When the press conference itself started he spoke his his relief to get through and how thoughts of the curse were entering his mind, but otherwise said generally what you would expect him to say.
All in all then, it was a fantastic finish to the opening day and sets things up nicely for day two, which is always one of the most busy of the tournament with four matches to be played to a finish.