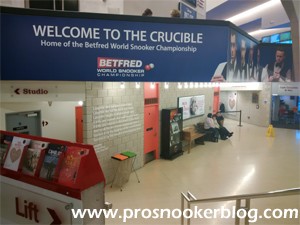 Day three at the Crucible and already we have had some early morning drama with another deciding frame finish between Barry Hawkins and Matt Selt…
Click below for the third of my daily blogs from the Crucible…
Click here to view the latest projected seedings
Click here to view all of the results from the Crucible
After a late night staying up to watch the second episode from the new season of Game of Thrones at the hotel, I headed on up to the Crucible with the final session of Barry Hawkins and Matt Selt set to be played to a finish, as well as the opening exchanges between Stuart Bingham and Robbie Williams.
Having taken the first two frames of the day to close to 4-7, it looked as though Matt had perhaps lost his chance as Hawkins took the next two for a 9-4 lead.
Selt though would not give up and then began to play some of his best snooker, which Barry later admitted had him thinking back to his match against Nigel Bond back at the UK Championship from 5-0 up in November, as well as his quarter-final here at the Crucible a year ago, when Dominic Dale came back from 11-5 down to force a decider.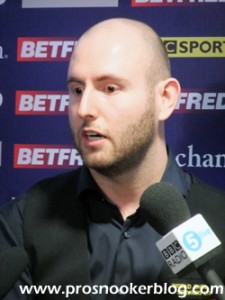 As the score moved to 9-7, a decider looked to be almost inevitable and every credit to Matt who hit back to back centuries and a 94, narrowly missing out on becoming only the fifth player to make three straight tons in a match at the Crucible.
Having moved into the arena for the decider though, it would be Barry who would hold himself together to get over the line, impressively so given the circumstances outlined above and a particularly badly timed mobile phone going off during his winning break.
Matt was understandably disappointed during his post-match press conference, betrayed more by the tone of his voice than the words that he was saying and he was especially disappointed to have come into today five behind at 7-2.
For Hawkins, understandable relief and he admitted to himself thinking about how people would be talking about 'clincher's disease' and other such snooker cliches, which of course were exactly what we were saying here in the media room!
I asked him whether it has helped him to come back to a venue where he has enjoyed so much success in recent seasons and he gave some interesting insight into his form of late and the reasons behind it:
"It has been partly my own fault really, bad attitude in the middle part of the season and not enjoying it.
"I've played a lot of snooker and done well over the last couple of seasons. I think I just got fed up with it. It sounds bad saying it but it happens in most sports I suppose. I'm not the best traveller in the world as my manager will know (laughs).
"So my attitude stunk a little bit I suppose towards the middle of the season, but there is nothing like getting kicked up the backside a few times and getting beat to get the motivation back."
A bit like Marcus Campbell as he has dropped down the rankings, for Barry his recent results have been too poor for there not to be something else going on in the background and it is interesting to hear him talk about his attitude and the reasons why.
Hopefully now he has turned a corner though and we will see him back playing as well as he has over the past couple of seasons next year and during the remainder of this tournament.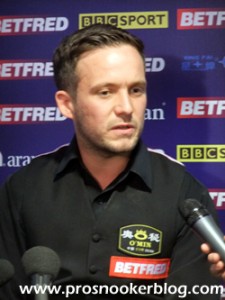 Over on table two meanwhile, Robbie Williams made a strong start to his match against Stuart Bingham and takes a 5-4 lead into their evening session tonight. He will also be relieved to know that he has now ended an unwanted record of having been the player to have scored the fewest amount of points at the Crucible, recording just 269 during his 10-2 defeat to Neil Robertson last year.
Speaking of Neil, he made short work of Jamie Jones this afternoon, opening with another century break on his way to a dominant 10-2 victory to get his latest Crucible campaign up and running.
After warning me not to tell him any spoilers from last night's Game of Thrones, there were interesting words from the 2010 champion post-match, talking about having put in more practice for this tournament than any other during his career and his remaining career ambitions.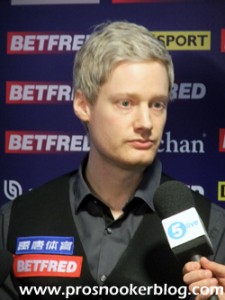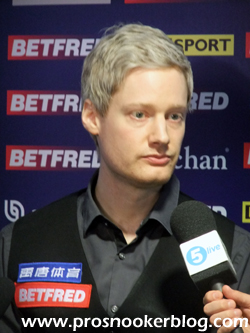 I asked him about whether he felt different this year having had more of a break having not run deep in Beijing earlier in the month, as he had in both 2013 and 2014:
"Yeah, if the dates are the same next year it is probably a tournament that I won't enter again. I think that a number of players are probably thinking the same thing. It's a big ask, no-one has ever won the China Open and won the World Championship and that is a pretty damning stat.
"Players like John Higgins, myself, Mark Selby, Ding, Judd Trump have all won that tournament and not won here so for me I think it is just a little bit too close in the calendar and it is probably unfortunate that next season unless they change the date, I probably won't play it next year."
Meanwhile over on table one, at the time of writing Mark Davis has taken an early 3-0 lead against third seed Ding Junhui, a scoreline that has not surprised too many at the venue…