Six years after his last Crucible final, Shaun Murphy today booked his place in a World Championship final for a third time with an emphatic 17-9 victory against 2013 runner-up Barry Hawkins.
On paper their semi-final had the hallmarks of a close encounter, particularly given how both players had played into the tournament to make it to the one table stage, but from a very early stage it was Murphy who was able to take control of the match.
Looking back, the writing seemed to be almost on the wall from when in the very first frame Barry joked to Shaun that we could be in for a long opener as the black found its way over a corner pocket, before he promptly played a poor safety and Murphy went on to clear with 92.
With the long pots almost routinely going in and Barry simply unable to capitalise when they didn't, he would have gone 4-0 up at the first interval, but for an unfortunate in-off on the final black in frame four, but nevertheless was able to take a 6-2 advantage from the opening session.
A four frame gap soon became ten as Shaun extended his advantage to 13-3 and the match became more a matter of whether Barry could avoid defeat at this stage with a session to spare for a second year in a row.
To his credit, Barry was able to achieve that, back to back centuries leaving the score poised at 16-8 overnight, but it would be Shaun who would quickly win the second frame of the fourth session to seal victory.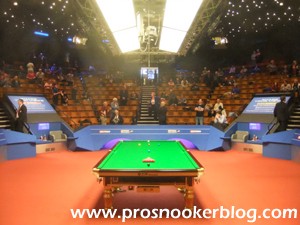 It has been some turnaround for Murphy who, as is well documented, reached a crossroads in his career following a comprehensive defeat to Mark Selby at the 2014 Masters, when he questioned whether he would ever return to snooker's winning circle.
Following a return to form at last season's Gdynia Open however, where he would make a memorable maximum break on his way to a dominant victory, he has since won a further two European Tour events and most importantly, claimed his first Masters title at Alexandra Palace in January.
As well as completing snooker's 'triple crown' of major events, the victory also marked the return of Murphy to snooker's elite bracket of players in the eyes of many, perhaps even himself, as he has admitted that for a period he pondered whether he was a 'bottler' now.
With those doubts now clearly erased however, he now heads into his third World Championship final, his first since his defeat to John Higgins back in 2009, with renewed self-belief and a real chance of becoming only the sixth player to have won the title at the Crucible on more than one occasion.
While Stuart Bingham and Judd Trump battle it out for the right to join him in the final later this evening, Shaun will be confident, regardless of who comes through that one and the way he is playing has every chance of success.