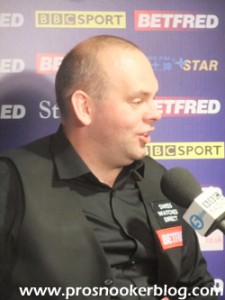 Following a remarkable session of snooker at the Crucible this evening, Stuart Bingham is through to the final of the World Championship for the first time in his long career, having defeated Judd Trump 17-16 in an epic second semi-final.
Leading 13-11 after a topsy turvy morning session that was ultimately shared evenly between the two players, Stuart Bingham held a narrow advantage, but it was fair to say that in the eyes of many it was a match still very much in the balance, with Judd expected to fight back.
Indeed after the equivalent session at last year's second semi-final between Mark Selby and Neil Robertson developed into an all-time Crucible Classic, to me this one had a similar feel about it and I was determined to claim one of the highly sought after media seats, alongside the likes of Iron Maiden's Nicko McBrain.
As had been the case when I was in the arena for the opening session of the match, it was Trump who had the weight of the crowd's support, the 2011 runner-up even gesturing for his fan to turn up the volume as he was introduced to the arena.
It to be Bingham though who would get off to the stronger start, taking the opening frame of the evening, before Judd hit back with breaks of 88, 50 and 44 to close to within a single frame. Stuart though has been used to being second favourite with the crowd this week having already seen off Ronnie O'Sullivan and showed no signs of being intimidated, a break of 106 before the interval enough to split the first mini-session and see him to 15-13.
Already by this point, my fingernails had long since taken a hammering and the match appeared to have deciding-frame written all over it, so when Judd swiftly closed to within one again with a break of 76 in little over seven minutes, it was hard to be too surprised.
Back again came Stuart with another century to move within one of victory, before Judd produced probably his best snooker of the match, back to back centuries of 108 and 129 enough to force a deciding frame, the first in a Crucible semi-final since Mark Selby's victory against Shaun Murphy in 2007.
After the free-scoring of the prior frames, perhaps it was inevitable that the decider was to be anything but, with almost half an hour passing before any real breaks of note were made.
Ultimately though it was to be Stuart who would take it in three small scoring visits, enough to get him over the line and into the World Championship final for the first time, on his ninth appearance here at the Crucible.
It will be a popular run in snooker circles and certainly with me, as I cannot think of a more deserving player to have made it through to the final in Sheffield.
Not only is Stuart a likeable guy, but as a professional of 20 years who has barely missed an event he has been eligible to play in that time, he has certainly paid his dues on the tour. While many snooker players (and bloggers!), are fond of a moan every now and again, Stuart has always just got on with it and as was the case after his previous win against O'Sullivan, it was hard not to become emotional for him as the enormity of what he has already achieved hit home.
As for Judd, he will of course be back in the future and really did little wrong tonight, but perhaps ultimately the match was lost in the early sessions as he struggled to reproduce the form that had seen him defeat Ding Junhui so convincingly in the previous round.
Tonight though was Bingham's night and we will have to see now how quickly he is able to recover ahead of tomorrow's appearance in the final against Shaun Murphy, who earlier won through to his third Crucible show piece with a convincing win against Barry Hawkins.
As Stuart himself indicated though, he will worry about Shaun tomorrow, as he attempts to get some sleep this evening ahead of the biggest day of his snooker life so far…