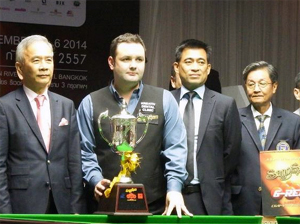 In the early hours of this morning (5am BST by my reckoning), the 2015 edition of the Sangsom Six Red World Championship gets underway, as usual in the Thai capital of Bangkok.
While it might not be televised here in Europe, you can watch the action via World Snooker's online service if you are a subscriber, while you can check out the draw and latest results over at snookerorg here.
In terms of the field, it contains the usual mix of leading professionals and international amateurs, with former pro Peter Francisco a particularly notable inclusion.
Interestingly, aside from the reduced number of reds on the table, there are a few subtle rule changes as detailed here at World Snooker. By all accounts these rules for the event are far from new, with it being pointed out to me yesterday on Twitter that Andrew Pagett had last year fallen foul of the bar against rolling up behind a colour. But as an event that is perhaps not the most watched here in Europe, clearly the changes have caught out even a few of us with our fingers close to the snooker pulse and so is worthy of mention.
The tournament will run until Saturday, when the best of 15 final will be played to its conclusion.