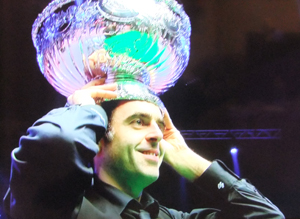 As well as being a remarkable achievement in its own right, Ali Carter's victory at the recent Paul Hunter Classic, also secured him a place in the Champion of Champions event for the third successive year.
Click below for a look at who will be joining him with just five counting events still to be played…
UPDATE: An interesting snippet out today from last year's winner Ronnie O'Sullivan, who has indicated on Twitter that he will not be taking up his place in this year's tournament:
Heard a rumour going around that I'm playing The Champions Of champions. Not true

— Ronnie O'Sullivan (@ronnieo147) September 8, 2015
Original article follows…
I explained the qualification criteria for this year's event in a previous blog here, but since then there has been a slight change with the news that two of this season's three Asian Tour events have been cancelled.
This means that the current state of play is as follows:
1. 2014 Champion of Champions – Ronnie O'Sullivan (1)
2. 2014 UK Championship (Dec) – Ronnie O'Sullivan
3. 2015 Masters (Jan) – Shaun Murphy (2)
4. 2015 German Masters (Feb) – Mark Selby (3)
5. 2015 Welsh Open (Feb) – John Higgins (4)
6. 2015 Championship League Snooker (Feb) – Stuart Bingham (5)
7. 2015 Indian Open (Mar) – Michael White (6)
8. 2015 World Grand Prix (Mar) – Judd Trump (7)
9. 2015 Players Championship (Mar) – Joe Perry (8)
10. 2015 China Open (Apr) – Mark Selby
11. 2015 World Championship (May) – Stuart Bingham
12. 2015 World Cup (June) – Zhou Yuelong (9), Yan Bingtao (10)
13. 2015 Australian Open (July) – John Higgins
14. 2015 Shanghai Masters (Sept) – TBC
15. 2015 International Championship (Oct) – TBC
16. ET4 (Nov) – Shaun Murphy
17. ET5 (Dec) – Stephen Maguire (11)
18. ET6 (Feb) – Neil Robertson (12)
19. ET1 (Aug) – Barry Hawkins (13)
20. ET2 (Aug) – Ali Carter (14)
21. ET3 (Oct) TBC
22. Asian Tour 3 (Jan) – Joe Perry
23. Asian Tour 1 (Sep) – TBC
23. Asian Tour 2 (Oct) TBC
24. Six Reds World Championship (Sept) – TBC
25. The Shoot Out (Jan) – Michael White
26. The World Seniors Championship (Oct) Mark Williams (15)

Since my previous update the most notable development is that with previously unqualified players Barry Hawkins and Ali Carter making a winning start to the European Tour this season, as well as victory for China B at the summer's World Cup, Mark Williams remains uncertain of a place in Coventry.
With five higher priority (in terms of this list anyway), events still to be played, Williams must hope that at least four of them are won by players who have already qualified for the Champion of Champions as set out above, or preferably that he is able to win one of those events himself and make certain of his place.
In terms of rankings, the highest ranked player not already qualified for the event is third placed Ding Junhui, while Mark Allen and Marco Fu are also set to miss out of the top 16.
The next qualifier will be the winner of this week's Six Red World Championship event in Thailand…