Yesterday evening the Snooker Legends roadshow rolled into Scunthorpe and being local to the event, I popped down to the venue to watch Ronnie O'Sullivan and Jimmy White in action.
As it would turn out, the night proved to be far more memorable than even I had envisaged as O'Sullivan brought the crowd to their feet with a magical maximum break…
Prior to the evening I had been to a Legends event on one previous occasion, when Stephen Hendry played Jimmy White at the Crucible Theatre back in 2012 a week ahead of the World Championship.
Those who know me will be aware that I am the sort of snooker fan who likes to watch the current professionals in the thick of it at ranking event tournaments, rather than at exhibitions. In truth the Legends events were not particularly aimed at somebody like me, who was not around in the 1970's and 1980's when the heroes of yesteryear were at their peak.
Rather, the Legends are perhaps primarily aimed at audiences who were around at that time and to evoke feelings of nostalgia within them, although of course Ronnie O'Sullivan still remains very much amongst the best players in the world.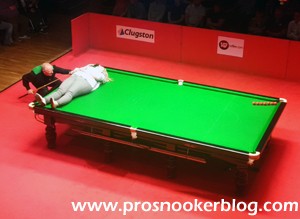 Having said all of that though, the events are a lot of fun and clearly had captured the imagination of the local crowd, who turned out in their droves for what was a sell-out event. The venue looked to be tailor made for such and event and the photo at the top of this post does perhaps not do justice to the size of the crowd.
Following the playing of the Pot Black theme (remember when they did that at the Crucible?), 1985 world champion Dennis Taylor was out to warm up the crowd with his usual repertoire of trick shots and jokes.
While the routine was a familiar one to me, as ever it had the audience in fits of laughter and seemed no less popular than it has ever been. Prophetically as it would turn out, a member of the audience asked Dennis whether we would see a 147 tonight, to which he said that we might well do, before backtracking slightly…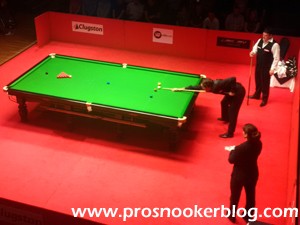 A short time afterwards it was time for the main event, with referee Michaela Tabb first introduced, before both Jimmy White and Ronnie O'Sullivan entered the arena for a best of nine encounter.
In truth the first four frames prior to the interval were scrappy, both players seemingly struggling with the table, certainly if their break-off shots were anything to go by. O'Sullivan meanwhile was also wearing borrowed trousers, having forgotten his own at the start of the event.
After a mid-session interval there was then a doubles match, with a representative from one of the event sponsors and the winner of a prize draw pairing up with the two professional players.
Upon the restart of the main event there was an immediate upturn in quality as Jimmy White made the first century break of the evening to close to 2-3, before Ronnie won a close next frame to move two clear again.
Ultimately however it was to be all about frame seven as Ronnie seized upon a missed red from Jimmy to embark upon a 147 chase. Although a couple of reds were close to cushions, the break looked to be on from an early stage with the reds open and all in the right half of the table.
As the reds disappeared and Dennis Taylor, now acting as commentator, went uncharacteristically quiet, I decided to record the closing stages of what would be a memorable maximum break in Scunthorpe, which you can now watch at YouTube.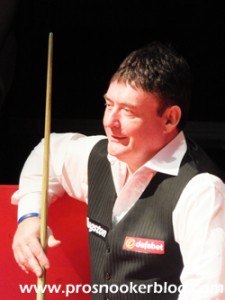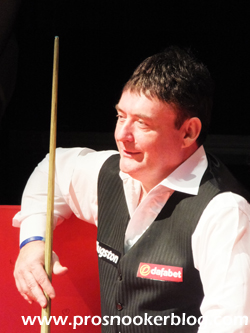 Of course it was an exhibition and clearly the pockets were not the tightest ever seen on a snooker table, but as he was on the break it was no less exciting and nerve-jangling to me than the four 147s that I have been lucky enough to see live at tournaments such as the World and UK Championships.
Certainly for those in the crowd who had not seen anything like it before, it was a special moment and as I exited the venue I could not help but smile to myself as I overheard other fans talking to each other, clearly awestruck and struggling to contain their excitement at what they had just seen.
All in all, it was a great night's entertainment and certainly worth my rather unique entry fee. It only served to underline the fact that there is a demand for these events which in reality are an evening of entertainment, rather than competitive sport which is not always a bad thing.
My thanks to Jason, Michaela, Ronnie, Jimmy and Dennis for their hospitality and a memorable evening.