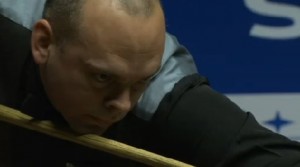 The snooker tour resumes tomorrow with the start of this year's Haining Open, an event won last season by Stuart Bingham who now has an impressive four Asian Tour titles to his name.
Although Stuart will not be returning to defend his title in 2015, the tournament remains one that is deceptively important for many players, more so than ever in 2015 as eight Players Championship places and two main tour cards could effectively be up for grabs this week…
Taking place a week ahead of the International Championship in Daqing, the draw for the Haining Open is as ever a mix of professionals and local amateur players, hoping to follow in the footsteps of Ju Reti who of course won an Asian Tour event back in 2013.
In all there are 50 professionals (plus invitational tour card holder James Wattana), in the draw for the tournament, including four from the top 16 in Ding Junhui, Ricky Walden, John Higgins and Marco Fu.
While all of the players in the draw will ultimately be looking to take home the title, for many there will inevitably be other secondary objectives, that will have played a part in the decision to enter this event.
For some, the opportunity to gain important match practice and to adjust to the time zone ahead of the International Championship a week later will be important.
Others however will have their eyes on securing a place in the lucrative Players Championship later this season, particularly those who are struggling to do so via the European Order of Merit. Ding Junhui for example has so far yet to participate in a European Tour event and so this could conceivably be his only opportunity to qualify, while John Higgins currently sits down in 64th position on the European Order of Merit with just two wins to his name.
Presumably Robert Milkins is another with this goal in mind, as he has elected to make the trip to Haining despite not having qualified for the forthcoming International Championship a week later and is currently only 42nd on the European Order of Merit.
The other obvious motivation for some players lower down the rankings in Haining will be the opportunity to earn a fresh two-year tour card by running sufficiently deep in the tournament, with two potentially (depending on whether there will be a second Asian Tour event held later this season), up for grabs this week.
Players to keep a particularly close eye on in this respect include Yu Delu, Cao Yupeng, Peter Lines, Craig Steadman, Oliver Lines, Zhou Yuelong, Zhang Anda, Michael Georgiou, Scott Donaldson, Michael Wasley, Barry Pinches, Thanawat Tirapongpaiboon, Lyu Chenwei, Lu Ning, Ian Glover and Steven Hallworth.
For a full explanation of how players can earn a tour card and/or qualify for the Players Championship, see my previous blog post on the matter, or alternatively click here to read my recent player-by-player look at the battle for tour survival this season.
The action gets underway tomorrow (Monday) in Haining and will run until Friday when the semi-finals and final will be played to a conclusion.