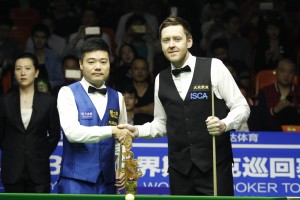 Ding Junhui is a tournament winner once again as he defeated Ricky Walden 4-3 to win the 2015 Haining Open earlier today.
Click here to view all of the results from the Haining Open
Click here to view the latest projected seedings
It is no secret that during the 16 month spell since his last professional title, also at the first Asian Tour event last season, that Ding Junhui has struggled for form and confidence, a surprise to many given his record-equalling 2013/14 campaign.
There have though been signs of improvement in recent months, including his quarter-final run at the World Championship back in April and more recently his form at the Shanghai Masters last month. Though he would ultimately lose to eventual champion Kyren Wilson in a final frame decider, I was impressed enough by his performances on the televised tables and in particular his demeanour around the table, which looked to be that of a man more relaxed than for most of last season.
It is then perhaps no surprise to see him come through the field this week at the Haining Open, indeed he was of course the top seeded player as the highest ranked entrant and prior to facing Ricky Walden in the final, did not have to defeat another player ranked within the top 32.
Nonetheless, he will be pleased to have won, particularly in the manner that he did by coming back from 3-1 down to come through in a decider.
His reward of £13,500 might not be the biggest prize that he has ever won during his professional career, but crucially the victory does secure him a place in the lucrative Players Championship this season, an important achievement as he has so far opted not to participate in this season's European Tour series.
Furthermore the win also puts him into contention for a place at the Champion of Champions event in Coventry next month, as he takes the 16th and final place as it stands away from six red world champion Thepchaiya Un-Nooh. He could though yet be overtaken in the qualifying list by the winner of either the International Championship or the Bulgarian Open, should either of those events be won by another player not yet qualified for Coventry.
Turning to Walden, despite losing out in the final he will also be pleased with his work in Haining, which has now assured him of a place at the Players Championship having won only two matches so far at European Tour events.
Beyond Ricky, the position is a little more complicated as far as qualification for that event is concerned however, with a further six players to receive an invite based upon a combined European and Asian Order of Merit. This could also yet change to four players, if there is to be a second Asian tour event held later this season, which as yet remains unconfirmed either way.
While then losing semi-finalists Jimmy Robertson and Robert Milkins have given their prospects a boost, as well as those reaching the quarter-finals, they will need to continue winning matches during the remaining three European Tour events this season, if they are to be sure of places at the Players Championship.
The position in respect of main tour cards available from the Asian Order of Merit is at least a little clearer, with Zhang Anda and Irish amateur Leo Fernandez, both quarter-finalists in Haining, now in position to be nominated to receive a two-year card from the start of the 2016/17 season.
This may yet change in the case of Zhang if he were to finish this season ranked up inside the top 64, which would open the door for former professional Lyu Haotian following his last 16 run this week. Again, the position could also change with the hosting of a second Asian Tour event this season.
As ever, all of these scenarios will become clearer as the season progresses but for now, we turn to the biggest event of the season so far, the International Championship in Daqing, starting on Sunday. I hope to have a full tournament preview up sometime tomorrow.