Name: Marcus Campbell
DOB: 22nd September 1972
Nationality: Scottish
Turned Pro: 1991
Highest Ranking: 20th (2012)
Highest Break: 147 (Bahrain Championship 2008)
Career Highlights: 2010/11 EPTC3 Winner, 2012 Wuxi Classic semi-final, Beating Stephen Hendry 9-0 in the 1998 UK Championships and reaching the last 16, 1998 International Open Quarter-Final, 2011 PTC Grand Finals quarter-final
Career summary
For many years it was probably fair to describe Marcus Campbell as one of snooker's journeymen, but following a terrific run of results during the last couple of seasons culminating in victory at the EPTC3 event, this is no longer the case. Despite this win however, Marcus Campbell will always be remembered as the man who sensationally defeated snooker legend Stephen Hendry 9-0 at the 1998 UK Championship.
Indeed this was until recently probably his best period in the game as he eventually reached the last 16 before losing out to another legend, Steve Davis. He also reached the quarter-final of the Scottish International that season to move into the top 48 of the rankings for the first time, a position that he held for four years.
2008/9 – First 147
One of the highlights of Marcus' recent career came in November 2008 when he recorded his first ever 147 break during his opening match in the Bahrain Championship against Ahmed Al Khusaibi. Not only was this a tremendous achievement for the then 36 year old, but it earned him £20,000 for the maximum, as well as the £2,000 high break prize, surely the biggest payday of Campbell's career.
Marcus at the 2010 World Open
Aside from his last 32 run in Bahrain it was a fairly average season for Marcus, winning four of his opening round matches but losing the three others including a desperately disappointing 10-9 reverse against Daniel Wells in the World Championship. Though Marcus was visibly gutted as Daniel cleared up to take victory, he was at least able to keep his top 48 spot for another season.
2009/10
Marcus began the 2010/11 season in fine form, defeating young talent Judd Trump to qualify for both the Shanghai Masters and Grand Prix tournaments. In Shanghai it appeared as though he was going to go even further as he led Stephen Hendry 4-0 at the mid-session interval before his countryman somehow fought back to stun Marcus with a 5-4 win.
From there the rest of Campbell's season was relatively uneventful until the season-ending World Championship qualifiers where he sensationally ousted twice finalist Matthew Stevens 10-9 after a gruelling clash which lasted for much of the day in Sheffield. Whilst he could not go beyond the last 32 stage at the Crucible, his performances were enough to move him up to a career high ranking of #40.
2010/11
Having finished the previous campaign strongly, Marcus made an excellent start to the 2010/11 campaign as he consistently won matches during the new  Players Tour Championship before advancing to the last 16 of the inaugural World Open.
Marcus with referee Jurgen Gruson following his EPTC3 victory
The best was yet to come however as at the third EPTC event in Russelsheim he defeated Barry Hawkins, Ken Doherty and then most impressively Liang Wenbo 4-0 to capture his first professional title after almost 20 years of trying. As well as the trophy, the result also moved him up into the top 32 for the first time in his career.
Following that victory Marcus was to suffer a dip in form as he lost his opening match in both the UK Championship and German Masters qualifiers.
He did though finish the season with a flourish, qualifying for each of the final three events of the season, reaching the last 16 of the China Open with a 5-4 defeat of Northern Ireland's Mark Allen before losing out to Ali Carter. As a result of his success, Marcus finished the season ranked at a career high position of 23rd.
2011/12
Marcus made a bright start to the 2011/12 season with a run to the quarter-finals of PTC1 before he was able to successfully qualify for the venue stages of the Australian Open with a dramatic 5-4 victory against Mike Dunn at the last 48 stage. Once there he was able to upset Ali Carter in the opening round before losing out to Mark Allen at the last 16 stage.
In action at PTC2 in 2011
Following that result however Marcus was to suffer a dip in form during the PTC events, indeed following a run to the quarter-finals of PTC3 the Scot was to win just two from his next seven matches between PTC4-8.
Marcus was though able to successfully qualify for the UK Championship with a 6-3 win against Ben Woollaston, before losing to Matthew Stevens at the venue.
The second half of his season was to be mixed, surprisingly Marcus lost out to Adam Wicheard in qualifying for the Welsh Open, though he was able to qualify for the Haikou World Open, before receiving a bye to the last 16 following the withdrawal of Ali Carter.
Unfortunately for Marcus, he was to lose there to countryman Graeme Dott and his campaign was to end on a low note at the World Championship qualifiers as having recovered from 8-2 down to force a decider at 9-9 against Liang Wenbo, he could not complete the comeback as the man from China came through a 10-9 winner.
Marcus had though performed well enough during the past couple of seasons to peak at a career-high ranking of number 20 in April 2012.
2012/13
Following a tricky end to the previous season, Marcus made a flying start to his 2012/13 campaign, successfully qualifying for the venue stages of both the Wuxi Classic and the Australian Goldfields Open tournaments.
More was to come in Wuxi also as he defeated Stephen Lee, Fergal O'Brien and two-time world champion Mark Williams to reach the semi-finals of a full-ranking event for the first time in his career, before losing out to eventual champion Ricky Walden.
From there, last 32 defeats at the Australian Goldfields Open and Shanghai Masters would follow, while his best result at a PTC event would be a quarter-final at the APTC2 tournament in China.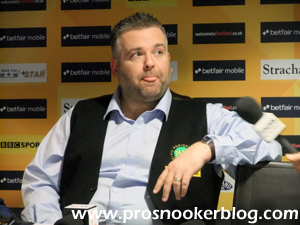 Moving into 2013, Marcus' strongest result was to come at the China Open in Beijing, as he qualified for the event with a deciding-frame victory against Xiao Guodong, before there defeating former winners Peter Ebdon and Graeme Dott to reach the quarter-finals.
A 5-2 defeat to Neil Robertson however would bring his run to an end, though he was able to subsequently qualify for the final stages of the World Championship with a 10-4 victory against Stoke youngster Liam Highfield.
At the Crucible, Marcus would play defending champion Ronnie O'Sullivan and despite pushing the Rocket harder than a 7-2 first-session scoreline would suggest on paper, would eventually go down 10-4 as his season came to an end.
2013/14
The 2013/14 season was to prove difficult for Marcus, who struggled to repeat the consistency that had helped him up into the top 20 during previous seasons.
His strongest result at a full ranking event was to come at the UK Championship in York, where he defeated Lyu Haotian and Michael White to reach the last 32, before losing out to Ronnie O'Sullivan 6-2. He was also able to reach the last 16 of the Gdynia Open in February, the final event of the season's European Tour.
Those tournaments aside however, wins were few and far between, meaning that Marcus would drop to 35th in the rankings at the season's end, his lowest position in four years.
Minor Ranking Event wins (1)