Name: Sam Baird
DOB: 17th June 1988

Nationality: English

Turned Pro: 2009

Highest Ranking: 74th (2012)

Highest Break: 142 (2013 World Championship qualifiers)

Career Highlights: 2013 World Championship last 32, 2012 Welsh Open last 32, 2012 Haikou World Open last 32, 2012 Q School qualifier, 2009 EASB Pro-Ticket Tour Play-Off Winner, 2008 Pontin's U-21 Series Winner (including two event wins), 2008/9 Gold Waistcoat Tour Overall Winner
Website: http://www.sambaird147.co.uk/
Junior Career
As a junior Sam excelled at regional level, in 2008/9 finishing as the overall winner of the Golden Waistcoat Tour, as well as taking victory in the 2006/7 Silver Waistcoat tour. In addition he was able to win the 2008 Pontin's Businessland U-21 series overall, thanks largely to winning two of the events during that season.
The best was still to come in the EASB Pro Ticket Tour Series however as having finished 9th overall, he had qualified for the 32 man play-offs at the end of the season and had a chance to win a place on the main tour as a result. Early on he enjoyed relatively comfortable victories against Jeff Cundy, Adam Wicheard and Sean Bullock, but things were to get tougher in his semi-final as he faced Gloucester's young star Jack Lisowski for a place in the final.
It was a predictably close match but Sam was just able to sneak through 5-4 and earn a clash with David Craggs for a place on the main tour. Though Craggs probably entered the match as a slight favourite having finished the season ranked 5th and reached the final of the English Amateur Championship, it was Sam who came through 6-5 to make sure of a place among the top 96 for 2009/10.
2009/10
Sam's first season as a professional got off to a good start in the first of the new Pro Challenge events as he took the scalp of world number 18 Jamie Cope with a 4-3 victory. Though he lost to Andrew Norman in his second match, it was a notable win ahead of the Shanghai Masters qualifiers.
Unfortunately however Sam was to find the going tough at Prestatyn, losing his opening qualifying matches in each of the season's first two tournaments. Better was to come at the UK Championship with a 9-4 victory over Bjorn Haneveer before he went down to Ireland's Joe Delaney and he managed to progress further still at the China Open by defeating Craig Steadman, Liu Song and Ian McCulloch to reach the final qualifying round.
Coming into the World Championship he needed at least one win to stand any chance of staying on the tour and despite a mid-match wobble he moved into round two with a 10-6 result against Stephen Rowlings. Unfortunately for Sam however he was to come up against Delaney for a second time and he was not to fare any better, suffering a 10-0 whitewash at the hands of the experienced Irishman! This meant that he finished just outside the top eight on the one-year list and was relegated from the tour as a result.
2010/11
Whilst not one of the 96 professionals for the season, Sam entered the 2011 World Championship at the preliminary stage and came through matches against Colin Mitchell, Neil Selman and ladies number one Reanne Evans to qualify for the first round proper.
There he would meet Thanawat Thirapongpaiboon, the Thai youngster who had already made a mark on the circuit by becoming the youngest player to make a 147 break in professional competition during one of the season's Players Tour Championship Events. Following a strong start, Sam withstood a brave comeback attempt from his opponent to eventually come through a 10-8 winner.
[youtube=http://www.youtube.com/watch?v=24xN_0UDxlM]
The climax of Sam's defeat against Mike Dunn during the 2011 World Championship
Next up was a tie with Alfie Burden and having lost the first two frames he impressed by taking the next seven to end the morning session with a five frame lead. Alfie put up greater resistance during the evening, capitalising on one bad miss in particular to leave the comeback looking very much on, but to his credit Sam as he had done during his last match responded well and eventually got over the line a 10-7 winner.
His run was to come to an end at the next stage however as he came up against Mike Dunn in a match that looked destined to go the distance from an early stage. Eventually Mike was to take the match on the final black in dramatic circumstances that you can read about here on my match report from that evening.
Following his impressive run in Sheffield, Sam also confirmed his return to the main tour by topping the EASB Pro Ticket Tour Rankings for 2010/11, edging out Martin O'Donnell to do so.
2011/12
Sam experienced a mixed start to the 2011/12 season as while he was able to win the majority of his opening round matches during both PTC and full-ranking events, he struggled to progress any further which hindered his rise up the rankings.
Most notably Sam was to lose out to the experienced Adrian Gunnell at both the Australian Open and German Masters tournaments, 5-4 and 5-1 respectively.
After Christmas however Sam's fortunes were to turn as he first qualified for the final stages of the Haikou World Open, defeating Luca Brecel, Liu Chuang, Jimmy White and finally Mark Davis in a deciding frame to qualify for his first venue.
Sam in action at the PTC2 in Gloucester
Shortly after this, he repeated the feat at the Welsh Open qualifiers, defeating Passakorn Suwannawat, Li Yan and Nigel Bond to reach the last 48, where he would play Dominic Dale in a match held over to the venue. There he would produce a fine performance to defeat Dominic Dale, before moving 3-2 ahead of Mark Selby and coming within just two balls of recording a shock win against the world number one, only to miss the final blue off the spot and eventually lose the match 5-0.
Perhaps suffering a hangover from that match, Sam lost his next qualifier 5-0 to China's Tian Pengfei, before he lost at the wildcard round of the Haikou World Open 5-3 against the experienced Jin Long.
Sam's season ended with a 10-8 defeat at the hands of David Grace in the first round of the World Championship qualifiers, apparently confirming his relegation from the main tour.
His absence from the main tour was to be short-lived however as he was able to not just come through the first event of the 2012 Q School, but do so without the loss of a frame, defeating Kacper Filipiak, George Marter, Allan Taylor, Gary Cahill and Nick Jennings with a combined frame score of 20-0. Sam's reward for his achievements would be a two-year main tour card beginning in 2012/13.
2012/13
The first half of the 2012/13 season was to prove a struggle for Sam, his best result being a run to the third qualifying round of the Australian Goldfields Open qualifiers. Otherwise however, Sam was unable to win more than a single match in any ranking event during the second half of 2012, losing in the opening round of three full-ranking events.
Sam continued to struggle for results early in 2013, until at the season-ending World Championship qualifiers, he found his form, first defeating China's Chen Zhe 10-7 in the opening round, before surviving deciders against both Peter Lines and Rory McLeod to reach the final qualifying round.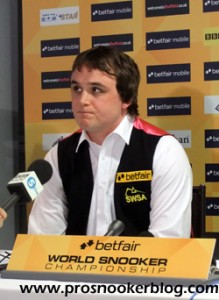 Sam at the 2013 World Championship
Once there however, Sam was to demonstrate just what a talented player he is, a career-high break of 142, together with six other breaks over 50, enough to see him through to the Crucible for the first time with a 10-3 victory against former semi-finalist Joe Perry.
Unfortunately for Sam, his Crucible experience was to prove a baptism of fire, as he lost 10-2 to Stuart Bingham in his opening match.
2013/14
The first half of the 2013/14 proved to be a real mixed bag for Sam as he struggled for victories in the full ranking events played (winning just two of ten matches), but excelled in the first seven European Tour events, winning 19 matches, easily enough to secure his main tour status for a further two seasons via the European Order of Merit.
Sam's best run was to come in Gloucester at the ET6 event, wins against the likes of Ali Carter and Ryan Day helping him through to the quarter-finals, while he also reached the last 16 of a further three events.