Name: Martin Gould
DOB: 14th September 1981
Nationality: English
Turned Pro: 1999
Highest Ranking: #12 (2011)
Highest Break: 139 (2011 PTC11)
Career Highlights: 2012 UKPTC2 winner, 2010 PTC6 finalist, 2011 PTC11 finalist, 2013 Shoot Out champion, 2013 Championship League winner, 2014 Championship League runner-up, 2010 & 2011 World Championship last 16, 2011 PTC Grand Finals finalist
Twitter: @GouldyBalls147
Career Summary
Martin first came to the attention of snooker fans when he won the first of his two English Amateur titles in 2002, before topping the Challenge Tour in 2002-3 to earn a place on the professional circuit. Unfortunately though his year was to be without success and having finished 106th in the rankings, he lost his status after just one season.
Having struggled to make an impact on the game Martin actually gave up snooker for four years, but in 2007 returned to again capture the English Amateur crown before going on to defeat David Grace in the EASB play-offs to secure a return to the professional circuit for 2007/8.
Second time around things were to go much better for Martin, strong runs at both the UK and World Championships, as well as the Northern Ireland Trophy meaning that he would finish inside the all-important top 64 and in doing so not only retain his place on the tour but also ensure that he would enter events a round later in 2008/9.
2008/9
Martin at the 2010 Shanghai Masters
The 2008/9 season did not start quite so well for Martin but his fortunes were to improve at the UK Championship where he defeated Supoj Saenla, Tom Ford and Dominic Dale to qualify for the final stages in Telford. There he came up against eventual winner Shaun Murphy and though he went down 9-7, he gave him a real scare and looked like he might cause an upset at one point.
At the Welsh Open though he was to go one better as having qualified with wins over Matt Selt, John Parrott and Nigel Bond, he then recorded a shock 5-3 win against seven-times world champion Stephen Hendry to reach the last 16 of an event for the first time.
Though he lost out in the next round to eventual finalist Joe Swail, he had recorded probably the biggest win of his career and with further victories over David Gilbert and Matthew Stevens in the World Championship qualifiers, he ensured that he would also play at the Crucible Theatre for the first time.
Sadly for Martin his début match against Mark Allen proved to be something of a disappointment as he went down 10-6, but he at least did enough to move up into the top 48 of the rankings for the first time and give himself one less qualifying match to negotiate.
2009/10
The first half  of 2009/10 proved to be tough for Martin as he won just one match from the first three ranking events and saw the momentum that he had built up during the start of the year run dry.
Further opening round defeats at the Welsh and China Open tournaments increased the pressure upon Martin significantly as he headed to the World Championship qualifiers, but there he was able to turn things around with victories against Bjorn Haneveer and Nigel Bond to qualify for the Crucible for the second successive year.
While he had not settled against Mark Allen the previous year, this time things were to be different as against Marco Fu he held his nerve to come through a dramatic first round encounter in a deciding frame. He did not necessarily find his best form but this was to follow early in his last 16 match against Neil Robertson when he stormed into a seemingly unassailable 11-5 lead after two sessions having played some phenomenal snooker.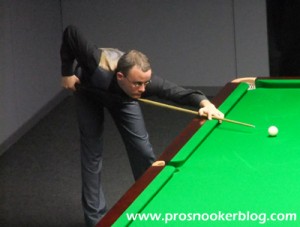 Martin in qualifying for the 2011 World Championship
Unfortunately for Martin however he was to find himself on the wrong end of one of the Crucible's greatest comebacks as the Australian came back to win 13-12 en route to winning his first world title.
While there were a number of factors behind the result, one that stood out was an error by referee Olivier Marteel in frame 21 when with Martin on a break of 17, Olivier accidentally picked the white up from the table which resulted in a delay of nearly three minutes to put it back in the correct position. This inevitably was to prove a distraction for Martin who then missed his next shot before going on to lose the frame.
2010/11
Encouragingly having experienced such a disappointing blow at the Crucible, Martin rebounded in fine style during 2010/11 as he progressed to his first ranking event quarter-final at the World Open before coming unstuck against Peter Ebdon. This combined with a final appearance at the PTC6 event where he incredibly lost out to Welshman Dominic Dale in dramatic circumstances was enough to move him up and into contention for a place in the top 16.
The turn of the year was to see Martin suffer a couple of qualifying defeats, the first of which came against Joe Swail at the German Masters when the Northern Irishman recorded a shock 5-0 win to reach his first venue of the season. It later emerged that Martin was suffering from a bout of the flu during this match and in fact played the match against doctor's advice.
He did however get himself back on track in style by reaching his first ranking event final at the PTC Grand Finals in Dubling, defeating the likes of Judd Trump and Mark Selby along the way. Although he lost out 4-0 to Shaun Murphy in the final, he had given his confidence a boost and went on to qualify for both the China Open and the World Championship, defeating Robert Milkins 10-6 in the latter.
Martin in qualifying for the 2011 World Championship
At the Crucible he was again paired with Hong Kong's Marco Fu as he had been a year earlier and despite a slow start the result was to be the same as Martin came through to secure a 10-8 victory. When the draw had been made it had looked like a re-match between Martin and defending champion Neil Robertson was likely but instead he was to face Bristol youngster Judd Trump who had upset the defending champion 10-8 in the first round.
Unfortunately for Martin however although the first half of the match was close, the key moment was to come in frame 13 as having missed a black to reduce the gap to 7-6, Martin then lost the frame on a re-spotted black and would go on to lose the match 13-6.
Overall though it was another successful season for the Pinner Potter which saw him finish ranked in 21st place, 22 places up from his starting position of 43.
2011/12
Martin made a strong start to the 2011/12 season with a last 16 appearance at PTC1, before also managing to qualify for the venue stages of the Australian Goldfields Open and Shanghai Masters tournaments.
Combined with further runs at the PTC4 and 5 events, these results were enough to see Martin break into the world's top 16 at the season's first seedings revision in October, ensuring that he would make his début at the Masters tournament the following January.
Martin at the 2011 UK Championship
Following this landmark achievement for Martin, another was to follow as he captured the Power Snooker Masters tournament in Manchester with a terrific victory against Ronnie O'Sullivan in the final. He also made it through to the semi-finals of PTC9 and then the final of PTC11 in Sheffield, losing narrowly to Tom Ford in the latter.
The second half of Martin's season was to prove a struggle however as he lost six of his last seven matches in qualifying events, including his opening match at the Crucible to qualifier David Gilbert. As a result, he was to finish the campaign ranked 14th.
2012/13
Following his difficult end to the previous season, Martin began working with Sight Right UK's Steve Feeney at the start of 2012/13 and bounced back with a run to the quarter-finals of the Australian Goldfields Open, before taking his biggest title to date at the UKPTC2 event in Gloucester, with a 4-3 defeat of Stephen Maguire.
A last 16 run would follow at the next PTC event in Gloucester, but with a number of ranking points to defend from two seasons previously, he was unable to do enough to retain his top 16 status at the season's second seedings revision, meaning that he would not make it back to the Masters in 2013.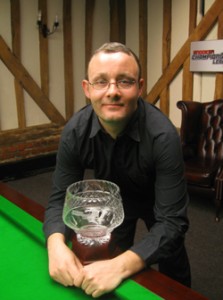 2013 Championship League Winner
He was to shine though during the season's other remaining invitational events, defeating Mark Allen to win the Shoot Out in January, before later capturing the Championship League title at Crondon Park with a 3-1 victory against Stephen Maguire.
His season would end with a last 32 defeat at the Crucible to Shaun Murphy, having qualified for the tournament with a hard-fought victory against the experienced Rod Lawler across three sessions.
2013/14
Martin's strongest result of the 2013/14 season was to be a last 15 run at the Shanghai Masters, where he defeated David Morris, wildcard Zhao Xintong and former champion Ricky Walden, before losing out to Michael Holt in a deciding frame.
Otherwise however it was to prove a frustrating season of slim pickings for Martin, last 32 runs at the Wuxi Classic, International Championship and World Championship his next best results, while he also reached the quarter-finals of the European Tour 2 event in Rotterdam early in the campaign.
He was though to mount an impressive defence of his Championship League title, coming through the sixth regular group, before making it back to the final of the winner's group, only losing out to Judd Trump in the overall final.
Minor Ranking Event wins (1)
Non-Ranking Event wins (3)
| | |
| --- | --- |
| Event | Year |
| Power Snooker Masters | 2011 |
| Shoot Out | 2013 |
| Championship League | 2013 |