Name: Li Hang
DOB: 4th October 1990
Nationality: Chinese
Turned Pro: 2008
Highest Ranking: #71 (2009/10)
Highest Break: 138 (Welsh Open Qualifiers 2010)
Career Highlights: 2008 Asian U-21 Champion, 2011 China Open last 16, 2008 Northern Ireland Trophy and Royal London Watches Grand Prix last 64
Career Highlights
Chinese youngster Li Hang earned his spot on the tour for 2008/9 when he defeated countryman Li Yuan in the final of the ninth U-21 Asian Championship in April 2008. Winning the match 6-1 against his more experienced opponent, Li confirmed the potential that had seen him awarded a wildcard spot at the China Open earlier that year where he lost to Mark Allen 5-2.
2008/9
Starting his first professional season as a 17-year-old, Li made announced himself in style by defeating Robert Stephen and David Morris to reach the third qualifying round of the Northern Ireland Trophy in August. He then repeated the feat at the Grand Prix, as well as recording a career best break of 135 in qualifying for the Bahrain Championship in October.
Li at the 2011 China Open
While a number of other young players started the season well before fading, Li managed to maintain his consistency, winning his opening round match in all but one of the eight ranking events. His one defeat came at the season-ending World Championship where he lost out in a classic match to the similarly talented Welsh youngster Daniel Wells, but his performances over the rest of season were at least enough to see him hang onto his tour spot which was an achievement in itself.
2009/10
Li's second season however was to get off to a nightmare start as he was forced to miss the season-opening Shanghai Masters tournament due to not being able to obtain a visa in time.
With just six tournaments on the calendar this would prove to be a real handicap, though he did enjoy a run to the third qualifying round of the subsequent Grand Prix thanks to 5-4 victories over Brendan O'Donoghue and David Roe. At the Welsh Open he managed to go one better before losing out to Fergal O'Brien to deny him an appearance at his first venue.
Unfortunately though, round one defeats at the UK and World Championship tournaments for Li were to prove costly for Li and he was relegated from the tour at the end of the season.
2010/11
Back among the amateur ranks during the 2010/11 season Li came close to regaining a spot on the main tour by virtue of his performances in the IBSF Under-21 World Championship in Ireland having defeated Shahahr Ruberg, Michael Leslie, Jamie Clarke and Vinnie Muldoon to reach the final. The final against English youngster Sam Craigie however was to prove a match too far as he eventually lost out 9-8.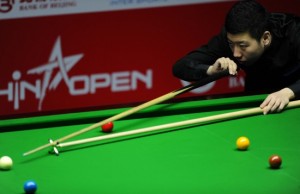 Li at the 2011 China Open
He was though to make an impact at the China Open in Beijing where having been handed a wildcard, he was able to defeat former world champions Ken Doherty and Graeme Dott to reach the last 16 stage before narrowly losing out against another, eventual semi-finalist Shaun Murphy.