Name: Craig Steadman
DOB: 14th July 1982
Birthplace: Farnworth, England
Turned Pro: 2009
Highest Ranking: #N/A
Highest Break: 143 (Welsh Open Qualifiers 2010)
Career Highlights: EBSA European Championship Runner-up, Captained English team to victory in the Home Internationals 2007-9, 2009 PIOS Event Winner, 2012 UK Championship last 64
Early Career
Based at Cuemasters in Walkden, North Manchester, Craig is a strong all-round player, who has long been regarded as one of the most dangerous amateur players in the game. The early highlights of his career include victories in the Lancashire Under-19′s tournament aged 16, and the North-West Individuals aged 20, while he also managed to reach the final of the English Open only to lose out 8-7 to the prodigious Judd Trump.
2006-8
More recently in 2006 he demonstrated his potential by captaining England to victory in the Home Internationals, winning all of his matches along the way. This earned him a spot at the 2006 IBSF World Championships in Jordan but despite being one of only two players to win all of their 10 group matches, he eventually bowed out at the quarter-final stage to India's Manan Chandra.
Having missed out on a main tour place by just a single place in 2005 and 2006, some might have expected Craig to be demoralised but if he was, it was not to show in his results as again he captained England to glory in the 2007 Home Internationals, making breaks of 107, 116 and 140 along the way.
The rest of the season was to again be agonising for Craig however as from a strong 2nd position in the PIOS he won just three matches during the last four events and finished up in 16th place as a result – outside of the top eight main tour qualifiers. Things were to get even worse during the EBSA European Championship when having reached the final in Lublin, Poland, he lost out 7-6 to David Grace who took the coveted main tour place on offer as a result. Though he applied to be the selected World Snooker wildcard for 2008/9, the place instead went to China's Liu Chuang.
2008/9
The following season was to be a mixed one for Craig early on as despite taking victory in the Pontin's Autumn Festival (becoming the first player ranked outside of the top 32 in the world to do so in eight years), he lost out at the last 32 stage of the IBSF World Championship to Indian Pankaj Advani.
Craig in action during the 2008 European Championships
He did however captain England to victory in the Home Internationals for a third successive year and in the run-up to Christmas having won event four of the series, he was very well-placed in the PIOS to finally finish inside the top eight and progress to the main tour that way. With just three events to go he knew that he needed just one further quarter-final to be absolutely sure, but given his previous near-misses he was remaining cautious:
"Until I have qualified I won't rest on my laurels,"
"If I was another player looking at my position I would think I have done enough, but because it is my name up there I won't take anything for granted.
"There are three tournaments left and I only need to get to the quarter-finals of one of those to mathematically guarantee my place, so I want to do that as soon as possible.
"If I lost in the first round of the first two tournaments I will put myself under too much pressure in the final one.
"I am in a good position now and I don't want to blow that."
As it turned out he was right to remain cautious as his form deserted him in 2009 and having lost out in the last two events to Avtar Sohanpal, he was relying on other results to go his way in order for him to remain in the all-important top eight. As the event came down to the last four, an event victory for Stuart Carrington would see Steadman narrowly miss out again but much to his relief, Carrington lost out to Joe Jogia and Steadman's place was secure.
2009/10
Craig's first season among the professional ranks however was to prove difficult as with just six ranking event tournaments staged, there was little room for error, especially for the débutantes.
His best performance came at the UK Championship where he defeated Andrew Norman, Barry Pinches and Marcus Campbell to reach the final qualifying round of an event for the first time in his career before losing 9-5 to Graeme Dott.
Another strong run followed at the Welsh Open where he saw off Sam Baird and David Roe before losing 5-3 to Rory McLeod and although he was to suffer a first round exit at the China Open, he had left himself well placed to remain on the tour for the following season via the one-year list.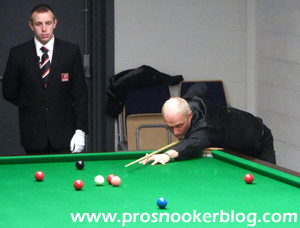 Craig at the 2011 PTC2 event
Unfortunately for Craig however he was to lose out to eventual qualifier Zhang Anda at the first qualifying round of the World Championship, a result that would see him relegated from the tour after just one season.
2011/12
Competing in the PTC events as an amateur in 2011/12, Craig impressed with his consistency, winning 22 matches in total and reaching the last 32 of four separate events. As a result Craig earned enough points on the Order of Merit to reclaim a place on the main tour for the start of the 2012/13 season, becoming the first amateur player to do so via the PTC events.
2012/13
Craig's strongest performance during the first half of the 2012/13 season was to come at the UK Championship, where he defeated Tony Drago and Mike Dunn to reach the third qualifying round, before losing out to Michael White.
Otherwise, Craig was able to win matches at the PTC events, reaching the last 32 stage on three occasions, without being able to make it further.