Name: Zhang Anda
DOB: 25th December, 1991

Nationality: Chinese

Turned Pro: 2009

Highest Ranking: #67 (2010/11)

Highest Break: 139 (2012 APTC3)

Career Highlights: 2013 Australian Goldfields last 16, 2010 & 2015 World Championship Last 32, 2013 Indian Open last 32, 2013 Haikou World Open last 48, 2009 Asian U-21 Champion, 2012 APTC1 & APTC3 quarter-finalist, 2014 Q School qualifier.
In short
Nicknamed the 'Mighty Mouse' due to his short height of just 5ft 3″, Zhang Anda demonstrated his potential by qualifying for the venue stage of the 2010 World Championship at the age of just 18. His win over Ricky Walden in particular was a truly stand-out performance and for me, the most impressive display I had seen from a relative newcomer since I first saw Mark Allen play at the Crucible in 2007.
A known practice partner of Ronnie O'Sullivan, it will be very interesting to see how his career develops over the next few years and whether he will be able to reproduce this strong form on a consistent basis…
Zhang in action at the 2010 World Championship qualifiers
Amateur Career
Zhang Anda narrowly missed out on a main tour spot for 2008/9, losing in the final of the 2007 U-21 World Championship out in India but the following season made no mistake as he secured his place with victory in the 2009 Asian U-21 Championship.
Indeed Zhang was rarely troubled as he won the title, coming through his group phase unbeaten and losing just two frames from the five matches played. Though he was then pushed to a deciding frame in his quarter-final, 5-1 victories in both the semi and final ensured that he would take the trophy and a place on the main tour for 2009/10.
Though this would be his first season on the professional circuit, like many top Chinese players, Zhang did have some previous experience of the main tour having been selected as a wildcard for two events staged in his home country. Both occasions however were matches to forget as he lost out firstly to Barry Pinches in the 2008 China Open by a 5-1 scoreline, before going down 5-0 to eventual champion Ricky Walden in Shanghai.

2009/10
A then 17-year-old Zhang Anda began his debut season with a 5-2 defeat to Craig Steadman but soon improved with victories over Jin Long and Ben Woollaston to qualify for the third round of the Grand Prix qualifiers.
The following tournaments up until the World Championship qualifiers were relatively unsuccessful as he won just one more match and leave himself unlikely to retain his tour status for the following season.
At the English Institute for Sport in Sheffield however, the Mighty Mouse was to more than make amends as he began with an impressive 10-4 demolition of Craig Steadman, before ending the professional career of former world champion John Parrott in the last 16 with a 10-6 success. Former Welsh Open finalist Andrew Higginson was to prove a more formidable challenge in the third round and having seen him come back from 7-2 down to lead 8-7, it looked like Zhang's season would come to an end at this stage.
Zhang in action at the 2010 World Championship qualifiers
But that would have been underestimating Zhang's temperament. Having levelled the match at 8-8 following a fortuitous fluked snooker, Anda took full advantage and added the next two frames to secure a 10-8 victory and retain his place on the main tour in the process.
The best was yet to come however as paired with Ricky Walden in the final qualifying round, he managed to complete a sensational 10-8 victory (click here for my extensive match report), to qualify to play at the Crucible Theatre, becoming the only player to do so from the first round that season.
His opponent in Sheffield would prove to be none other than the seven-times world champion Stephen Hendry who actually won the first of those titles before Zhang had even been born! Heading into the match it was widely anticipated that Hendry would win easily and as he moved 4-0 ahead at the first mid-session interval there was nothing to suggest that such predictions were anything other than fully justified.
What was to follow however was a terrific response from young Zhang as he reeled off four of the day's remaining five frames to trail by just one overnight. He was now producing something like the kind of form that those of us at the Academy had witnessed already and a below-par Hendry was once again facing a battle to make it through to the second round.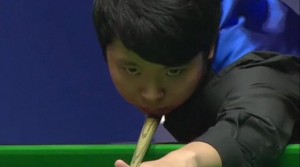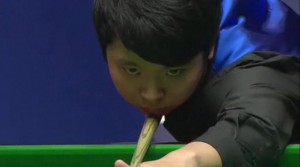 Zhang in action at the Crucible
As the second session progressed the burden of expectation appeared to be taking its toll on Hendry as Zhang continued to play brilliant snooker and moved just one frame away from the match at 9-7. He then found himself on the verge of causing one of the biggest upsets of the Crucible era as he earned the first scoring opportunity in frame 17.
Unfortunately for Zhang however, he could not make it count and from there Hendry from absolutely nowhere showed why he is such a great champion and produced three vintage frames to come back and complete a remarkable comeback, just as he had against Mark Allen two years previously.
Still, although it must have been tough for Zhang to take having come so close to causing the upset, he had now shown the world what he was capable of on the biggest stage of all and had plenty of positives to take from the campaign.
2010/11
Having ended the previous season so strongly, Zhang's start to the 2010/11 season was relatively disappointing, a run to the final qualifying round of the Shanghai Masters where he lost out to Matthew Stevens proving to be the highlight as he struggled for victories in the Players Tour Championship.
Zhang at the 2011 World Championship qualifiers
Unfortunately for Zhang however his form was not to improve as the season progressed, round one defeats coming at the UK Championship, German Masters and Welsh Open tournaments before a win against Patrick Wallace in the China Open saw him through to a second round tie that he was to lose against Alfie Burden.
Needing a repeat of his 2010 heroics at the World Championship qualifiers to stand a chance of remaining on the main tour for the following season, Zhang was to fall at the first hurdle against Welshman Andrew Pagett, losing 10-6. Ironically Andrew was to go on to become the only man to reach the Crucible in 2011 from the first round, emulating Zhang's achievement a year earlier.
2012/13
Back on tour for 2012/13, Zhang's strongest results were to come during the new APTC series, where he reached the quarter-finals of both the first and third events.
He was also to finish the year with a strong run at the 2013 Haikou World Open qualifiers, where he was able to defeat Michael Wild, Luca Brecel and Rory McLeod to reach the final qualifying round, before losing out in a final frame decider to Stoke's Jamie Cope.
Zhang's strongest run during the second half of the campaign was to come at the World Championship qualifiers, where he won two matches before losing out 10-5 to eventual quarter-finalist Michael White.
2013/14
Zhang's strongest result of the 2013/14 season was to come at the Australian Goldfields Open, as he defeated Oliver Lines, Gerard Greene and David Gilbert to reach the last 32, before defeating Andrew Higginson to reach the last 16 stage.
Otherwise however it was to be a disappointing season, a quarter-final run at the Gdynia Open ultimately not enough to help him retain his main tour place for the following season.
To his credit however, Zhang immediately rebounded at the 2014 Q School, coming through the first event with wins against Andreas Ploner, Thomas Barton, Ross Vallance, Kacper Filipiak, Martin McCrudden and Jamie Rhys Clarke to earn a fresh two-year tour card.
2014/15
The highlight of Zhang's season was to come at the season-ending World Championship qualifiers as five years on from his first appearance at the Crucible, he defeated Anthony Hamilton, Mark Joyce and Liang Wenbo to make it back to the venue for the second time.
There he came up against Joe Perry, falling 8-1 down after the first session before eventually losing 10-4 to finish his season ranked in 83rd position.