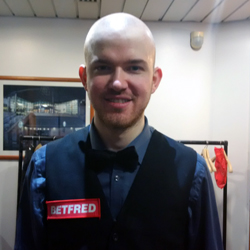 Name: Robbie Williams
DOB: 28th December 1986
Nationality: English
Turned Pro: 2012
Highest Ranking: 50th (2015)
Highest Break: 144 (2009 PIOS Event 5)
Career Highlights: 2013 Indian Open semi-finalist, 2013 ET5 semi-finalist, 2014 & 2015 World Championship last 32, 2013 Australian Goldfields Open, Shanghai Masters last 48, 2012 Q School qualifier, 2010 Paul Hunter English Open champion
Early Career
A former English Open champion, Robbie Williams was able to secure a main tour place for the first time in 2012 by defeating Jay Bullen, Ashley Wright, Adrian Gunnell and then Mitchell Mann with a break of 102 in the decider, to come through the final event of Q School.
2012/13
Robbie was to enjoy a solid, if not spectacular start to the 2012/13 season, winning his opening match in three of his first four full-ranking events, while defeating three top 32 players to reach the last 16 of the ET1 event, before losing out to world number one and eventual winner Mark Selby.
Further strong runs were to come at the Haikou World Open and China Open qualifiers, as Robbie won two matches at each to reach the third qualifying round of both tournaments.
As a result, Robbie was to finish his début season with a ranking of 79.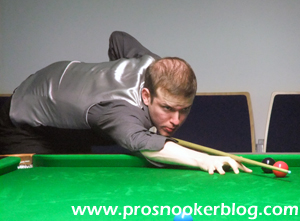 2013/14
Robbie made a strong start to his second season on the professional circuit, reaching the final qualifying round of both the Australian Goldfields Open and Shanghai Masters tournaments, two events not played under the new flat draw format.
Better was to come at the Indian Open however, where having defeated former world champion Shaun Murphy in Doncaster to qualify for the venue, he then defeated Manan Chandra, Andrew Higginson, Mike Dunn and Anthony McGill to reach his first career ranking event semi-final.
Though he would lose out there 4-1 to eventual champion Ding Junhui, the money earned was enough to propel him into the mix for a top 64 place in the rankings.
Success also came in the season's European Tour events, another semi-final in the ET5 event in Germany going a long way to effectively securing his main tour place for the following season, regardless of whether he could make it into the top 64.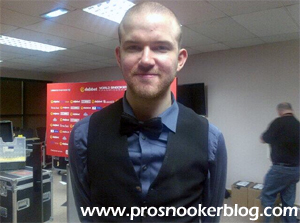 A quiet period followed, just three wins following his run in India, before he he returned to form at a bang at the season-ending World Championship qualifiers in Sheffield. At the Ponds Forge venue, he defeated Lyu Haotian, Liu Chuang, Pankaj Advani and finally Irishman Fergal O'Brien to qualify to play at the Crucible Theatre for the first time in his career.
His victory against O'Brien was particularly dramatic, as he recovered from 7-2 down after their opening session to come through 10-9 on a re-spotted black, but he had no answer to world number one Neil Robertson at the Crucible, losing 10-2 at the last 32 stage.
2014/15
The 2014/15 season was to prove more difficult for Robbie as he failed to make it beyond the last 32 of a full-ranking event, but he was to end the campaign on a strong note by qualifying for the final stages of the World Championship for a second successive year with wins against Lee Page, Dechawat Poomjaeng and Michael Holt.
Once there he was able to improve upon his performance the previous year by winning seven frames against Stuart Bingham, who would eventually go on to win the title at the Crucible.
Despite that defeat, Robbie was able to finish the season ranked at a new career-high of 50th position.