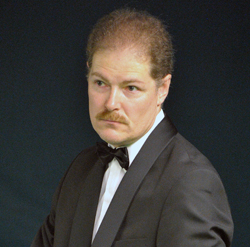 Name: Jan Scheers

DOB: 3rd November 1964

Nationality: Mechelen, Belgium
First Pro Match: PTC Brugge, 1 October 2010 (Andrew Higginson v Nick Jennings)

First televised match: 6 Red World Championship, 18 December 2009 (Mark Williams v Barry Hawkins)
Career Highlights: Officiating the 2010 Brugges Open final, officiating at a full-ranking event for the first time at the 2012 German Masters at the Tempodrom

Snooker Ambitions: To referee at the venue stages of more ranking events, with as many spectators watching as possible
Career Summary
A familiar face at snooker's European Tour events in particular, Belgium's Jan Scheers began refereeing when he volunteered for the role at his local snooker club in October 2009. He subsequently passed the appropriate exams, without knowing of the existence of printed rule booklets and soon found himself officiating at several international amateur tournaments.
These included the European Championships in 2003, the European U-19 Championships in both 2005 and 2006, before he was selected to referee at the IBSF World Championships in 2008. Jan also officiated at the now-defunct PIOS series, becoming the first Belgian to take charge of a PIOS final, between Thepchaiya Un-Nooh and Lee Page in 2009.
More recently, Jan has travelled to 22 PTC/European Tour events as of October 2014, officiating at the finals in Brugge, Killarney and Gdynia previously. He has also referred at several main tour qualifying events, including the 2013 World Championship qualifiers in Sheffield.
When not picking balls out of the pockets, Jan can be found at his day job where he is a fleet manager in his local Bpost office.
Prior to becoming involved with snooker, Jan was formerly a manager in the athletics world and was involved with Derartu Tulu, Ethiopia's multiple Olympic champion 10,000 meters and multiple world cross country Champion.
Jan has also competed as a runner (sprinter 100 and 200 meters), and won two bronze medals at the Belgian 4×200 metres championships.
He is also a keen Sudoku player and became Flemish champion in 2007, as well as representing Belgium at the 2007 World Sudoku Championships in Prague.