Name: Michaela Tabb
DOB: 11th December 1967
Nationality: Scottish
First Pro Match: 2002 Welsh Open (Ken Doherty 5-2 James Wattana)
147′s Officiated: 2
Career Highlights: Officiated: 2009 & 2012 World Championship finals, 2008 Masters final
Twitter: @MichaelaTabb
,
Career Summary
Scotland's Michaela Tabb is not only snooker's leading female referee, but alongside Eirian Williams and Jan Verhaas is nowadays considered one of the leading referees full stop.
It was in another cue-sport where Michaela made her name however as she forged a successful career as a pool referee, starting in September 1997 during the St Andrews Cup as organised by Matchroom Sport. Indeed this proved to be the start of a long association between Michaela and Barry Hearn's company and one that still exists today as she takes time out from her snooker schedule to referee the Mosconi Cup competition.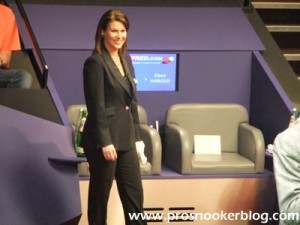 Michaela at the Crucible in 2011
Her involvement with snooker was to begin in 2001 when her achievements in pool were recognised by World Snooker who approached her with regard to the possibility of refereeing in their competitions. As a snooker fan since she was a little girl, Michaela did not need to be asked twice and duly accepted the offer.
Quickly moving up the ranks, Michaela's first major landmark came at the 2002 Welsh Open when she took charge of the round one clash between eventual finalist Ken Doherty and Thailand's James Wattana. Indeed the Welsh Open has continued to be a special one for Michaela as five years later she became the first female to referee a ranking event final there as Neil Robertson defeated Andrew Higginson to take his second ranking title.
The biggest stage of all however is of course the World Championship and Michaela's Crucible bow came in 2003 when she was selected to take charge of the first round match between Mark King and Drew Henry. Since then she has gone on to referee in the semi-finals in 2007 (Murphy/Selby), and 2008 as Ronnie O'Sullivan defeated Stephen Hendry.
[youtube=http://uk.youtube.com/watch?v=9SIjgzdMK6E]
Michaela chats following day one of the 2007 Mosconi Cup
Prior to the O'Sullivan/Hendry clash however she had recently taken charge of an even bigger match, the 2008 Wembley Masters final between Mark Selby and Stephen Lee. Unsurprisingly she was the first female to do this and in 2009 was again present at the tournament, though this time the final went to Jan Verhaas.
Early in 2009 it was announced that in May that year, Michaela would take charge of her first World Championship final at the Crucible Theatre, in the process becoming the first woman ever to do so. More importantly for her though it was her first final and thankfully it was to pass without incident as fittingly she saw fellow Scot John Higgins lift the trophy for the third time.
Since then Michaela has continued to play a prominent role in snooker's major tournaments, while also becoming one of the faces of the Snooker Legends series which has seen the likes of John Virgo, Dennis Taylor and Cliff Thorburn tour the country since 2009.
On 2nd April 2012 it was announced that Michaela would take charge of her second World Championship final at the Crucible in May.
Major Finals:

| | |
| --- | --- |
| Event | Year |
| Masters | 2008 |
| Welsh Open | 2007 |
| China Open | 2009, 2010 |
| World Championship | 2009, 2012 |