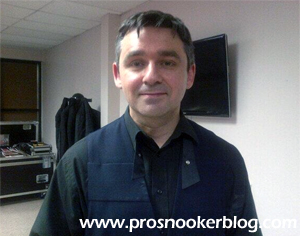 Tuesday at Ponds Forge saw the confirmation of the first eight qualifiers for the venue stages of this year's World Championship and there were (on paper at least), some real surprises, with the likes of former champions Graeme Dott and Mark Williams crashing out.
Click below for a round-up of the day's eight qualifiers, with quotes from all of the day's big winners…
Click here to view all of the results from the 2014 World Championship qualifiers
Click here to view the latest provisional money list
The final man through this evening was Scotland's Alan McManus, who earned himself a place at the Crucible for a second successive year, having previously not made it since falling out of the top 16 in 2006.
He did so today at the expense of two-time Crucible king Mark Williams, who with only one break above 50 was clearly far from his best. Take nothing away from Alan though, who led throughout the majority of the match and was justifiably pleased to make it back to the Crucible for the 18th time in his career:
"It's a good scalp, Mark didn't play very well today and I was very patchy. In the end just probably missed a few less balls and that was probably the difference.
"It's nice to get through, obviously it was a hard game but they are all hard here as the guys tell you all the time. Two years in a row, you wait for a bus coming along and then you get through two years in a row – which is good. Obviously it is nice to go back and play there again and hopefully put on a decent performance.
"I went in yesterday and sat in the arena for five minutes. I don't know why, I was walking up to get some dry cleaning and I thought that I was just going to go and sit and think about tomorrow.
"Obviously I have got some history at the Crucible. It is the best place to play and the worst place to play as we always say. I can't wait to go back and play there again.
"Every year is a bonus really for myself, as a more senior player. Every chance you get to play at these places you do take it in a little bit more actually than when you are younger. If I can give a good account of myself I'll be happy, I just want to play, I am enjoying playing, I have enjoyed the season, just keeping playing and keep fighting."
Alan was asked as to whether he would like to play either countryman John Higgins or Stephen Maguire in the first round and admitted that he would:
"I was thinking about it earlier and I would quite like to play one of them, not for any other reason that I like them, they are my mates and it would be nice to share the arena with them next week. It would be special for me to play one of those two at the Crucible, it would be awesome. But I'll take who I get and I'll be happy to play anyone and fight my way."
I also asked Alan if he had felt re-energised this season, with the likes of Anthony McGill and Scott Donaldson now making inroads on the professional circuit:
"Yeah, definitely. It's a strange thing, I almost want him [Anthony] to get through more than I do and that's true, that's not bull, but he will, his time will come, he's a class act. He'll be fine."
Finally, I mentioned to Alan how just a few days ago he trailed Peter Lines 7-4 in one of the earlier rounds, eventually clearing for 7-5 and now he was at the Crucible:
"I kinda struggled my first couple of matches but sometimes if you hang in there and hang in there… I saw Jamie Jones the other night and I shook his hand [after his comeback from 9-4 down to defeat Joel Walker] and he said 'well I stuck around' – if you stick around long enough, sometimes that can happen. I'm fortunate to get through, but I'll take it and go next week, see what happens."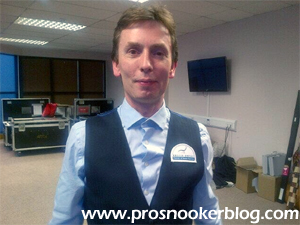 Joining Alan in Thursday's draw will be Ken Doherty, after the 1997 world champion recovered from 4-2 down to defeat Dechawat Poomjaeng 10-5 and book his place at the final stages of the tournament for the 19th time.
Arriving at the venue to find him 2-1 up in what was by far the slowest match of the morning session, it was clear to see that both players were struggling to find their best form, Ken in particular as he hit a high break of just 32 during the first six frames.
Trailing 4-2 however, Ken was able to win the next with a break of 53, during which he began to look more fluent with every shot and from there he looked to be a different player. During the evening session, he perhaps produced his strongest snooker of the season, hitting breaks of 58, 51, 100, 97 and 78 to surge clear and ultimately secure his Crucible place.
After joking about that fact that I would have been tweeting that his match would be an all-night job, Ken told us:
"I'm over the moon, it was a tough match, 4-2 down, I wasn't playing well at all, missing a lot, a lot of pressure on.
"This last match to qualify…I've played a lot of tough matches in my time but I think this is one of the hardest matches to play. You have seen Graeme Dott, Mark Williams, Peter Ebdon will be here, former world champions and a lot of great players struggling to qualify because it means so much when you have been there for so long and you've had success at the Crucible and you know what it means.
"It's the stand out tournament and you just want to be there, be part of the tournament, not sitting on the couch talking about it. It just means so much and even for the young lads trying to get through, I remember how much pressure there was. It's probably the toughest match you will ever play, believe it or not. When you're at the Crucible, you feel like you are part of the tournament, you have had a good journey, but this match to get through is so nerve-wracking you know.
"Once you get there it doesn't really matter, it doesn't get any easier but in a way at least you are there and you are part of it, rather than not being part of it and going there and working, it's a little bit more difficult.
"I'll be the oldest man there won't I? [yes] I never thought I'd actually say that, when I started off the first time I ever played there was against Davis but I never thought I would get to the stage when I was the oldest man at the tournament. Scary!
I asked Ken how he felt at 4-2 down in particular, when he was clearly struggling to find his form:
"I was struggling, to win those last couple of games and when I came out at 4-4, I made a really good clearance to make it on the blue and then I made a century and I should have made another century and that's when I started to play like the old 'Crafty Ken.'
"But up to that 4-2 I couldn't pot a ball, it was really tough, hard snooker and I was just trying to say to myself not to give him easy chances and starting to refuse balls just to bed myself in and once I got my arm going and I got a little bit of confidence…if I could bottle that and start off like that in my next match I would be more than happy.
As for the draw, Ken simply said:
"I want Ronnie in the first round – print that one! (laughs)"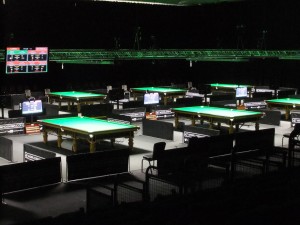 The third world champion in action today was Graeme Dott, who with six breaks over 50 in the first 10 frames must have expected to progress, but was to be denied by yet another sensational performance this week from Kyren Wilson.
I had dubbed this match as the clash between the strongest seed and the best player of the week (with the arguable exception of Martin Gould) and so it proved to be, with Dott ultimately unable to respond to the huge pressure that his opponent was to exert upon him during this evening's second session.
After the win, a visibly thrilled Kyren told us:
"Honestly I am speechless. It has been such a long week and I had such a tough draw. I think a lot of people wrote me off against Graeme, even family. I just wanted to enjoy it because he is such a class player so to have come through how I have full on battling 24/7 I just feel so good. I feel like I can mix it with these top players as well so yeah I'm glad I held my nerve as well."
"It was a great match, near enough 50-60 every frame at least, solid safety. I don't know why but from 7-6 down I was walking upstairs at my mid-session interval and said to my coach that I feel I am getting stronger, more comfortable at 7-6 down, it was just strange. The first long red went straight in, 7-7 and I sort of went on from there.
"It hasn't sunk in yet, I just can't wait, it is a dream come true. I'm probably going to have a little drive up and have a look at it before I go home. I've been there to watch Peter Ebdon a few years ago when he played Michael Holt and I can't believe I'm going to be there."
Like Doherty, there was only one name on Kyren's lips when asked about who he would like in Thursday's draw:
"Ronnie – I'm young, it's my first time, he brings in the crowd, everybody wants to watch him on TV and I want to play him before he retires. He could absolutely batter me but at least I would enjoy watching him! Mainly him or Judd because I play a similar attacking game and I enjoy it. I don't want to get bogged down and be bored sat there playing safety, no breaks."
I also asked Kyren about the importance of the sixth frame, which he won having needed a snooker on the pink, as well as how thrilled he was to defeat Rod Lawler earlier in the draw, a match that on paper was a real test for him:
"Oh yeah the snooker, I thought I'd thrown it away, I missed something silly and Graeme went for a brown, missed it, left it safe and I just thought I had to keep battling, massive frame 4-1 and I was starting to think 5-1, I'm not even involved in the match here. So to nick that frame on the snooker, it was a great snooker to be fair, I had him in a lot of trouble, to nick that frame was massive, 4-2, very pleased.
"When I was first on the tour I was very immature, if I was playing a slow player I would get bogged down and my head would go. I'd let their pace and tempo affect me. But now it's all about the winning and keeping with it. I've have some tough players, grinders and whatever.
"When I looked at the draw I obviously saw Graeme, but when I've seen Rod I thought that this was the match, if I could get through that then I would have a chance, so to beat him 10-3 was massive.
"Things happened this week and I just thought things were going my way, it just felt like it was my time."
As for Graeme, he was the first to congratulate Kyren and was full of praise for his opponent:
"If either of the two of us had played anyone else we'd both be qualifying, I played well enough to get through but he played really well. For his first time to qualify he handled the pressure really well."
"I'm not overly disappointed just now but I'm sure when the tournament starts on Saturday I will be devastated not to be there. I can't remember the last time that I was not there."
On whether Kyren can do some damage at the Crucible:
"Providing that he handles it, the Crucible is a different animal. Nobody knows how you are going to be when you are there. If he plays to that standard he can beat anybody, I don't really feel that I have played that badly."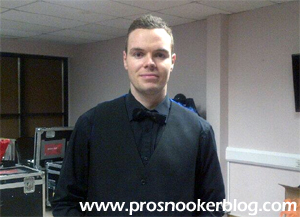 There was also to be a popular win for Jamie Cope, who recorded a 10-7 victory against Mark King to secure his place at the Crucible for the first time since 2011. Jamie has had a tough time in recent seasons, dropping well down the rankings due to factors outside of his control and he was clearly proud to have made it through qualifying this week:
"Things have been going quite well the last few weeks, these three best of 19's have come at a good time for me, it has been a nice test for me and luckily I have come through and played some decent stuff in patches.
It is nice to be back, it's a great feeling already. I've been slowly improving these last few weeks, so I was just lucky that I had the World left and managed to put in three good matches. "
Jamie spoke about the battle that he has had during the past three years with a 'tremor' which effectively has caused his cueing arm to shake whilst playing, particularly on the final delivery of the cue.
Jamie admitted that he is unsure as to the cause, whether it is the 'yips' or whether it is an essential tremor, but he said that he is currently working with a sports psychologist on the mental side of his game, to help him to manage the condition as best he can.
You will read more about that in the coming days, but clearly he is feeling as positive about his game as he has for some time now, Jamie going as far to saw that he is feeling as good as he has for three years. He also added that he is only disappointed that there will be a break after this tournament as the season will be at an end, a rather refreshing statement to hear!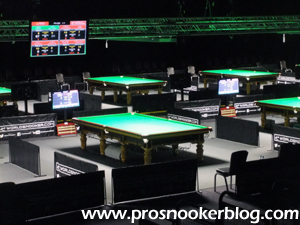 Elsewhere today, Michael Holt was among the earliest winners of the day, defeating Jamie Jones 10-6 to book his place at the Crucible for a seventh time. He commented:
"I thought earlier on in my career that match would get easier, but it doesn't, it's just the same, it's horrible. You just need to get through and now look forward to next week and hopefully I can do a bit of damage, we'll see.
"It's the same old with me, if I play like I can, it's just me being in the right frame of mind to handle the situation when it comes to get you. If I am in the right frame of mind I feel like I can beat anyone, so we'll see.
"I wouldn't like to play Ronnie. Obviously people say yeah it would be great to play him there because he's one of the best ever isn't he but no I want to avoid him. I'm not going to lie to you. I'm not scared of him, he's just the best player, so why would you want to play the best player. Why would you want that draw? It would be strange really.
"I played Saturday morning last year, I didn't like it really, I wouldn't mind if I were defending champion, I could take it on the chin then, but yeah I'd rather play second day maybe, get there watch a bit of snooker and get involved in it. But I'm in the draw so I'm happy, I can't grumble."
Soon to join the winners was David Gilbert, who sealed his third Crucible qualification with a 10-6 victory against Jimmy Robertson and was clearly pleased that he will be able to end a difficult second half of the season on something of a high:
"I thought the first nine frames I played very well, I had to nick a good last frame to go 6-3 up, the next session I lost a couple of bad frames that I was in control of that would have put me 8-4 up and then I had a bad kick clearing up to nick one to go 8-5, so at 7-6 I wasn't feeling too great, but the missus has a word with me and I played alright at the end.
"I've had a bit of a disastrous few months really so to finish off at the Crucible, that's where everyone on the tour wants to be so I'm looking forward to it.
"I played alright the last time I was there so hopefully I can avoid Rocket in the draw, get a frame on the board and settle down. Nobody wants Rocket! [at which time I pointed out that Kyren does, who was stood behind him after his own interview, Dave saying simply 'good luck to him!'].
"My start to the season was good, unfortunately my best pal passed away and I'm not using that as any sort of excuse, but perhaps I didn't practice as hard as I had done and I was getting the hump all the time again. Whether that was anything to do with it I don't know, but qualifying for the Crucible, sort of raises the last few months definitely.
"I'll go home tonight, having a few ales with the lads, playing golf tomorrow, back on the practice table Thursday and look forward to the draw.
"As I say, I've played useless, but I've really practised hard the last month. I didn't qualify for Beijing and maybe that was a blessing in disguise because I really have practised hard and I've only really played a handful of bad shots today, which is rare for me, so that's good!"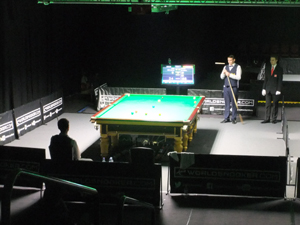 Another man through was Dominic Dale, who won an entertaining match with Andrew Higginson 10-6, while Leicester's Tom Ford soon joined him, seeing off two-time finalist Matthew Stevens, withstanding a late comeback from the Welshman to win 10-8.
Tom told us after the match:
"I started off a bit ropey, lucky Matt did as well, we both had a lot of chances. If one of us had played well today it would have been quite convincing for whoever had played well.
"I know the set-up now, I went 8-1 down last time so I didn't get much chance to settle in, hopefully I can just get a nice score from the first session and just settle in, relax and hopefully do a lot better than last time."
"If I'd have lost my first match this year at the World [Championship] it would have been my worst season ever but as it is going to a money list next year, all of a sudden I have won three matches and it has turned it into a decent season, when if it was points which I think is the fairest way, I still think I would have been struggling. So just winning three matches in the biggest event has turned my season around.
"My first match I played when I got here I was all over the place because I had dropped out of the top 32 and had to win three matches, it was just a battle against myself in the first match, my second match was more or less the same as I knew to get back to the match I should have been in in the first place and today I started to feel good in the end. I didn't play well, but I am feeling good so that is always a good sign.
"Obviously nobody wants to play Ronnie do they, but then if you do play Ronnie you are going to get the exposure and get yourself out there."
More follows tomorrow evening…