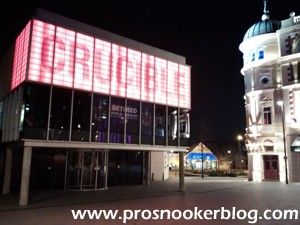 Little did I know back in August 2008 when I started Pro Snooker Blog that it would go on to be the start of something that would change my life, but over seven years on it is now no exaggeration to say that.
With that in mind, today I have some important news for everyone who reads this site. I am delighted to announce that I have been offered and have accepted a full-time position at the WPBSA.
This does mean that there will be changes in respect of PSB, however you need not fear because I will still be working hard to provide the same service that I have during the past seven years and much more going forwards.
While I very much see this as not the end, but rather a new beginning, I do want to take a moment to reflect on how snooker has changed since PSB launched and to thank some of the people who have helped me along the way.
I can't remember exactly when I first became a snooker fan, there is no one match or tournament that stands out in my mind as a moment that drew me in. It is just something that I always remember being there as a child growing up in the 1990s.
It was not until 2005 however that I first attended a professional tournament, the World Championship at the Crucible Theatre. At the time speculation was rife that it would be the last to be held in Sheffield and I remember wanting to see as much as possible, expecting that it would be my one and only chance to do so.
No doubt that I had not expected to enjoy the experience as much as I did however. It was not just the action on the table, but it was the accessibility of the players, the atmosphere and meeting some of the fans who have since gone on to become good friends.
The announcement of a contract extension with the Sheffield City Council that came towards the end of the first week of the event meant that I would be certain to return and indeed I have not missed a year since.
It was not until 2008 however that I decided to start a blog. Partly inspired by a couple of friends who had started similar blogs on other sports, partly by a poor written article at one particular sports website (McGuire anyone?) and partly by having a lot of spare time at that point, PSB was born.
I was surprised by how quickly interest built up, but it has to be remembered that at the time, there were very few serious snooker websites on the internet. Twitter was not yet around and aside from Dave Hendon's Snooker Scene Blog, Janie Watkins' Global Snooker Centre and the official World Snooker site, there was very little of note.
Over the next couple of years, a few people within the game became aware of the site, but it very much remained the blog of an outsider looking in at a time when actual snooker tournaments remained something of a rarity.
Of course that would all change in 2010, with the return of Barry Hearn to the game and the beginning of the snooker revolution that we have since seen.
Part of those changes was the shift to a rolling ranking list, complete with seeding cut-offs for particular tournaments. The rankings were something that I had always followed, using the 'provisional' lists updated by Janie Watkins throughout the 2000s.
At the time of the introduction of rolling rankings there was very little information in terms of the specifics of how this change would actually work. As it turned out, my interpretation was technically wrong, yet in terms of the information that fans and most notably the players themselves wanted, it was to prove popular – and still does.
Since then, I have been lucky enough to be accepted into snooker's media room and experience professional tournaments from an entirely new perspective. When I first started the blog I never imagined that even one professional player would read what I was writing, let alone that I would ever get to meet some of them properly and in some cases become friends with them socially.
I first met Jason Ferguson at the South West Snooker Academy around three years ago, the WPBSA Chairman on hand to present yet another trophy to the weekend's champion and I remember immediately being convinced that he was the right person to help take the sport forward.
For many years now it has been my primary goal to help better publicise the sport and to make fellow fans aware of information that they might not otherwise be aware of. Through PSB I like to think that I have been able to do that to some degree and now with Jason and the rest of the team, I hope to be able to take this to the next level.
In terms of those who have helped support the blog throughout the years and those within the snooker world, I could list names for a couple of hours and still not be anywhere close.
To all of the fellow bloggers, journalists, players and most importantly readers who I have interacted with, it has been very much appreciated and I hope that you will all continue to follow my updates in the future.
A special mention however must go to Joanne Ballantyne, who for a number of years now has painstaking helped me to maintain a number of the ranking lists here at PSB, for no personal reward or incentive.
The future
As I said at the top of the article, there are going to be changes as a result of this announcement and more details will be available in due course.
Due to entirely unrelated technical issues with the website, service is going to be affected over the coming days in any event, however I will continue to blog throughout the UK Championship at http://www.wpbsa.com/blog and of course on Twitter.
The various provisional ranking lists will be updated and accessible here.