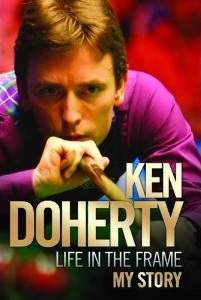 Three world finals, three UK finals and two Masters finals, it has been some career for 1997 world champion Ken Doherty and he has now chosen to share his story in his new autobiography, Life in the Frame.
Assisted by Snooker Scene's David Hendon, Ken begins, as you would expect, with his memories of his success at the Crucible Theatre in 1997, explaining:
"No matter how many other tournaments you win or other great moments you experience, nothing tops winning the world title. You'd swap all the other tournament wins for one at the Crucible. Your name will always be on the trophy and people will always come up to you with a story of where they were watching or what they were doing when you won it. You're etched into the history of the sport and to be part of that is very special."
From there, the book continues with Ken's account of the most significant incidents to have occurred during his career, for example the pain of his missed black for a 147 at the Masters, his near-miss at the 2003 World Championship and so on, with extracts from his 2009/10 season diary interspersed throughout. It is an approach which nicely breaks up the more historical anecdotes and helps the book avoid falling into the trap of being predictable as autobiographies can sometimes be.
Logically, he begins be recounting his childhood, his first snooker experiences and his move to Ilford at the age of 18, right through to his Crucible success as mentioned above.
An entire chapter is devoted to that missed black against Matthew Stevens in the final of the Masters in 2000 and it is evident that even after all of the years since passed, the miss is one that continues to haunt him:
"It didn't really sink in on the night but over time it has become the source of my biggest ever disappointment. I still have nightmares about it: genuine times when I wake up in the middle of the night thinking about the black and how I missed it. I picture myself potting it but obviously that's all in vain now. It's on YouTube and I have a look at it every now and again just to really do my head in."
He also recounts the story of what really happened when he and John Higgins were not allowed to travel home following the 2006 Malta Cup final, as well as discussing his memorable journey at the 2003 World Championship which saw him lose in the final to Mark Williams.
Indeed it is at this point that for me the book hits its stride as he reveals that he and Mark are not the best of friends, citing incidents at the 2002 UK Championship final and 1998 Masters in particular. The chapter 'Players and Me' is for me the most interesting as he offers his insight on Steve Davis, Mark Williams, Stephen Hendry, Ronnie O'Sullivan, Peter Ebdon, Neil Robertson, Jimmy White and Paul Hunter.
Of all of the players in the game, Ken gives his verdict on who is the greatest, describing Hendry as being the best that he ever played against:
"At his best, he was awesome, better even than Ronnie O'Sullivan. His long potting and break-building were out of this world and his safety game, when he used it, was strong as well. Unlike Ronnie, you knew Stephen would not go to pieces psychologically. He has such inner strength and belief in his own abilities."
From there Ken moves on to discuss the current state of the game, describing members of the previous board as being in a 'dreamland' and a 'fantasy land', and Barry Hearn as 'the right man to lead us out of the mire.' He reflects on the global appeal of the game and his experiences overseas, before those closest to him lend their views as to how they see him.
Overall, it is a good insight into the life of the former world champion and importantly an honest one as in places he is not afraid to criticise other players or offer forthright views where appropriate.
As mentioned, the book has been written with the assistance of David Hendon and as you would expect is extremely well-written, indeed it is the first book that I have reviewed for PSB where I have not noticed a single typo which when writing something as lengthy as this is easier said than done.
On the face of it, Ken would not rank highly on a list of controversial snooker players, however he is for me among the most interesting and there is enough in here to make the book a worthwhile read for all snooker fans.
Click here to read my interview with Ken published in August 2011.