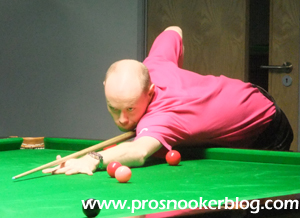 It's catching, little more than 24 hours after Dechawat Poomjaeng made a maximum 147 break, Gary Wilson has tonight repeated the feat, during the fourth frame of his German Masters qualifier against Ricky Walden.
As a result, Gary will take a half-share of the rolling 147 prize of £2,500 away from Poomjaeng, while at the time of writing he stands level with Walden (who was also the opponent for Mark Selby's max last week of course), at their mid-session interval at 2-2.
The break was officiated by Scotland's Leo Scullion.
Click here to view the updated 147′s list.