25 years ago Tony Francis was to collaborate with Alex Higgins on his autobiography, Alex Through The Looking Glass and now following the death of the two-time world champion, the author has decided to revisit his subject in what is a fascinating insight into one of snooker's most famous names…
When picking up a book, either a biography or an autobiography of a sporting star then you generally know what to get expect. In snooker the theme tends to be that player's early years, covering how they got into snooker, moving up from the club to the pro circuit until eventually they detail their greatest triumph, generally the capture of the World Championship.
In the case of 'Who Was Hurricane Higgins?' however the formula is very different. Instead, the author has divided the book into 22 chapters, each offering a different insight into Alex from those who knew him best. In total over 60 people have been given the opportunity to recount their memories of Higgins in their own words and it is clear that while there are a number of common themes and shared views on the man, there are also a number of divergences and differences of opinion.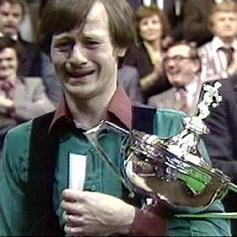 Of the insights offered it is perhaps unsurprising that the most detailed and most revealing come from those who at various stages of his life were closest to him. For me the most engaging section of the book comes at chapter eight as two of his children, Jordan and especially Lauren share their feelings, both good and bad.
And there were bad times, as Lauren explains:
"To be truthful I was glad when Mum and Dad split up. The atmosphere was horrible. They just didn't get on. Dad's temper was scary for a child. I have a vivid memory of being locked in my bedroom with Mum clutching Jordan and me while Dad was throwing things through the window."
Despite his faults however, it is clear that Lauren did care a great deal about Alex and her feelings, like those of many of the contributors to the book appear to be somewhat conflicted:
"I felt a mixture of shame and admiration for my dad. I was ashamed of his outbursts and often felt uncomfortable when he was near me, but when I look at what he achieved from modest beginnings, I'm proud. He put in the time and the effort to succeed. That's impressive. He wanted to entertain more than win matches. In years to come, he'll be remembered more for his personality than his titles."
Similarly Alex's second wife and Lauren's mother Lynn Avison as you would expect does also offer an interesting account, revealing how following his famous Crucible triumph back in 1982 she felt that it would be the 'beginning of the end' for them:
"And I was right. Now he was world champion again he'd be in demand. That meant he'd be away a lot more and missing his home. He was devoted to his little girl but soon he wouldn't be seeing much of her – or me. I knew he'd be lonely and when he was lonely he drank. That could only spell disaster. So behind those pictures of Alex hugging us was a very different story. Just as he was becoming a real family man, the chance of a stable, loving home life was about to drift away. You could say that the world title made and ruined him."
What is evident however is that there was – and still is – a clear difference in opinion between Lynn's side of the family and Alex's side, particularly Alex's sisters Isobel, Ann and Jean. Again their accounts, from the graphic description of how Ann discovered Alex on Saturday 24th July 2010 to those of happier times, are among the most interesting in the book.
Another stand out viewpoint to me is that offered by friend Jimmy White whose genuine frustration and despair at the premature demise of his friend is all too apparent and encapsulated in his closing comments:
"If he was here now I'd say this: why did you insist on doing everything the Higgins way and ignoring what everyone told you? What was it that stopped you from saving your own life? I told you I'd give you a driver and find you somewhere to live in Epsom close to me. I told you there was money to be made on the Question and Answer circuit. You'd have been brilliant at that. People like provocative answers. They like to be insulted. You wouldn't have let them down.
Thanks for all the good times, my friend. You were a fantastic bloke. You changed my life. I won't get over this quickly."
A particularly sharp contribution comes from the late Len Ganley who prior to his own death in August 2011 shared his memories of Alex. Like many contributors to the book, Len offers the view that Alex believed that the world owed him a living, but also recounting the times that he would play Scalextric with his children in the loft and that he almost remained a kid himself.
Len also recalls two 'unprovoked examples of cruelty' from Alex as he opines that his mental condition 'ticked most of the schizophrenia boxes' as is again the view of a number of contributors to the book. Len describes him succinctly as 'genius bordering on insanity' while Robert Dormer who portrayed Alex in his play 'Hurricane', recalls how his brother-in-law who happened to be a psychiatrist once described him as being almost unreadable and the most complex man he had ever met.
While the quotes that I have selected so far have focused on Alex off the table, it is also the case that the book more than adequately covers his feats on it, ranging from his two world title triumphs, his remarkable victories against Steve Davis at the UK Championship and Stephen Hendry in the B&H, to his final days at the qualifiers in Blackpool. His contribution to the game is perhaps best summarised by Willie Thorne:
"As much as I disliked him, I honestly feel I wouldn't have enjoyed such a good standard of living but for Alex. We owe him a debt of gratitude. He brought money into the game. He lined our pockets. He attracted a new, younger audience. The old fogies were outnumbered. A generation of young players appeared from nowhere and snooker was suddenly exciting, edgy and lucrative – all because of Alex."
Current WPBSA chairman Barry Hearn recalls the years when Alex would come to play a young Steve Davis on his home turf in Romford and in particular the one occasion that they played a best of 65 match over the course of four days, eventually won by Davis:
"It was the finest snooker I ever saw in my life. They were level for the first four sessions, then Higgins pulled away. But you knew he'd have a bad session some time. You couldn't get into the place for people. The actual match-room was just a little space on the first floor. There were no windows and no fire escape – just a tiny door to squeeze through. We had 300 spectators every session paying £5 or £10 a ticket. You couldn't see for smoke. Every now and then a hand would appear out of the smoke and a voice would call: '£300!' Big money was changing hands."
Other contributors include his second son Christopher, Jim Meadowcroft, Charlie Hawley, Barry McGuigan, Howard Kruger…the list goes on.
Summary
As should be evident from the very small sample of quotes above, Who Was Hurricane Higgins offers a tremendous insight from a number of people who were able to give us an idea of what Alex Higgins was really like.
The structure to the book is something that I have not seen employed previously and it is something that on the whole is executed successfully by the author. What was perhaps missing is a real conclusion to the book as following the account of artist Alan Quigley the book comes to a rather abrupt end. I did find however that returning to the start and re-reading Tony's first chapter did help to tie things up quite nicely.
Photo by David Muscroft
The only other negative point that I would make is that there are spelling/typing errors in the book, for example Willie Thorne is constantly referred to as 'Willy' and Joe Swail is referred to as Joe 'Swale'. While they do not materially affect the book, it is a shame that they have been allowed to slip through the net.
That aside however, the book was for me arguably the most interesting sporting book that I have read this year and comprises a fascinating collection of opinions, memories and stories concerning possibly the most significant figures of his generation. Love him or hate him – or both as was the case for many, if you have any interest in snooker or in Alex Higgins then this book is a must-read.