Whilst this very blog is now over two years old, the original and still by far the best snooker related blog out there on the internet is of course Snooker Scene Blog, bringing us all of the latest goings on from behind the scenes. What better way then to mark the relaunch of this site than by putting a few questions to the man behind the blog, assistant editor of Snooker Scene and Eurosport commentator David Hendon who has very kindly provided me with his answers…
To many snooker fans on the internet, particularly those overseas, you are best known for being the author of Snooker Scene Blog but your involvement with the sport dates back much further than that. How did you first become involved with the game?
I grew up in the 1980s. There were four TV channels and snooker was shown on every one of them, often in prime time. It had the sort of status the X-Factor has now: huge exposure, constant tabloid attention and a soap opera feel. It was impossible to ignore. We had a six foot table in our garage that I would play on and so I became interested in the game by watching and playing.
What is your first memory of snooker, have you always had an interest in it?
I'm not sure what my first memory was but I very clearly remember Joe Johnson winning the world title in 1986, which is ironic considering I now spend many hours commentating with him for Eurosport.
How did you become involved with Snooker Scene?

I'd always wanted to be a journalist, although not necessarily a snooker journalist. After doing my A Levels I wrote to Clive Everton to see if I could do some work experience at Snooker Scene. He suggested I spend a day at the qualifiers so I went up to Blackpool to annoy Phil Yates for an afternoon. I'm sure he hoped he'd never see me again but we subsequently became great friends.
I went off to university and after graduating I got a job as junior press officer with the WPBSA. I worked there for 18 months, which meant I was out on the circuit and getting to learn how it all worked. Until you see it for yourself you can't really understand how a professional sport operates. I can't say I enjoyed it much: there was a lot of unpleasant politics and I felt I was on the wrong side of the fence. I wanted to do journalism instead.
I'd got to know Clive Everton through being on the circuit and he was looking for someone else to work for Snooker Scene. I managed to get the gig as Talksport's snooker correspondent as well so it made financial sense to go freelance, work for Talk, Clive and anyone else that wanted me.
I started at the bottom doing all the menial stuff – local papers, spending days at a time at the qualifiers, but was all the time learning and I can now call on that knowledge when I'm commentating. I can remember obscure matches from years ago that anyone with any sanity has long since forgotten. I was on the circuit for nine years before getting the commentary gig for Eurosport and it was a good grounding in how snooker works, what the players are like and the statistical side of the sport. I suppose you'd call it an apprenticeship.
Snooker Scene's Clive Everton
Why did you start the blog?
There wasn't a snooker blog and I was well placed to write one.
Also, I was getting annoyed at newspapers turning down perfectly interesting stories because of their prejudice against snooker, so I wanted a place to write them. Originally I thought I'd write two or three pieces a week but it soon became clear that people were reading and so now it's pretty much everyday, apart from weekends, and even then I might have to do something.
As a journalist it's important to be balanced but as a commentator and pundit you should have opinions and be prepared to express them. A good blog – on any subject – takes a viewpoint. There's a lot written about snooker but I write from a position of having worked in the game for a number of years, having observed the players close-up, knowing the administrators and the issues that affect snooker generally.
I try to originate as much material as possible rather than just comment on newspaper stories. In comparison to many other sports, snooker is poorly catered for on the web and the various blogs – mine, yours, snookerbacker's and those in non-English – are now at the forefront of providing information, comment and discussion about the game. Hopefully we all add something to the sport.
In recent years you have also been involved in the game as one of Eurosport's lead commentators, how does that role compare with the journalism side?
It was through luck that I got that. They needed someone to fill in at the 2006 UK Championship and took a chance on me. I'd done a little commentary for 110sport's website before but never TV. Mike Hallett gave me a lot of help for that first event and I ended the week reasonably happy with how I'd done and hoping that I may be offered the odd day here and there in the future.
In fact, they asked me to join the team full time and I've been doing it ever since. It's great fun. I much prefer it to journalism. For a start, once the last ball goes down you're finished, whereas when you're writing for newspapers there's the press conference and then you have to write the story. There's so much hanging around and frustration at not getting your story in as you'd liked – one of the main reasons I started the blog because I can be my own editor.
Commentary isn't as easy as most people think, not least because you often have people giving you direction in your ear while you're speaking. But Eurosport are a great company to work for, they love snooker, and I enjoy it a lot. If you'd told me as a kid watching snooker that I'd one day be commentating on the world final I don't think I'd have believed it.
The man with the plan – Barry Hearn
Back in June following the success of Barry Hearn at the EGM to decide upon the future direction of the sport you stated that "Maybe, just maybe, snooker's years of self-destructive internecine infighting is finally at an end." Do you feel that this is still the case and generally speaking, what do you make of Barry's first year in charge?
You'll never stop all infighting because that's the nature of sport, indeed of life. The problem with snooker pre-Hearn wasn't the people – although some of them were a problem – but the structure. That was Sir Rodney Walker's big mistake: not properly separating the rules and regulatory function of the WPBSA from the commercial side of snooker. It meant the board was constantly under threat of being voted out for the most ridiculous of reasons and consequently a lot of what they did was to garner votes not improve the fortunes of snooker.
Barry has ended that. Everyone knows he's in control. I think he's the best thing to happen to snooker for a generation. Not a single person who was against him earlier this year ever said he couldn't do the job. Everyone knows he can, you just have to look at his track record. I used to say to people that he was the only person with the skill, contacts and drive to turn snooker around but that he wouldn't be interested because he had so much else on his plate. I'm glad I was wrong about that.
He's made real inroads so far: more tournaments, new sponsors, different formats, events outside the UK and broadcasters unimpressed with previous regimes now lining up to show snooker again.
We could be about to enter a golden age for the sport, but the players have to play their part too. They have to accept that changes are coming because sports that simply dig their heels in and refuse to innovate quite literally stand still.
They also have to be more professional: dress properly, act properly, do all the corporate stuff that's so important to sponsors. Barry is a great ideas man. He does need to be reined in sometimes but there are people around him who can do that. Right now, I can't think of a better figurehead for our sport.
And following on from the last question, having now laid the foundations for the future of the sport by establishing the PTC and making much-needed changes to the ranking system, what do you think should be the next priority for the powers that be as they look to take the sport forward.
They've already made a good start by announcing more events: there will be at least 29 next season, which is incredible really when you look at the stagnation of the last ten years.
My only real hope is that they remain mindful of the reasons snooker became so popular to begin with. I'm wary of shot-clocks and too much messing about. This is fine for one-off events but I don't want to see snooker go downmarket. The game thrives on the drama it can create and much of this is slow burning.
I also think the WPBSA should give advice to players when they turn professional about what's expected of them. At the moment they just turn up with a cue and play. They need to learn about how to behave, the media and also how the stresses of the circuit may affect them mentally.
The Young Players of Distinction scheme did this to an extent but the best way to learn is to talk to the senior professionals. Maybe players like Steve Davis, Ken Doherty and Stephen Hendry should be engaged to offer advice.
Otherwise, there's nothing I or anyone else could tell Barry Hearn about how to market the sport. He knows what he's doing.
Moving on to the subject of the players, who do you think are those who have the biggest chance of establishing themselves at the very top of the game and competing for the biggest titles during the next 3-4 years. Do you see anyone from outside the top 16 stepping up and becoming a tournament winner in the near future as Mark Selby and Shaun Murphy have in recent years?
There's a much greater chance now the ranking system has changed. It's likely someone will come through the pack and join the top 16 from a fair way down the list. Two players I am following with interest are Jack Lisowski – who does a column in Snooker Scene – and Anthony McGill. They are both young, talented and have the right attitude. I'd like to see them do well. Snooker needs to find some new young stars and I think that's more likely to happen now.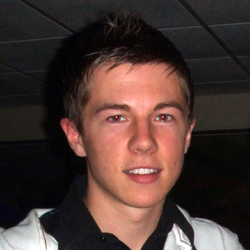 One to watch – Jack Lisowski
Similarly, how much longer do you think that the likes of Higgins/Williams/O'Sullivan can stay at the top of the game for?
It's hard to say for sure. Those three are hall of famers and can probably last longer than most if they want to.
John has the game, like Steve Davis, to cling on even when his break-building starts to go, which it clearly isn't going to do any time soon.
Mark has a great competitive spirit and an aura about him that makes him quite intimidating to play. He's not a bad bet to win another world title.
Ronnie is…well, Ronnie. He first threatened to retire when he was 17 and has done so constantly ever since but it wouldn't surprise me if he was still playing at 50. For him it's all about mood and motivation. It seems to me he needs to be embroiled in controversy to then come out fighting, something he's done throughout his career.
I think the three of them, at their best, are still better than anyone else on the circuit although I would place a peak Stephen Hendry above all of them – and so would they.
What is the most bizarre thing you have ever seen during your time in the game?
Snooker is a game that breeds eccentricity. I remember watching a qualifying match at Newport years ago. There was just me – stood at the back of the hall – and a bloke sat down the front. He had a carrier bag and kept rustling it. As it was the only noise to be heard it became quite distracting for the players so the referee – very politely – asked him to put it down. The bloke took great affront and stormed out, thus halving the total audience in one fell swoop. The next night the crowd was swelled: by a tramp who'd come in to shelter from the cold weather outside.
There was one time in Malta when a well known player – I'd better not say who – came into the press room. There was a little ante-room used for press conferences and he went in there. I didn't think much of that but an hour or so passed and I realised he hadn't come out. I wondered if some terrible fate had befallen him so went in to see if he was alright and found him lying on the floor. He wasn't injured or asleep – he was just kind of staring at the ceiling with a contented look on his face. I guess it was some kind of meditation.
There was a year at the World Championship where, through sheer boredom and for something to do, myself and my colleagues would sign in as unlikely characters: I was Cardinal Ratzinger, Gabriel Batistuta, I think Bernard Bresslaw too. The thing was, everyone on the sheet got a meal ticket and sure enough they would be filled in by one of the overworked World Snooker bods who was clearly not concentrating. I'm pretty sure I still have a Cardinal Ratzinger, Catholic Herald meal ticket somewhere.
Mark Williams – jinxed?
Finally, give us five predictions for 2011 (yes I will remember to check these!)
1) Ali Carter will win the Masters
2) Mark Williams will win the World Championship
3) There will be vastly more snooker on TV (not actually a prediction but a fact)
4) I hope I'm wrong but I fear Stephen Hendry could drop out of the top 16
5) Clive Everton will finally receive some official recognition for his efforts. He'd edited every edition of Snooker Scene for 40 years come January. If they can hand out OBEs to soap stars then they can surely send one his way.