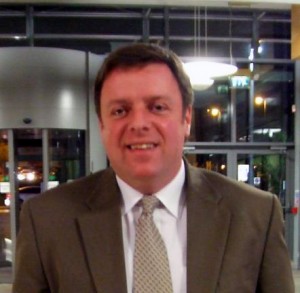 Name: Mike Hallett
DOB: July 2nd, 1959
Nationality: English
Turned Pro: 1983
Highest Ranking: #6 (1989-90)
Highest Break: 139 (1990 World Matchplay)
Career Highlights: 1989 Hong Kong Open Champion, 1991 Regal Scottish Masters, 1990 Humo Masters Champion, 1988 & 1990 B&H Masters Finalist, 1987 World Doubles Champion, 1991 World Masters Doubles Champion.
Playing Career
Mike was a talented junior who having taken the national under-16's Championship in 1975, turned professional five years later and performed strongly enough in his first season to enter the rankings in 29th place.
Though he managed to qualify to play at the Crucible for the first time the following season, he lost 10-4 to John Virgo in the first round and saw himself drop down two places in the rankings as a result. Indeed the next few seasons were a struggle for Mike as he hovered around the fringes of the top 32, not winning a match at the Crucible until his fifth attempt in 1986.
His next season however was a major improvement as victories over Tony Knowles and Silvino Francisco to take him to the quarter-finals helped him gain 11 places to move into the top 16 where he would remain for five years, peaking at number 6.
He again made the World Championship quarter-finals in 1989 before losing out to Steve Davis, as well as winning his sole ranking event title, the Hong Kong Open during the same year, but perhaps the defining moment of his career proved to be a sour one.
Having beaten Alan McManus, Neal Foulds and Terry Griffiths to reach the final for the second time, he found himself up against defending champion Stephen Hendry who looked to complete a hat-trick of titles. Remarkably Mike raced ahead into a 7-0 and then 8-2 lead, but when clearing up for victory played a poor shot on the blue which left the pink awkward and having missed it, could only watch with horror as Hendry completed a remarkable 9-8 comeback.
From this point on he was never the same place and dropped out of the top 16 at the end of the following season. He remained on the tour until 2004/5 and has since competed on the PIOS, coming close to making it back onto the main tour for the 2009/10 season following an event final the season previously.
Television Work
Since dropping down the rankings and losing his place on the main tour, Mike has taken to commentating both for Eurosport as part of their coverage of the ranking event tournaments in snooker, and Matchroom Sport on the Premier League on Sky.
Tournament Victories:
Ranking Event wins (1)
| | |
| --- | --- |
| Event | Year |
| Hong Kong Open Champion | 1989 |
Non-Ranking Event wins (5)
| | |
| --- | --- |
| Event | Year |
| Humo Masters | 1990 |
| Regal Scottish Masters | 1991 |
| World Doubles | 1987 |
| World Masters Doubles | 1991 |
| National U-16's Championship | 1975 |