Name: Phil Yates
DOB:
Nationality: English
Snooker Commentator Since:
Career Highlights:
.
.
.
.
.
.
Career Summary
A snooker journalist and commentator for several years now, Phil can most often be heard these days commenting on the Premier and Championship League competitions for Matchroom Sport. In the past he has also commentated on ranking events such as the British Open on SkySports.
Away from the TV you can read his thoughts on the game in Snooker Scene for which he is their Chief Reporter, as well as in various newspapers such as The Guardian, The Times and The Observer.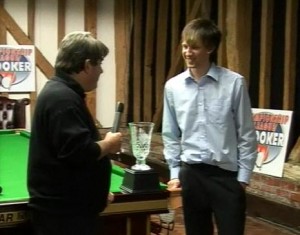 Phil interviewing 2009 Championship League winner Judd Trump