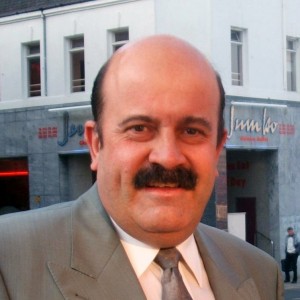 Name: Willie Thorne
DOB: March 4th, 1954
Nationality: English
Turned Pro: 1975
Highest Ranking: #7 (1986/7, 1993/4)
Highest Break: 147 (1987 UK Championship)
Career Highlights: 1985 Mercantile Credit Classic Champion, 1970 National U-16 Snooker & Billiards Champion, 1973 U-19 Champion, 1986 Hong Kong Masters Champion, 2000 World Senior Masters Champion
Playing Career
An excellent junior, Willie was able to capture both the national under-16′s championship as well as the u-19′s in the early 1970′s before turning professional aged 21 in 1975.
Although he was to spend a total of twelve seasons inside the top 16 of the rankings however, peaking at number 7, Willie's professional career did not prove to be as successful as his break-building talent perhaps deserved. This was in part due to the pressure that he placed upon himself as a result of the substantial gambling debts amassed at the time, as well as depression that came as a result.
He did nevertheless enjoy some high points, not least a 13-8 victory over Cliff Thorburn in the final of the 1985 Mercantile Credit Classic, as well as his maximum 147 break two years later at the UK Championship.
His best performances at the World Championship came in 1982 and 1986 when on each occasion he managed to progress to the quarter-finals before losing out to Alex Higgins and Cliff Thorburn respectively. He was able to reach the last 16 on a further nine occasions while his last appearance at the Crucible came in 1996 when he lost 10-8 to Steve Davis in the first round.
Despite all of this however, the shot that he will always be remembered for the most will be a regulation blue off the spot missed when clearing the table at 13-8 up against Steve Davis in the final of the 1985 UK Championship. From this point he never recovered and losing 16-14, his best chance of major silverware had come and gone.
He continued to play professionally until 2002 when he lost his place on the main tour.
Commentary
Willie has now swapped his cue for a microphone and during the last few years in particular has established himself as one of the BBC's leading commentators. His style is not to everyone's tastes, some viewing him as at times overly critical of the players, but his knowledge, in particular of the break-building side of the game is up there with the best and he always provides good insight when a player is on a maximum attempt.
Tournament Victories:
Ranking Events (1)
| | |
| --- | --- |
| Event | Year |
| Mercantile Credit Classic Champion | 1985 |
Non-Ranking Event wins (6)
| | |
| --- | --- |
| Event | Year |
| Hong Kong Masters | 1986 |
| Matchroom Professional | 1987 |
| Pontin's Professional | 1984 |
| World Seniors Masters champion | 2000 |
| National U-16′s Championship | 1970 |
| National U-19′s Championship | 1973 |