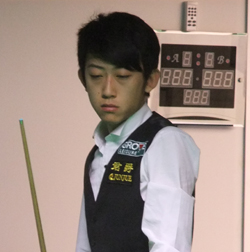 Name: Chen Zhe
DOB: 28th February 1993

Nationality: Chinese

Turned Pro: 2012

Highest Ranking: 66th (2012)

Highest Break: 140 (2013 China Open qualifiers)

Career Highlights: 2013 Haikou World Open last 48, 2012 APTC1 semi-finalist, 2012 UKPTC3 last 16, 2012 Q School qualifier
Amateur Career
A regular at PTC events during both 2010/11 and 2011/12, China's Chen Zhe impressed onlookers including Dominic Dale with victories against the likes of Stuart Bingham, Ben Woollaston, Luca Brecel, Jimmy Robertson, Rory McLeod and Matt Selt amongst others.
Having narrowly missed out on a main tour place at the 2011 Q School, losing 4-3 to Andrew Norman in the quarter-finals of the first event, Chen went one better in 2012 by defeating Joe Delaney, Kyren Wilson, Sydney Wilson, Chris Norbury and Jordan Brown to earn a two-year tour card.
2012/13
Aside from a run to the quarter-finals of the APTC1 event in China, Chen struggled to find his feet during his first couple of months on the main tour in 2012/13, before he performed well in Gloucester to reach the last 16 of the UKPTC3 event, before losing out to Ali Carter.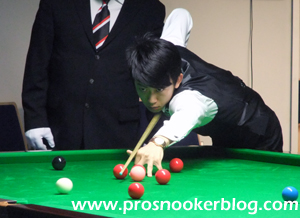 As the year reached its climax, Chen impressed at the UK Championship qualifiers with wins against Sean O'Sullivan and Aditya Mehta to reach the third qualifying round, before going one better at the Haikou World Open and only being denied a maiden venue appearance by the experienced Michael Holt.
Chen was able to repeat this form at the subsequent China Open qualifiers, where he defeated Scott Donaldson, Thepchaiya Un-Nooh and Michael White to reach the final qualifying round, only to lose out to Stoke's Jamie Cope.
Though he was to suffer a 10-7 defeat at the hands of Sam Baird at the 2013 World Championship qualifiers, his performances were enough to see him end the season ranked 78th.
2013/14
The 2013/14 season was to prove difficult for Chen, as he won just eight matches in all professional competitions and significantly, all in separate events.
As a result, Chen was to finish the season ranked 89th and was relegated from the main tour as a result.
Chen did enter both season-ending Q School events, reaching the final round of event one before losing to English pool champion Chris Melling, while he was defeated by Michael Wild in the penultimate round of the following event.