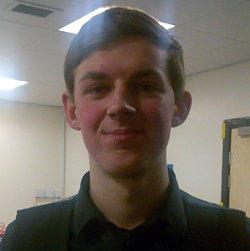 Name: James Cahill

DOB: 27th December 1995

Nationality: English

Turned Pro: 2013
Highest Ranking: 76th (2014, 2015)
Highest Break: 134 (2014 ET1)
Career Highlights: 2014 UK Championship last 16, 2014 ET2 & ET3 last 32, 2013 European Under-21 Champion, 2013 ET4 last 32

Twitter: @JamesCahill147  
Background
A former North West U-16's champion, it is fair to say that James Cahill has a fine snooker background, as he is the nephew of seven times world champion Stephen Hendry, while his mother Maria (the sister of Hendry's wife Mandy), is also a former top ladies player.
Having played snooker since the age of 10 at the Stephen Hendry Snooker Club in Preston, owned by his parents, Cahill entered his first PTC events as an amateur in 2010, before impressing at the 2012 Q School with a fourth round run at the first event.
2012/13 – Tour Qualification
James continued to gain experience during the 2012/13 season, notching up wins against professionals Robert Milkins and Paul Davison at PTC events, but his biggest success was to come at the 2013 European U-21 Championship in Bor, Serbia, where he defeated Ashley Carty 6-0 to capture the title.
Hitting 12 50+ breaks during the course of the tournament, defeating the likes of Elliot Slessor, Duane Jones, Ross Muir and Shane Castle, it was a dominant performance from the 17-year-old and one that would earn him a two-year tour card beginning the following season.
James' mum was quoted by the LEP following his success:
"We think there have only been four players who have turned pro at his age – Judd Trump was the last.
"James is absolutely delighted and it's something he's wanted to do since he was very young. For the last two years, he's been playing on the Premier Tour which is for the top Under-21s players in the country. He reached No.1 on the tour and the top four in England qualified for the European Championships.
"James won the tournament and that gives him a two-year ticket for the professional snooker tour. That gives him entry to the qualifying rounds for the big tournaments. Over the next two years he'll be looking to pick up enough ranking points to stay on the professional tour. Winning in Serbia was a magnificent moment for him.
"It was a busy schedule with a three-and-a-half hour drive from the airport to the town where the tournament was. The tables were in lovely condition and he played some great snooker."
"Snooker runs in the family, with Stephen Hendry being his uncle. I used to play on the women's circuit and James would come along to watch. He's been keen on snooker since he was four and has worked hard to get to where he is. James left school when he was 15 and had private lessons at home so he could concentrate on playing.
"His coach Mick Caddy has been brilliant with him, putting the time in. Terry Griffiths gave him some mentoring leading up Serbia, which was a big help.
"The professional season starts for him at the end of May with a qualifying tournament and from then on, he's going to be travelling all over the place to different events. His aim is to be world champion one day and obviously he has a long way to go. With him being only 17 it will be tough on the professional tour. But he's looking forward to it and is aiming to get enough ranking points on the board in order to be kept on after these initial two years."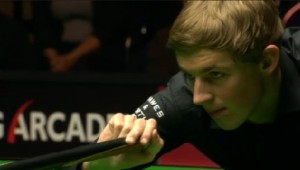 2013/2014
For 18-year-old Cahill, his maiden season on the professional circuit was to prove a learning experience, as he won just three matches, two of which were at the 2013 Paul Hunter Classic event in Germany against Nigel Bond and Ben Woollaston.
His season was to end on a more positive note however, as he recorded his third win against the much-fancied Gary Wilson at the World Championship qualifiers, before losing 10-6 to Tom Ford in the second round.
James' performances were enough to see him end his first professional season ranked 117th.
2014/15
Following flashes of his potential at the Paul Hunter Classic as he defeated John Higgins on television, James made a name for himself at the UK Championship as he defeated Mark King, Andrew Higginson and most impressively Ding Junhui to reach the last 16 in York.
Though he was unable to build upon that result during the remainder of the season, he had done just enough at the season's European Tour events to earn a fresh two-year tour card from the start of the 2015/16 season.