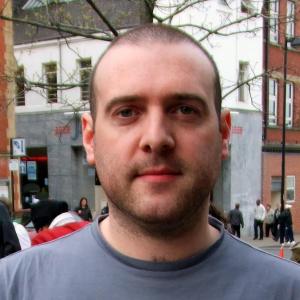 Name: Jamie Burnett
DOB: 16th September 1975
Nationality: Scottish
Turned Pro: 1992
Highest Ranking: #27 (1999/00)
Highest Break: 148 (2004 UK Championship)
Career Highlights: 2010 Shanghai Masters finalist, 2012 ET2 finalist, Only player to make a break over 147 in a professional match, 1997 German Open and 1998 Grand Prix Quarter Finalist, 2012 Wuxi Classic and Australian Goldfields Open last 16
Place in history
Whatever else Jamie goes on to achieve in his career, his place in the record books is secure following his 2004 UK Championship qualifier against Leo Fernandez when he made a historic break of 148. Becoming the first man to record a break higher than 147 in professional competition, Jamie was able to do this by taking advantage of a free ball early in the frame, taking the brown as an extra red and then clearing with 15 reds, 12 blacks, two pinks and a blue for a moment of magic.
Early career
A reasonably strong amateur career brought Jamie victories in the 1990 UK under-16's Championship, the Scottish under-16 Championship and the 1992 Scottish Amateur Championship which led to him taking the decision to pursue a professional career in the game.
Subsequent years
A couple of years later however, things started to pick up as he qualified for the final stages of the World Championship for the first time, and he reached three ranking event quarter-finals in quick succession, highlighted by two wins over Stephen Hendry. These results were enough to move Jamie up into the top 32 of the rankings for two seasons, peaking at number 27 in the 1999-2000 season, his highest ranking to date.
Since then though, Jamie struggled to take his career to the next level, finding himself going backwards in the rankings and failing to reach a quarter-final in over ten years. Despite this though, heading into 2008/9 his ranking was again slowly on the rise as he moved back into the top 48 and he was still managing to compete on a tour which had never seen a higher standard.
2008/9
The 2008/9 season was to be a mixed one for Jamie as while he had his most consistent season in years, reaching the last 32 of four ranking events and moving up to a career high ranking of 40th, his season was only ever going to be remembered for one incident.
Drawn against close friend and practice partner Stephen Maguire at the UK Championship, there were rumours in the days leading up to the match that the outcome would be a 9-3 scoreline in favour of Maguire and unfortunately that is what transpired, Jamie memorably missing a black to reduce the gap to 8-4 at one stage. Both players involved have strenuously denied any wrongdoing and following a lengthy investigation no further action was taken.
Credit to Jamie though because with all of the controversy thrown up by this match, he could have been forgiven for suffering a loss of form between that and the end of the season, but instead he kept up his good form and notably managed to qualify for the World Championship, thirteen years after he first managed it. Typically though he drew none other than Maguire for a second time and succumbed to a 10-5 defeat.
2009/10
After such a strong campaign previously however, 2009/10 was to be less successful as he qualified for just one venue, the Grand Prix with victories over Liu Song and countryman Graeme Dott.
Although he was able to win two other opening matches, unfortunately neither of these were to come at the two biggest events on the calendar, the UK Championship or the World Championship, the latter seeing him lose to Ireland's David Morris.
As these were the two tournaments with the most ranking points on offer, these results meant that he was able to accumulate just 7,250 points, 4,000 fewer than during the previous season.
2010/11
Jamie started the season in unremarkable fashion, losing out in qualifying for the 2010 World Open to Adrian Gunnell and winning just one match in the opening five events of the new PTC.
All that was to change at the Shanghai Masters however when incredibly Jamie was to embark upon a fairytale run to the first ranking event final of his 18-year professional career.
Having seen off James McBain and Michael Holt to qualify for the venue stages of the tournament, Jamie headed into a tough wildcard match with the talented Tian Pengfei knowing that a win would put him straight through to the last 16 stage following the withdrawal of Ronnie O'Sullivan. Many pundits were tipping Tian to win a fourth consecutive wildcard match in China but Jamie had other ideas as he hit a break of 131 on his way to a fine 5-2 victory.
From there Jamie whitewashed world number 22 Andrew Higginson to reach his first quarter-final in 14 years where he would face another man not used to the big stage, Mark Davis. It was to be Mark who would come out of the blocks flying, runs of 102, 84 and 82 putting him three clear in no time and seemingly en route to a maiden semi-final but again Jamie was to spring a surprise, fighting back from 4-1 down to book a semi-final date with Jamie Cope.
Once again Jamie would be the underdog in this match but as he won 6-1 you would never have thought it as Cope failed to produce anything of note and Burnett punished him with breaks of 58, 54, 52 and 52 to win through to a final date with Ali Carter.
In the final Jamie gave it his all against Ali but in a week of the underdog, it was to be the top 16 player who had the last laugh, winning 10-7 to end Jamie's superb run. Taking home 5,600 ranking points and a cheque for £30,000 however, it had been the best week of Jamie's career to date and one that saw him move back up into contention for a top 32 place.
Following that success the remainder of his season was to be relatively low key, though he did manage to qualify for the venue stages of the Welsh Open and World Championship tournaments with a series of impressive victories in Sheffield. He could make little impression at either venue however, losing heavily to both Graeme Dott and Ding Junhui as he finished the campaign ranked 39th.
2011/12
Jamie made a reasonable start to the 2011/12 campaign as he won his opening qualifying matches in each of the first four full-ranking events, though without being able to qualify for the venue stages of any, notably losing out 6-0 to Ryan Day in qualifying for the UK Championship.
His strongest run during the 12 event PTC series was to come at PTC5 when he found himself on the wrong end of a 4-3 scoreline against rising talent Jack Lisowski at the quarter-final stage.
During the second half of the season, Jamie was able to make it through to the final qualifying round of three tournaments, including the season-ending World Championship qualifiers where he lost out 10-8 to Joe Perry, having earlier defeated local favourite Adam Duffy in his opening match.
2012/13
2012/13 was to start with a bang for Jamie as he was able to successfully qualify for the venue stages of both the Wuxi Classic and Australian Goldfields Open tournaments, before going on to reach the last 16 of each with victories against Mark Selby and Neil Robertson along the way.
The Scot continued to win matches on a regular basis, qualifying for the final stages of the new International Championship in Chengdu, as well as reaching the final of the ET2 event in Poland, where Robertson would gain his revenge to take the title.
The first half of 2013 was to prove a disaster for Jamie however, as he finished the season with eight consecutive defeats, culminating in a 10-6 defeat to China's Yu Delu at the World Championship qualifiers, a match notable for seeing Jamie pot 'frame ball' in two consecutive matches with the scoreline evenly poised, only to see the cue ball go in-off on both occasions.