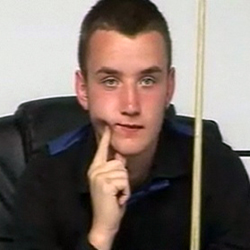 Name: Sam Craigie
DOB: 29th December 1993
Nationality: English
Turned Pro: 2011
Highest Ranking: 75th (2012)
Highest Break: #N/A
Career Highlights: 2010 IBSF World U-21 Champion, 2012 German Masters last 48, 2011 PTC11 last 16, 2009/10 PIOS Event Three semi-finalist, Junior Premier Tour Winner aged 14 (youngest ever winner)
Early Career
The younger brother of Stephen, north-east talent Sam Craigie first picked up a snooker cue back in 1998 and has since gone on to enjoy a glittering junior career. His achievements include having captained the England U-16 team as well as having won national titles at U-16, U-15, U-14 and U-21 levels.
The 2009/10 season saw Sam attempt to qualify for the main tour for the first time via the PIOS and as a 15-year-old he made an excellent impression, particularly in Event Three where he defeated Mike King, Jak Jones, Lee Shanker, Anthony McGill and Kuldesh Johal to reach his first semi-final. For a while it appeared as though Sam would make it through to his first final at that level as he advanced into a 4-2 lead but a fantastic comeback from Kyren to win 5-3 on the black brought his run to an end. Sam would go on to finish his maiden season ranked 16th, no mean feat for one so young.
2010/11
Better was to come during the 2010/11 campaign however as he secured his place on the main tour for the following season by taking victory in the IBSF World U-21 Championship as a 16-year-old.
Having progressed to the semi-finals with victories against Patchara Mayoe, Kishan Hirani and Julius Grauls, Sam would then have to face his older brother Stephen in what would prove to be a hard-fought encounter. Ultimately however it was to be Sam who emerged a 7-6 winner to set up a clash with another talented youngster, China's Li Hang.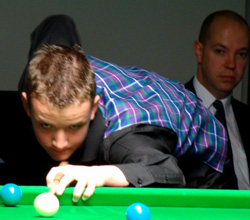 Sam defends his U-16 title at the 2010 EASB finals weekend
In a match of high quality, it was Li who made the stronger start to lead 6-3 after the first session but Sam was to show his class by winning six of the remaining eight frames to take an impressive 9-8 victory at the Northwest Snooker Centre in Letterkenny.
As well as lifting the title, Sam also finished the tournament with a high break of 139 as well as three further century breaks, four 90's, 86, six 70's, seven 60's and eleven 50's.
Following victory Sam told ChronicleLive.co.uk:
"I am delighted to have won. It was a very tough competition."
"I am really looking forward to establishing mysef now on the Main Tour."
2011/12
Sam made an impressive start to life on the main tour as he defeated David Grace and Liu Song during qualification for the Australian Goldfields Open before losing out to Fergal O'Brien in the third qualifying round.
The youngster also managed to complete a fantastic fightback against Andrew Pagett to win the deciding frame on a re-spotted black during the UK Championship while his best result in the PTC series came at PTC11 where he overcame both Stephen Lee and Michael White before losing out to Ricky Walden in the last 16.
After Christmas, Sam continued to impress in qualifying, defeating Adam Wicheard, Liu Song and Gerard Greene to reach the final qualifying round of the China Open, while also winning two matches in the Haikou World Open qualifiers.
His season was to end in disappointment however, a 10-9 defeat to Justin Astley in a marathon opening round match at the 2012 World Championship qualifiers confirming his relegation from the tour.