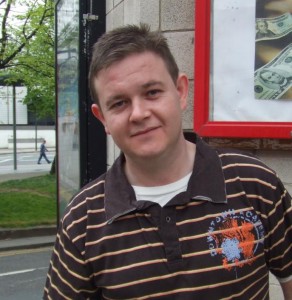 Name: Joe Delaney
DOB: 4th August 1972
Nationality: Irish
Turned Pro: 1991
Highest Ranking: #58 (2007/8)
Highest Break: 126 (2005 Irish Masters Qualifying)
Career Highlights: Qualified for the final stages of the 2005/6 UK Championships and the 2007 World Championship
Career Summary
Joe turned professional in 1991, but was only since the 2003/4 season that he was been able to maintain a consistent spot on the main tour until his relegation in 2011. It was often a struggle as with only the top 64 players certain to remain on the tour, Joe was not able to rise higher than 58th position as he did in 2007/8.
He did perform well to get this high though as he reached the last 48 of the UK Championship and Welsh Open, before defeating Ian Preece, Barry Pinches and Alan McManus to reach the last 32 of the World Championship. His Crucible début against Matthew Stevens however was to end in disappointment as he went down 10-2 to the twice world finalist.
2008/9
The 2008/9 season was another tough one for Joe but importantly he won crucial matches in both the UK and World Championships to just about retain his top 64 place.
His win over Wayne Cooper was particularly dramatic as having seen a sizeable lead reduced to nothing as Cooper made it 8-8, Joe took frame 17 to edge back in front at 9-8 and then played a brilliant 18th frame. He started off by drilling in a sensational long-red before making a cool 60 break to move into the next round and book a tie with Judd Trump.
Though he lost out 10-1 to the talented youngster, he had at least done enough to keep his place on the tour for another season.
2009/10
2009/10 was much the same for Joe as round one defeats at the Grand Prix, Welsh Open and China Open tournaments were off-set by crucial victories at both the UK and World Championships. In particular his 10-0 demolition of young Sam Baird at the world qualifiers was a real high point, before he went down 10-7 to Adrian Gunnell in the third round.
Added to a useful victory at the Shanghai Masters, these results were enough to see him remain inside the top 64 of the rankings at the season's end.
2010/11
The first half of Joe's 2010/11 season was largely uneventful but one fine run came during the Shanghai Masters qualifiers when he defeated Patrick Einsle, Rory McLeod and Gerard Greene to make it to a rare venue stage.
Despite this run however, a 10-4 defeat to Joe Jogia at the World Championship qualifiers meant that Joe would finish the season down in 81st place, relegating him from the professional circuit.