Name: Paul S. Davison
DOB: October 1st, 1971
Nationality: English
Turned Pro: 1992
Highest Ranking: #70 (2012)
Highest Break: 144 (2001 World Championship)
Career Highlights: PIOS Events 3 & 7 Winner 2009/10, 2012 & 2014 German Masters last 32, 2013 Australian Goldfields Open last 32, 2012 Q School qualifier, 2012 International Championship last 48, 2012 ET3 last 16..
.

Career Summary
A pro since 1992, Paul first qualified for the main tour in 1996 though his first three years with the big players proved to be tough going as he managed to get his ranking no higher than 127th before losing his place in 1999.
Returning to the tour in 2001, he again managed to stay on the circuit for three consecutive years, though again success was hard to come by and he could only make it up to 98th place.
After another few years off he again managed to secure his return for the 2008/9 season by finishing 7th in the PIOS in 2008, largely as a result of winning the third of the eight events with a 6-2 victory over Michael King in the final.

Paul at the 2010 World Open
2008/9
Paul's return was to be short-lived however as although he won four matches, he rarely threatened to go beyond the second qualifying round. His best chance came against Stuart Pettman in the Bahrain Championship qualifiers but eventually he lost out in a deciding frame finish.
2009/10
Paul gave his chances of an immediate return to the tour a significant boost in August 2009 when he won the third event of the PIOS season with a 6-4 victory over Kyren Wilson in the final. He was to struggle during the next three events as his tour bid hung in the balance but a series of excellent performances to win Event Seven ensured that he would bounce back into the top 96 at the first attempt for 2010/11.
2010/11
Back on the professional circuit, Paul's campaign began slowly before a run to the TV stages of the World Open gave him a much needed ranking points boost. As well as that however, that run also appeared to lift his confidence as he began to win more matches during the Players Tour Championship, his best result being a quarter-final which came during the EPTC5 event in Hamm where he eventually lost out to Shaun Murphy.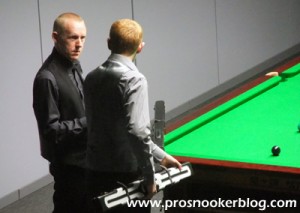 Paul chats with Anthony McGill following their 2011 World Championship match
Another strong run came at the Welsh Open in February as he saw off Dermot McGlinchey, Stuart Pettman and Peter Lines to reach the final qualifying round before coming short against an impressive Stuart Bingham to miss out on a second venue of the season.
Further victories were to come at the World Championship where he defeated Stephen Rowlings and young Scottish talent Anthony McGill, but a 10-4 defeat to Fergal O'Brien would ultimately bring his season to an end. He could at least rest easy in the knowledge that his main tour place for 2011/12 was secured as he finished at a career high ranking of 73.
2011/12
Paul made a slow start to the 2011/12 season, his best result during the PTC series being a last 32 run at PTC6, while he won just one match from the qualifying tournaments for the first three full ranking tournaments of the season.
Better was to come for Davison at the German Masters qualifiers however as he defeated Matt Selt, David Morris and then Dominic Dale to qualify for the venue stages of the event in Berlin. Once at the venue, Paul was able to defeat Polish wildcard Krzysztof Wrobel 5-2, before losing 5-1 to Judd Trump at the last 32 stage.
That win however was to prove the last of Paul's season as he lost his opening matches at the Welsh and China Open tournaments, both to David Morris in deciding frames, before suffering a 10-4 defeat to China's Li Yan at the World Championship qualifiers.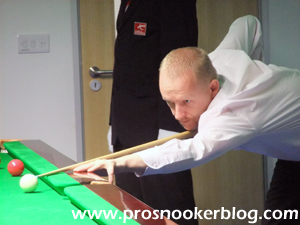 Paul at the 2012 UKPTC4 event
As a result, Paul was to lose his place on the tour at the end of the season, however he was to secure an immediate return with qualification through the second Q School event of the summer. Having fallen to Martin O'Donnell in event one, Paul made amends with victories against Rhys Clark, Adam Wicheard, Alex Davies, Adrian Gunnell and Gareth Allen to secure a two-year tour card beginning 2012/13.
Paul told the York Press:
"I had played him [Gunnell] three times in ranking events and he had beaten me in all three,"
"When he was an amateur, I got the better of him a few times and it was nice to get one over him. I was pleased to win my quarter-final because it was so hot on the tables."
"There was no air conditioning and we had our suits on. I should have been through following the first event. To lose to O'Donnell was pretty criminal. To have my foot in the door and have to do it all again makes it harder."
"Probably the worst match I played was against Allen in the quarter-final of the second event, but Q-School was similar to the PIOS Tour that I have played in two or three times and that stood me in good stead."
"There is a little bit less pressure. I am delighted to be on the tour and I will be trying to get to play in front of the cameras. Some players don't like it, but I think it is great. That's why I put in all the hours of practice."
2012/13
Paul was to make a solid start to the 2012/13 season, with his best result coming at the International Championship qualifiers, where he defeated Fraser Patrick, Peter Lines and Ben Woollaston to reach the last 48, before falling to Welsh veteran Dominic Dale.
A last 16 run would follow at the ET3 event in Antwerp, though his year would end on a low note with successive opening round defeats to Liang Wenbo and Sean O'Sullivan in qualifying events.
During the second half of the season, Paul's best run would come at the China Open qualifiers, as he defeated both Joel Walker and Adam Duffy to reach the third round, before losing out to Anthony Hamilton. Opening round wins would also follow at the Welsh Open and World Championship tournaments, before his season was brought to an end with a 10-7 defeat to Alfie Burden in Sheffield.
2013/2014
Paul was to make a strong start to the 2013/14 season, as he won three matches to qualify for the venue stages of the Australian Goldfields Open, ultimately losing narrowly to Mark Davis in Bendigo.
A further last 32 run was to follow at the German Masters, where he again lost in a decider to fellow veteran Rod Lawler, while he also recorded a notable win at the UK Championship against Gerard Greene, his local tournament held in York.
Otherwise however, results were few and far between and he was to be relegated from the main tour at the end of the season, finishing ranked in 82nd place.
In May 2014, Paul was unsuccessful in his attempt to regain his tour card at the Q School, defeats to Sean O'Sullivan and William Lemons confirming that he would not be on the professional circuit in 2014/15.