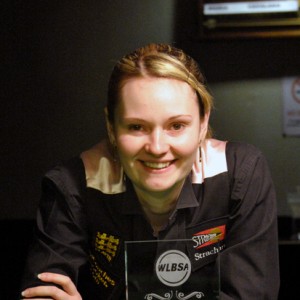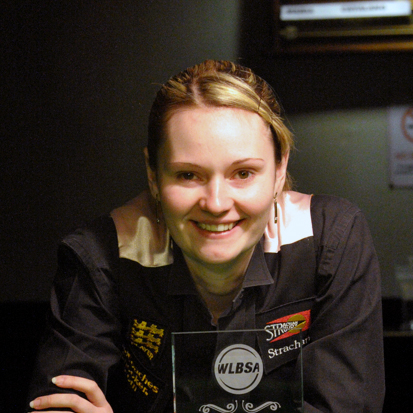 Name: Reanne Evans
DOB: October 25th, 1985
Birthplace: Dudley, England
Turned Pro: 2010
Highest Ranking: #N/A
Highest Break: 140
Career Highlights: Eight Times World Ladies Champion, Five Times UK Ladies Champion, Three Times World Amateur Ladies Champion
Website: http://www.reanneevans.wytechhosting.co.uk/
Career Summary
Undoubtedly the strongest competitor on the ladies circuit during the past decade as the statistics outlined below demonstrate, Reanne was awarded a wildcard place on the mens circuit for the 2010/11 season by the WPBSA.
2010/11
Unfortunately Reanne's maiden season on the main tour was to prove a real struggle as she failed to win a single match during either the PTC events or the seven major tournaments staged.
Reanne's strongest performance was to come at the EPTC6 event in Prague when she pushed then world number 1 and reigning world champion Neil Robertson to a deciding frame before eventually losing out 4-3.
Her season was to end however following the World Championship when she lost out 10-6 to Sam Baird during the preliminary rounds of the qualifying stage of the tournament.
About Reanne …
Proud mother of Lauren, also known as Lollipop, Reanne accepted to answer a few questions about herself:
Hobbies: sleeping, golf, spending time with the baby
What's your proudest moment? Giving birth to Lauren
And what's your most embarrassing moment? Giving birth to Lauren
What is your favourite food? steak
What do you have on your i-pod? Bit of everything, R&B
Who of the guys in snooker would you love to play in an exhibition? Jimmy White
Who of the guys in snooker would you pick as a partner in doubles? Michael Holt
Who of the guys in snooker would you not want to be stuck in an lift with? Alex Higgins
Titles
8 x World Ladies Snooker Champion 05, 06, 07,08,09, 2010, 2011, 2012
5 x World Ladies UK Champion 05, 06, 07, 08, 09
3 x IBSF World Amateur Ladies Champion 04, 07,08
2 x European Ladies Snooker Champion 07, 08
3 x World Ladies Mixed Doubles Champion 06, 08, 09
3 x World Ladies British Open Champion 04, 06, 09
3 x World Ladies South Coast Classic Champion 07, 09, 2010
3 x European Team Cup Champion 04, 05, 08, 09
3 x World Ladies Masters Champion 07, 08
2 x East Anglian Ladies Champion 06, 08, 09
3 x Connie Gough Memorial Trophy 04, 09, 2010